Rihanna Hints At The Completion Of Her Upcoming Album 'R9'
By Peyton Blakemore
December 23, 2019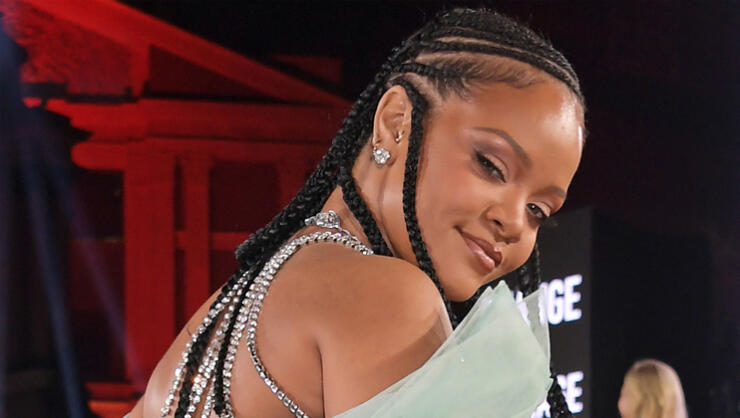 Rihanna loves to play with her fans' emotions.
Over the weekend, Rih had some fun with her loyal followers, who have yet to let up with questions about the arrival of her allegedly titled ninth studio album R9. Taking to Instagram, Rihanna trolled her fans by captioning a video of a dog dancing to "Jump Around" by House of Pain: "update: me listening to R9 by myself and refusing to release it." (LOL, Rih. LOL)
As fans know, the 31-year-old singer and business mogul has teased the arrival of her ninth studio album for much of 2019 as her fans have been impatiently waiting for the project's arrival — there hasn't been a time that Rihanna's posted something on social media or hit a red carpet in 2019 that she hasn't had to deal with fans asking, "where's the album?"
In October, Rih Rih set the record straight on rumors about the title of her album after fans noticed that she'd registered a new song titled "Private Loving" to the music-rights organization BMI," and began to speculate that it could also be the title of her upcoming project. "That's not true," Rihanna clarified to Entertainment Tonight. "That's not gonna be the title of any album." Rih went on to say that all details about the album are "pending."
"I can give you a dot, a dot and a dot," she said with a smile.
Rihanna's latest album troll came just over a month after she opened up about her "overwhelming" year, admitting that she's struggled to balance her very busy life. "to all my friends/family/coworkers who I have yet to get back to in the past months...please forgive me," Rihanna captioned a gorgeous selfie of herself wearing a white t-shirt with the words "Art School Dropout" on the front. "this year has been quite an overwhelming one, and I'm working on that ish called Balance. brb."
While Rih Rih didn't explicitly say that she's taking a break, from the tone of her message and her last sentiment, "brb" (be right back), it would seem that she's stepping away for a bit, which, in truth, has been a long time coming.
Photo: Getty Images