Alex Trebek's Wife Jean Shares 'Toughest Part' Of His Stage 4 Cancer Battle
By Emily Lee
January 2, 2020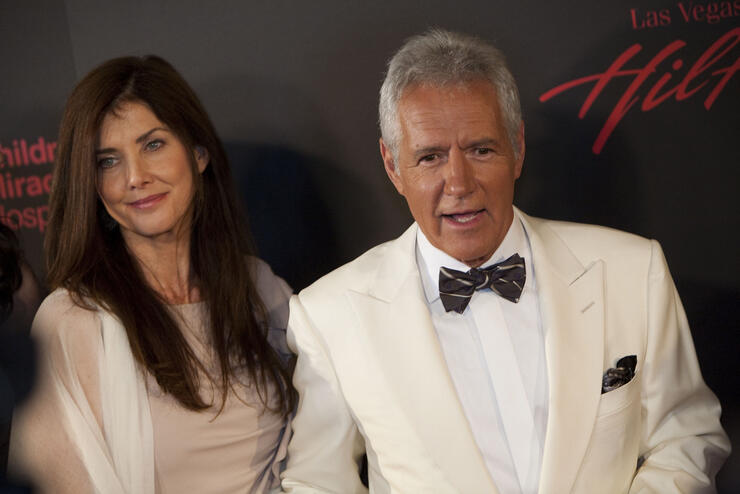 Alex Trebek has been open with Jeopardy! fans throughout his battle with stage 4 pancreatic cancer. He's spoken candidly about his personal difficulties over the past year, as well his family's struggles. Now, though, his wife Jean is speaking out about her experience. During a joint interview with Good Morning America, Alex and Jean revealed the "toughest part" of Alex's cancer battle.
"For me, it's when I see him in pain and I can't help him," Jean said. "When he doesn't eat right. When he has too much diet soda." When host Michael Strahan asked if Jean wants Alex to retire from Jeopardy!, she spoke candidly about her opinion. "Yes, to my girlfriends, yes," she revealed. "But I know its what feeds him. He loves doingJeopardy!. He has his own family over there. They are such a close-knit, beautiful group of people. I think that gives him a lot of support. A sense of purpose and that he's just not in bed and can be productive."
For Alex, though, the hardest part has been watching his wife, as well as their two children, worry about his health. "Its always tough for the caretakers because she has to deal with her worrying for my wellbeing and also dealing with… I'm not always the most pleasant person to be around when I am experiencing severe pain and depression, and she has to tread lightly around me," he explained.
Despite the hardships - and Jean's occasional desire for him to retire from Jeopardy! - Alex has no plans on leaving the show just yet. "He has no plans to quit, and is absolutely not announcing his retirement [anytime soon]," a co-worker recently told People.
Photo: Getty