Cardi B Previews First Single Off Her Forthcoming Album: Listen
By Peyton Blakemore
January 6, 2020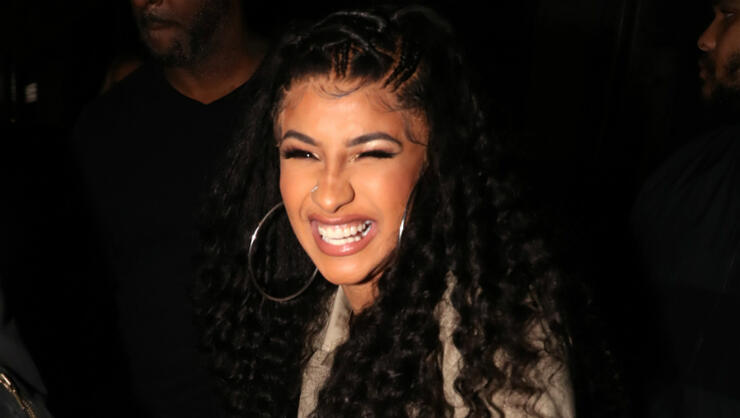 Cardi B finally shared a preview of the first song off her upcoming sophomore album.
After a Twitter user asked the "Writing On The Wall" rapper to "spill some tea on the single," Cardi responded by sharing a three-second clip of an undisclosed track.
"Shake, earthquake," she raps over the Wheezy-produced beat. While it was a short teaser, it was enough to get Cardi fans excited about her forthcoming project as the gushed about the brief preview on Twitter.
The snippet comes a few months after the "Press" rapper blessed fans with a "little something something" — a casual, yet fire, freestyle on Instagram — to hold them over until her album arrives. Wearing a cropped tank top, sweats and her natural hair while posted up in a kitchen in front of Cap'n Crunch, Vienna Sausages, and other snacks, Cardi jumped on the beat with her usual swagger, rapping, "BX you know I rep that/ b*tches step back/ I'm right back on my bullsh*t you could bet that/ Wack h**s I never stress that, I don't address that.
She continued, "Cardi B find me anywhere the check at/ These bum b*tches is broke and I don't respect that/ Let a sugar daddy talk but they don't reflect that/ You ain't open up no business, got no businesses/ I be in the mansion, you be in my mentions / I came right out the trenches to the top of the charts / Lost friends on the way / This sh*t is breaking my heart / 'Bout 30 seconds in I'm like where do I start / I don't act I'm a hustler just playing my part."
In a recent interview with Vogue, Cardi opened up about feeling anxious about delivering a sophomore album that matches the success of her debut album, Invasion of Privacy.
"It's scary because it's like, now you got to top your first album, and then it's like, da*n. I wonder if people are gonna relate to the new things, to the new life, to the new sh*t that I gotta talk about now," she told the mag. "Music is changing. I feel like people just wanna hear twerk-twerk music, but it's like, is that just a phase? I probably need a sexy song. I need a lot of turn-up songs. I need a slow song, a personal song. And those are harder for me—I always need help when it comes to talking about my feelings. It's hard for me to be soft, period. So it's a lot of thoughts, a lot of pressure. It's really like a job."
Photo: Getty Images
Chat About Cardi B Previews First Single Off Her Forthcoming Album: Listen