Rihanna Lets Her Pimple 'Shine' In First Selfie Of The Year
By Peyton Blakemore
January 7, 2020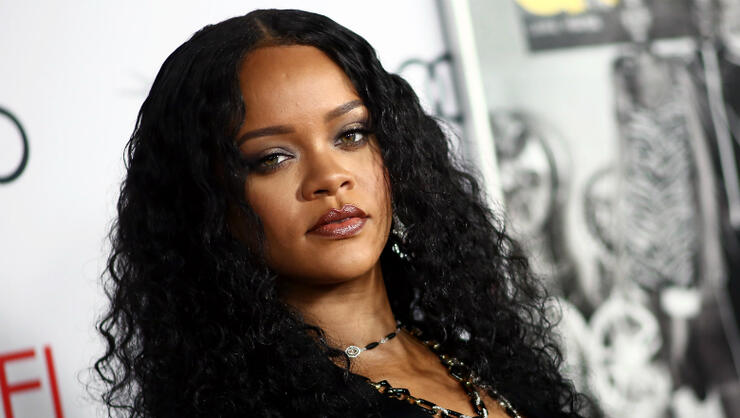 Sorry, Rihanna fans: Rih Rih dropped some more unrelated R9 content to kick off the New Year.
On Monday (January 6), the songstress turned business mogul shared her first selfie of 2020, which she appropriately captioned, "first selfie of the year doe. #2020." The close-up picture showed a make-up free Rihanna with her hair in braids as she posed for the camera in a black hoodie.
While the photo is undoubtedly flawless, an Instagram user noted that Rih had a pimple on her right cheek, commenting "Let me pop your pimple." Unfazed by the fan bringing attention to her blemish, the Barbadian beauty hilariously replied, "Let her have her shine, PLEASE."
As Rihanna fans are well aware, the "Work" singer's latest selfie comes amid disappointment (and slight outrage) about the lack of arrival of her ninth studio album, allegedly titled R9. Despite telling fans that the project would drop in 2019, the year came and went without a single track from the Rih. She did, however, heavily tease the project. In fact, her last Instagram post of 2019 even trolled her anxious, but oh-so-loyal Navy, who have not let up with questions about the arrival of R9. "update: me listening to R9 by myself and refusing to release it," she captioned a video of a dog dancing to "Jump Around" by House of Pain." #SAVAGE
Rihanna's trolling came a little over a month after she opened up about having an "overwhelming" year, admitting that she'd struggled to balance her very busy life. "To all my friends/family/coworkers who I have yet to get back to in the past months...please forgive me," she captioned a gorgeous selfie of herself wearing a white t-shirt with the words "Art School Dropout" on the front. "this year has been quite an overwhelming one, and I'm working on that ish called Balance. brb."
Photo: Getty Images