BTS Announces 'Map Of The Soul' World Tour: See The Dates
By Paris Close
January 22, 2020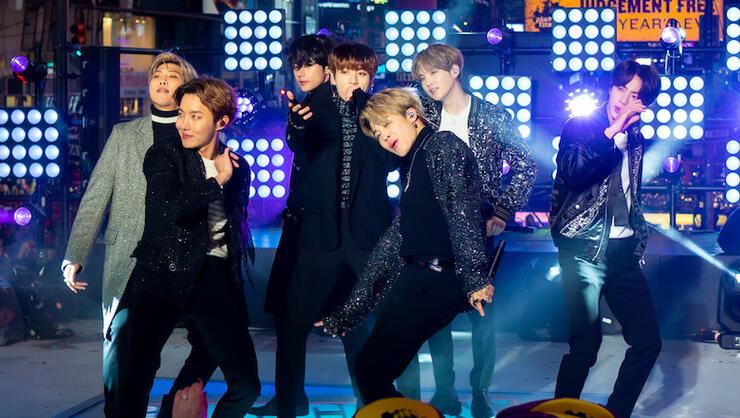 BTS is going on a world tour!
The K-pop stars announced their 37-date globe-trotting "Map of the Soul" trek on Tuesday (January 21). Per the announcement, the band will embark on their newest jaunt launching on April 11 with four scheduled performances in their hometown at Seoul's Olympic Stadium.
From there, the boy band will travel to the United States for concert shows in Los Angeles, Dallas, Orlando, and elsewhere before jetting back across the pond for dates in places like London, Berlin, and Barcelona before its final stop in Tokyo in September. Future shows are to be announced.
The world tour announcement, initially teased in December 2019, appears just weeks after the South Korean superstars unveiled the release date for their next album, Map of the Soul: 7, set to arrive on February 21. Additionally, the band will be promoting the record with an exclusive event in Los Angeles, iHeartRadio LIVE with BTS presented by HOT TOPIC on January 27.
Tickets for the "Map of the Soul" tour will be available to the general public starting at 3 p.m. local time on February 7. For more dates and details, click here.
BTS' "Map of the Soul" World Tour Dates:
April 11 - Seoul, South Korea - Olympic Stadium
April 12 - Seoul, South Korea - Olympic Stadium
April 18 - Seoul, South Korea - Olympic Stadium
April 19 - Seoul, South Korea - Olympic Stadium
April 25 - Santa Clara, CA, USA - Levi's Stadium
April 26 - Santa Clara, CA, USA - Levi's Stadium
May 2 - Los Angeles, CA, USA - Rose Bowl Stadium
May 3 - Los Angeles, CA, USA - Rose Bowl Stadium
May 9 - Dallas, TX, USA - Cotton Bowl Stadium
May 10 - Dallas, TX, USA - Cotton Bowl Stadium
May 14 - Orlando, FL, USA - Camping World Stadium
May 17 - Atlanta, GA, USA - Bobby Dodd Stadium
May 23 - East Rutherford, New Jersey, USA - MetLife Stadium
May 24 - East Rutherford, New Jersey, USA - MetLife Stadium
May 27 - Washington, D.C., USA - FedExField
May 30 - Toronto, ON, Canada - Rogers Centre
May 31 - Toronto, ON, Canada - Rogers Centre
June 5 - Chicago, IL, USA - Soldier Field
June 6 - Chicago, IL, USA - Soldier Field
June 13 - TBA
June 14 - TBA
June 28 - Fukuoka, Japan - Fukuoka PayPay Dome
June 29 - Fukuoka, Japan - Fukuoka PayPay Dome
July 3 - London, UK - Twickenham Stadium
July 4 - London, UK - Twickenham Stadium
July 11 - Berlin, Germany - Olympiastadion Berlin
July 12 - Berlin, Germany - Olympiastadion Berlin
July 17 - Barcelona, Spain - Estadi Olimpic Lluis Companys
July 18 - Barcelona, Spain - Estadi Olimpic Lluis Companys
July 23 - Osaka, Japan - Kyocera Dome Osaka
July 25 - Osaka, Japan - Kyocera Dome Osaka
July 26 - Osaka, Japan - Kyocera Dome Osaka
July 30 - Osaka, Japan - Kyocera Dome Osaka
August 1 - Osaka, Japan - Kyocera Dome Osaka
August 2 - Osaka, Japan - Kyocera Dome Osaka
August 7 - Saitama, Japan - MetLife Dome
August 8 - Saitama, Japan - MetLife Dome
September 1 - Tokyo, Japan - Tokyo Dome
September 2 - Tokyo, Japan - Tokyo Dome
Photo: Getty Images