Brendon Urie Reveals Why He Thinks Kanye West Is A 'Genius'
By Lindsey Smith
February 5, 2020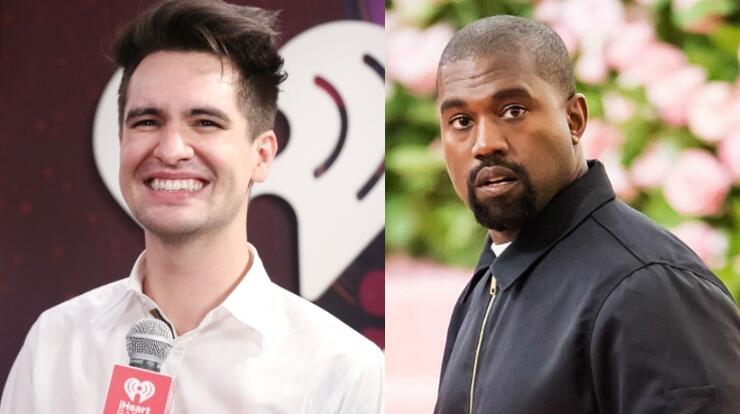 With six albums and 15+ years under his belt, Panic! At The Disco frontman Brendon Urie has had his fair share of experiences in the music industry. 
In a recent interview with Kerrang!, the 32-year-old opened up about how he plans on staying authentic in his music as well as his love for hip-hop and Kanye West.
The "Hey Look Ma, I Made It" singer had much to say about Kanye and despite being pals with Taylor Swift, who has an ongoing feud with the rapper, Urie had the ultimate accolade for him.
"I'm a Kanye West fan — he can say what he wants and vote for who he wants," he said. "I think he's a genius at getting people to talk about him, and finding the right songs. Even if he stopped producing stuff, finding the right songs and having that ear to acknowledge that there's a talent in that idea, and how to use that, is a genius move."
With that said, Urie praised the hip-hop community and hoped that those who play rock music could learn from the likes of Kanye. "I think that hip-hop has been doing a thing that rock has failed at on a lot of points, which is: no rules," he explained. "The more that I hear hip-hop, they just do whatever the f*** they want, and that makes me so excited."
Urie went on to explain that fans can always expect Panic! At The Disco to write and record music that the band loves. He also opened up about how he stays real as possible in his own music and refuses to record anything artificially manufactured. 
"I could never put something out that I wasn't 100 percent sold on. If it felt fake, it would just be fake. There would be no reason for me to do it, and I would just be so bummed! I would be so unhappy playing stuff onstage that was manufactured artificially."
Photos: Getty Images