Rihanna Talks About Her Love For 'Antagonizing' Fans About Upcoming Album
By Peyton Blakemore
February 8, 2020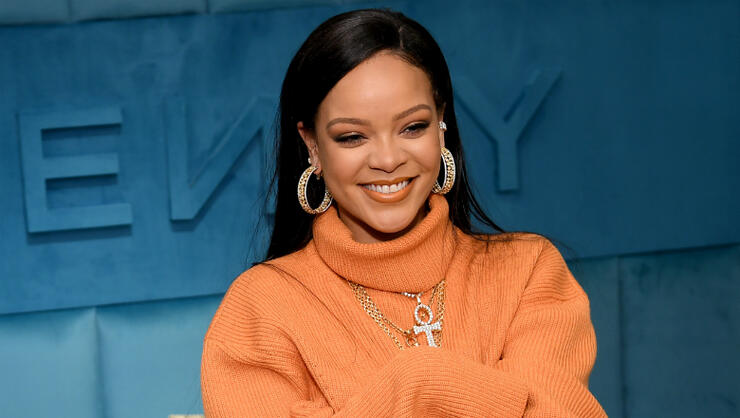 Rihanna loves trolling her fans.
While at the launch of her new Fenty 2-20 collection at Bergdorf Goodman in New York City, Rih spoke to Entertainment Tonight about her upcoming ninth studio album, allegedly titled R9, but, as we've come to expect, she didn't say much.
"Dot, dot, dot. To be continued," RiRi teased when asked if she had any R9 updates to share. "I like to antagonize my fans a little bit. Well, they antagonize me, too! So, they get it right back."
Rihanna shared a similar sentiment back in October when she set the record straight on rumors about the title of her upcoming album after fans noticed that she'd registered a new song titled "Private Loving" to the music-rights organization BMI," and began to speculate that it could also be the title of her upcoming project.
"That's not true," Rihanna clarified to ET. "That's not gonna be the title of any album." Rih went on to say that all details about the album are "pending."
"I can give you a dot, a dot, and a dot," she said with a smile.
Rihanna's "antagonizing" of her fans by sharing little to no details about R9 has been an almost constant for nearly four years since the release of her last studio album Anti in 2016. Despite telling fans that the album would drop in 2019, the year came and went without a single track from Rih. She did, however, heavily tease the project. In fact, her last Instagram post of 2019 even trolled her anxious, but oh-so-loyal Navy, who have not let up with questions about the arrival of R9. "update: me listening to R9 by myself and refusing to release it," she captioned a video of a dog dancing to "Jump Around" by House of Pain." #SAVAGE
Photo: Getty Images
Chat About Rihanna Talks About Her Love For 'Antagonizing' Fans About Upcoming Album