Nicki Minaj Shares Most NSFW Twerk Video Ever, Lands On Adult Film Site
By Peyton Blakemore
February 18, 2020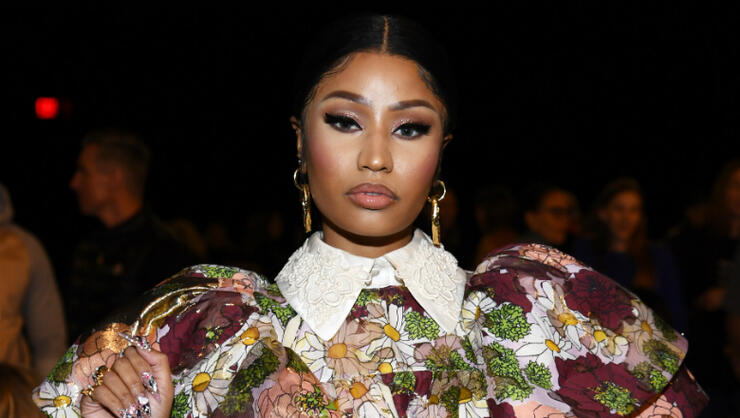 Nicki Minaj's latest promo for her new track "Yikes" is breaking the Internet.
On Monday (February 17), the 37-year-old rapper shared a NSFW video of herself twerking on a bed while in a sheer body-hugging dress to her latest single. Leaving little the imagination, Nicki showed off her bare derrière at one point as her effortless and truly legendary twerking skills caused her dress to ride up.
"H*e sh*t 😝," Nicki captioned the video, which was also shared on adult site Porn Hub. See the NSFW video HERE.
As fans know, Queen Barbz dropped "Yikes" — a bass-heavy track produced by Pooh Beatz that is reportedly serving as the promotional single for her highly anticipated fifth studio album — earlier this month.
The song sparked almost immediate controversy when Nicki first teased it, playing a snippet of the track that included a Rosa Parks name-drop to Instagram. "Woke up, the price of coke up/ I just hit them with the low cut, then call my folks up/ Somebody 'bout to get poked up, go call the tow truck/ All that talking out your neck might just get your throat cut/ This a matte truck, not a black truck/ When we move tell 'em, "Back up," click c-clack, duck/ Hella bands, pull up, stashed up super facts up," she raps before getting to the controversial line about the first lady of civil rights. "All you b*tches Rosa Parks, uh-oh, get your a** up."
While TMZ published an article claiming "Nicki was NOT in any way, shape or form attempting to diss the great Mrs. Parks -- she was just using her in what she thought was a clever metaphor aimed at her haters," the 37-year-old rapper later disputed the report.
"Never said this," Nicki captioned a screenshot of a headline that read, "Nicki Minaj Says Rosa Parks LyricsWas 'Bad Timing:' Not Meant To Offend Or Disrespect Parks." She added, "Had no clue anyone was mad. Don't care. #Yikes."
Photo: Getty Images
Chat About Nicki Minaj Shares Most NSFW Twerk Video Ever, Lands On Adult Film Site