YUNGBLUD Makes Fans Cry With Spoken Word Poem 'Paint Me Blue'
By Lindsey Smith
February 18, 2020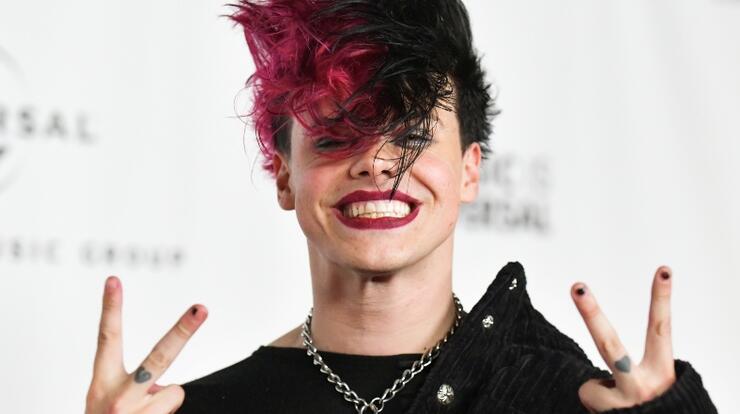 YUNGBLUD is bringing all the feels this week as he surprised dropped a new video on Monday (February 17). 
While the clip isn't a new song, the rocker spent a little over a minute debuting a new spoken word poem, "Paint Me Blue," while sitting on a bed in a brightly-colored shirt and black pants while reading the words off his phone.
The poem elicited some deep feelings in his fandom, with tons of fans commenting that they were crying after listening, and they flocked to both Instagram and Twitter to applaud the singer's emotional words. "Thank you for making me cry at work. Love you," one fan wrote. "How did you just sum up everything I feel and think??! love you sm," another tweeted him.
Many fans are hoping the poem translates into a song on his upcoming unnamed sophomore album. YUNGBLUD confirmed last week that the album, which he has previously said is heavily inspired by his fans and their stories, will be dropping in August and fans will be hearing a new song very soon as well!
YUNGBLUD will also be heading out on tour later this spring on The Underrated Youth Tour!
Read the full poem below:
I yearn to cry, even though I just did
I yearn to feel loved, even though you just told me you loved me
I yearn to not have the pain in my tummy, even though I know it won't go away
I yearn to be better, even though i know i'm doing fine today
I yearn for colour, even though the picture is painted
I yearn for her / him / they, even though i know they / him / her could never yearn for me back
I yearn for more, even though i don't need it
I yearn to be hurt, even though i f***** hate pain
I yearn to believe in myself
I'm sorry i'm this way
But it's who I am
I'm not naive, but i don't have a plan
Tell me I'm a cryin immature baby
Tell me your[stet] through
Tell me that you know me and like you know
What i've been through
Tell me that you've got the answers and that
You know the truth
Paint me blue
Paint me blue
Paint me blue
Photo: Getty Images
Chat About YUNGBLUD Makes Fans Cry With Spoken Word Poem 'Paint Me Blue'