JoJo Reveals She Was Put On Extreme 500-Calorie A Day Diet As A Teen
By Peyton Blakemore
February 26, 2020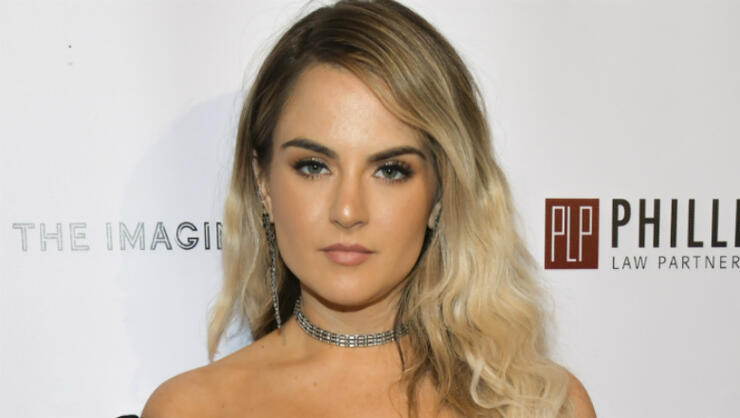 After JoJo was launched into stardom at just 13, the "Leave (Get Out)" singer's journey in the music industry was anything but easy.
In a new interview with Uproxx, the now 29-year-old vocalist opened up her body struggles, revealing that the root of her "extreme insecurities and disordered eating" stemmed from her early career experiences.
"When I was 18 I remember being sat down in [my label's] office and the president of the label being like, 'We just want you to look as healthy as possible.' And I was like, 'I'm actually the picture of health. I look like a healthy girl who eats and is active. I don't think this is about my health. I think that you want me to be really skinny.' He's like, 'No, I wouldn't say that,'" she shared, before revealing that she was then put on a super-restrictive diet that made her believe the reason her label wasn't releasing her new music was because of "the way [she] looked."
"I ended up working with a nutritionist who had me on a 500-calorie diet a day. I was taking these injections that make you have no appetite," JoJo shared. "I was like, 'Let me see how thin I could become because maybe then they will put out an album. Maybe I'm so disgusting that nobody wants to see me in the video and they can't even look at me.' That's really what I thought."
(To note: according to Health.gov, an 18-year-old girl with an active lifestyle should consume at least 2,400 calories per day.)
Sadly, JoJo's struggles with food and body image led to her developing "extreme" insecurities that carried over into almost every aspect of her life. "So I started getting really f**ked up, drinking, making out with strangers, looking for validation and attention and looking to feel pretty, looking to feel good, to feel worthy," she continued. "There were definitely nights that I stumbled out of clubs and that I blacked out. I was just completely reckless, did not care. I needed to be buzzed to feel okay. I would go to the edge, stand on my tiptoes on the edge and then come back."
"I should be dead," JoJo admitted, explaining that her father, Joel, who died in 2015, was an addict, which was a major factor in her choosing to stop using substances. "I would've ended up like my dad, just going to sleep one day and not waking up. Because life is hard."
After hitting her rock bottom, the only place to go was up. In 2014, the "Baby It's You" singer was released from her recording contract after an intense legal battle with her former label. She went on to re-record her first two albums and singles, which were owned by pervious label, and even launched her own record label. And now she's preparing to drop her next album, Good to Know, in the spring.
"This journey has been a journey of learning how to love myself," she said. "I feel really lucky, really, really grateful for the longevity that I have and for the resilience that I do have. But I work on it every day. I want to create a life for myself and I want to create a legacy."
Photo: Getty Images