LeBron James Reacts To Speculation He Skipped Kobe Bryant's Memorial
By Peyton Blakemore
February 26, 2020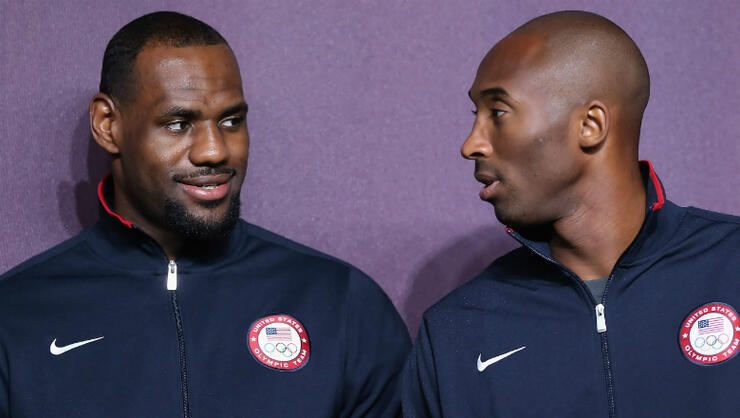 LeBron James is continuing to mourn the loss of his dear friend Kobe Bryant and the NBA legend's 13-year-old daughter Gianna.
While speaking with reporters on Tuesday (February 25), the Los Angeles Laker spoke of the father-daughter's joint memorial service, which was held earlier this week.
"One thing I can come out of it saying is how strong and how bold and how powerful [Kobe's wife] Vanessa is," LeBron said, per Sports Illustrated. "To stand up there the way she did, to give that speech the way she gave that speech. I commend her. My heart is with their family still. With his three daughters that are still here. With his wife. With his mom and dad and his sisters. It was just a very difficult day. Obviously a celebration but it was a difficult day for all of us."
On Monday (February 24), 20,000 mourners — including a number of celebrities, including Kim Kardashian, Kanye West, Kris Jenner, Jennifer Lopez, Snoop Dogg, Dwyane Wade, Gabrielle Union, Magic Johnson, Michael Phelps, and Alex Rodriguez, to name a few — gathered inside the house that Kobe built, the Staples Center, to honor the late legend and Gigi nearly one month after their lives, along with seven others, were cut short in a tragic helicopter crash.
While cameras often panned to the celebrities during the televised serviced, LeBron wasn't one of them, leading some to speculate that he wasn't there.
When asked directly if he was in attendance at the Staples Center for the service, LeBron told reporters, "Um, like I said man, it's just, I respect your question for sure, but it's very emotional. A very emotional day. A very tough day for myself, for my family, for everyone involved."
Days after Kobe and Gigi's death, LeBron paid tribute to them on Instagram. "I'm Not Ready but here I go," he began. "Man I sitting here trying to write something for this post but every time I try I begin crying again just thinking about you, niece Gigi and the friendship/bond/brotherhood we had! I literally just heard your voice Sunday morning before I left Philly to head back to LA. Didn't think for one bit in a million years that would be the last conversation we'd have. WTF!!"
"I'm heartbroken and devastated my brother!! 😢😢😢😢💔," LeBron continued. "Man I love you big bro. My heart goes to [your wife] Vanessa and the kids. I promise you I'll continue your legacy man! You mean so much to us all here especially #LakerNation💜💛 and it's my responsibility to put this sh*t on my back and keep it going!! Please give me the strength from the heavens above and watch over me! I got US here! There's so much more I want to say but just can't right now because I can't get through it! Until we meet again my brother!! #Mamba4Life❤️🙏🏾 #Gigi4Life❤️🙏🏾."