Snoop Dogg & 50 Cent Mock Oprah Winfrey After She Falls Onstage
By Peyton Blakemore
March 3, 2020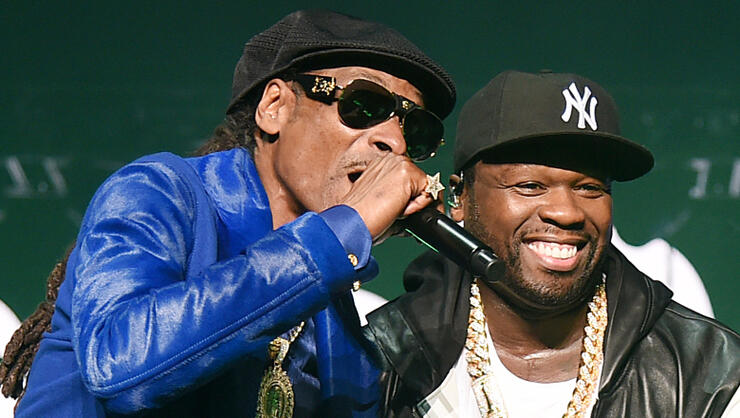 Snoop Dogg may have squashed his beef with Gayle King, but that doesn't mean her bestie is off limits.
Less than a month after he publicly apologized to the CBS This Morning host for launching an online assault against her, Snoop decided to mock Gayle's BFF, Oprah Winfrey, after she fell onstage during her 2020 Vision tour stop in Los Angeles over the weekend.
"Michael [Jackson] and Kobe [Bryant] blew a gust of wind. Balance," the 48-year-old rapper commented on 50 Cent's post of Oprah's fall on Instagram. The Power star initially captioned the Instagram video: " 👀what the f**k happen here, 🤦‍♂️😆michael jackson's ghost trip her."


Last month, Snoop issued a public apology to Oprah's BFF, Gayle, after going nuclear on her for an interview she did with Lisa Leslie, in which she asked about the late Kobe Bryant's 2003 rape case.
He followed up his apology by going on Jada Pinkett Smith's Red Table Talk, where he maintained that he was wrong for the way he responded.
As fans know, Gayle came under attack last month when a short clip, shared by CBS, began making its rounds on the Internet that showed her asking Kobe's longtime friend Lisa about his previous rape charge. Many were outraged not only by Gayle's line of questioning, but her timing, given that the interview came days after the death of the 41-year-old basketball player, his 13-year-old daughter Gianna, and seven others, whose lives were claimed in a helicopter crash.
Snoop was one of the first to share his explicit thoughts on Gayle's interview, calling the esteemed journalist out of her name and even appearing to threaten her. "Gayle King," he said as he shook his head. "Out of pocket for that sh*t. Way out of pocket. What do you gain from that? I swear to God, we're the worst. We're the f**king worst. We expect more from you, Gayle. Don't you hang out with Oprah? Why ya'll attacking us? We your people. You ain't coming after f**king [producer] Harvey Weinstein, asking them dumba** questions. I get sick of ya'll."
"How dare you try to tarnish my motherf**king homeboy's reputation, punk motherf**ker?" he continued, referring to Kobe's legacy. "Respect the family and back off, b*tch, before we come get you."
Photo: Getty Images
Chat About Snoop Dogg & 50 Cent Mock Oprah Winfrey After She Falls Onstage