Kelsea Ballerini And Halsey Team Up On 'The Other Girl' Remix
By Blake Taylor
April 23, 2020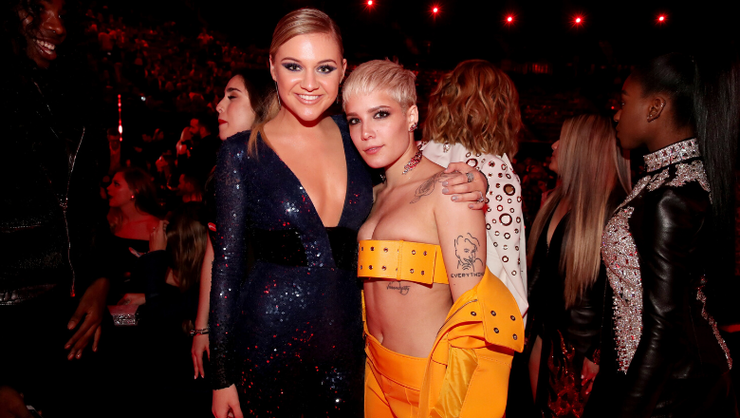 Kelsea Ballerini and Halsey have teamed up for a new remix of their recent single. "The Other Girl [The Other Mix] was officially released to country radio on April 20.
The original track is featured on Ballerini's new self-titled album, Kelsea, which was released on March 20. The song, co-written by Ballerini alongside Shane McAnally and Ross Copperman, shows off a different side of Ballerini as an artist.
"I always like to zig-zag with singles to show different sides of who I am as an artist, and 'the other girl' is the perfect next song to showcase this," Ballerini explains. "It's a dark and angsty story song that is completely different than 'homecoming queen,' and really anything else I've gotten to share to date."
She continues, "Having Halsey, who is a massive country fan and close friend, as a part of it, adds a magic that I will be so excited to hear on my favorite radio stations."
Take a listen to "The Other Girl [The Other Mix]" below.
Ballerini's new album, kelsea, includes a total of 13 songs. In addition to her collaboration with Halsey, Ballerini also teamed up with country music icon Kenny Chesney for a special duet called "Half of My Hometown."
In a recent interview with iHeartRadio, Ballerini opened up about the album's theme and how songs like this were a part of a self-discovery process.
"The album, even all the bops of the album, they have a lot of heart, truth and self-discovery in them," Ballerini explained. "So it felt like the album that kind of put me on a first name basis with whoever listens to it."
She continues, "I love this album. I'm so excited to bring it on the road, I'm so excited to play it, I'm so excited to talk about it for two years. It's something that isn't fear-based for me, it's just really honest, real and me."
Photo: Getty Images
Chat About Kelsea Ballerini And Halsey Team Up On 'The Other Girl' Remix