'Lizzie McGuire' Cast Reunites For Table Read Of Popular 'Bra' Episode
By Paris Close
May 12, 2020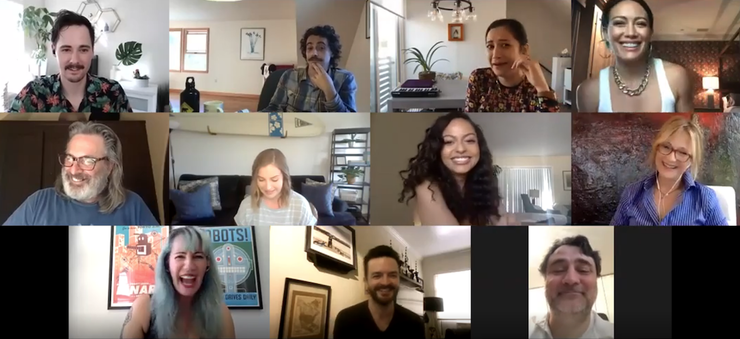 The cast of Lizzie McGuire is back together!
Hilary Duff joined her former Lizzie McGuire costars on Monday (May 11) for a pretty epic virtual reunion. In the 44-minute broadcast, Duff and her fellow castmates went live on Instagram to do an online table read of the show's "Between a Rock and a Bra Place!" episode nearly 20 years after it aired on Disney Channel.
Those present for the virtual reunion were Adam Lamberg (Gordo), Lalaine (Miranda), Jake Thomas (Matt), Robert Carradine (Sam), Hallie Todd (Jo), Ashlie Brillault (Kate), Davida Williams (Claire), and Kyle Downes (Larry).
"LIZZIE MCGUIRE retro table read!" the 32-year-old actress captioned the video. "We could not stop laughing reading lines from tween us...this is the first time we were all 'together-ish' in almost 18 years! Do excuse our delayed singing...we will be taking singing lessons as a group to work on our craft!!"
As you may recall in the episode (first aired on May 11, 2001), Lizzie and Miranda reluctantly go shopping for their first bras with Lizzie's mother, while Gordo gives Matt a helping hand to become Jet Li's action movie sidekick. The episode was also beloved for the cameo appearance of Robert's real-life brother, the late David Carradine.
"I truly believe that this show was magical, and everyone that was a part of it created that ... and made this show mean so much to so many people," the "Sparks" singer said after the read. "I think we're all very grateful to have experience that."
As fans know, Lizzie McGuire was optioned for a reboot on Disney+ last summer. The reunion comes just months after the network halted production on the revival and announced the departure of series creator Terri Minsky. The new take has been rumored to be more adult-friendly, finding Lizzie in her 30s.
Watch the reunion below.
Photo: Instagram/Hilary Duff