Mariah Carey Sings 'There's Got To Be A Way' In Honor Of George Floyd
By Paris Close
May 31, 2020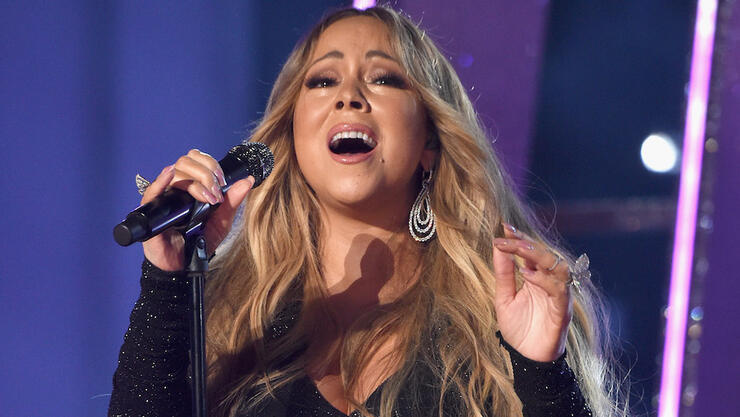 Mariah Carey delivered a passionate tribute to George Floyd in the wake of his tragic death.
On Saturday (May 30), the singer-songwriter took to Instagram in response to the protests and civil unrest sweeping the nation following the killing of Floyd, who died after former Minneapolis police officer Derek Chauvin kneeled on his neck for several minutes despite Floyd's pleas that he could not breathe.
Hoping to bring some much-needed light during these dark and troubling times, Carey posted an at-home video of her singing her 1990 song "There's Got to Be a Way" as a tribute to Floyd. "I wrote this song for my first album. Still looking for answers today. We have to make a change. We can't be silent," Carey captioned the clip along with the hashtag #BlackLivesMatter.
The chanteuse also shared the following call to action: "Text 'FLOYD' to 55156 to demand #JusticeForFloyd 🎵 I don't understand how there can be regulated bigotry There's got to be a way to connect this world today 🎵"
"There's Got to Be a Way" appears on Carey's self-titled debut album. On the peaceful political anthem, she sings, "There's got to be a way/ To connect this world today/ Come together to relieve the pain/ There's got to be a way/ To unite this human race/ And together we'll bring on a change."
Carey's sentiments are the latest in a long line of celebrities demanding justice for not just Floyd, but all black civilians who have been harmed or worse by unjust police brutality. Read more responses from the likes of Lady Gaga (here), Post Malone (here), Beyonce (here), and Rihanna (here).
Photo: Getty Images
Chat About Mariah Carey Sings 'There's Got To Be A Way' In Honor Of George Floyd