Granger Smith And Wife Amber Remember Their Son River One Year After Death
By Blake Taylor
June 4, 2020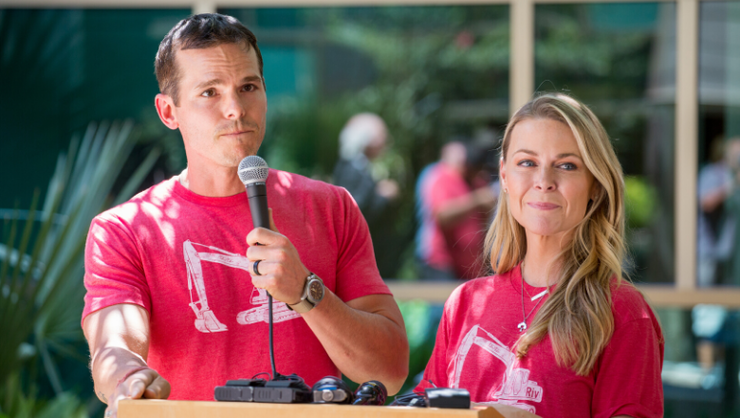 It's been a hard year for Granger Smith and his wife Amber. In June of 2019, the couple lost their youngest 3-year-old son, River, in a tragic drowning accident. Now, a year later, Amber is remembering her son with an emotional Instagram post.
"365 days since I held your curious, playful, vivacious spirit alive. It's hard for me to grasp that I've been without you a third of the time I had with you. Time doesn't make sense. Heck, most of life doesn't make sense," she wrote alongside a series of photos of River. "Today, I'm holding on to hope. I'm lifting my gaze to what is unseen and instead of letting myself go down a bad road of guilt, pain, and anger, I'm going to praise. I'm going to thank God for you. You changed me forever, River Kelly."
"As I type this, I'm looking at the beautiful sun, and the thousands of yellow wildflowers I know you would have brought to me with the biggest smile on your face," she continues. "I know God is working. I know He will bring healing, new joy and transformation of our hearts through this pain. I know that when everything seems impossible, God will carry me and I know I will see you again. Until then, I will praise, I will fight, I will live for you with an open heart to try to learn and grow and trust God's plan."
"My worst day was your best, little man, as you woke up in the arms of Jesus," she adds. "I miss you. I love you. We can do this. ❤️⚡️🦋🌈✝️🚜🦖"
Amber ends her heartfelt post with "2 Corinthians 4:18." The bible verse reads, "So we fix our eyes not on what is seen, but on what is unseen, since what is seen is temporary, but what is unseen is eternal."
The couple shared the news of River's death on June 6, 2019. "We've lost our youngest son, River Kelly Smith," Granger captioned an Instagram post at the time. "Following a tragic accident, and despite doctor's best efforts, he was unable to be revived. Amber and I made the decision to say our last goodbyes and donate his organs so that other children will be given a second chance at life. Our family is devastated and heartbroken, but we take solace in knowing he is with his Heavenly Father. Riv was special. Everyone that met him knew that immediately. The joy he brought to our lives cannot be expressed and his light will be forever in our hearts."
Over the last year, both Granger and Amber have documented parts of the family's healing process through multiple social media posts while also periodically sharing videos to their family YouTube channel, The Smiths.
The Smith family also continues to honor their late son's memory through the River Kelly Fund. The organization will support charities and causes that are close to the family's heart, including arts and education, wildlife preservation, first responders and more.
Photo: Getty Images
Chat About Granger Smith And Wife Amber Remember Their Son River One Year After Death