Walk The Moon Shares New Song Snippet And Album Update
By Katrina Nattress
July 17, 2020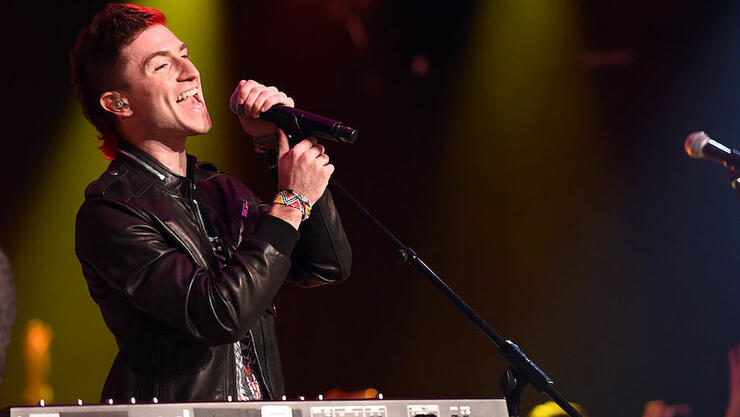 The coronavirus pandemic may have put a halt on a lot of bands' albums, Walk The Moon is doing just the opposite: they're making a new album in quarantine.
"rain or shine we are making you a new album. #WTM4" they captioned a video back in April. In the clip, a shaggy looking Nicholas Petricca demonstrated how the band's been working together through Zoom. "We're here in our virtual studio, Star Trek style," he said. "This is the future. Sorry COVID, we're makin' this album anyway."
Since the announcement, they've been sharing snippets from inside said virtual studio via Instagram, and on Thursday (July 16) that included a very short (we're talking two seconds long) clip of an upbeat new song. "recording recording recording" they captioned the post.
It may not be much, but it's enough to get fans excited for WTM's fourth album. Listen to the teaser below.
The new album hasn't been the only announcement WTM's made since quarantine began. On June 30, singer Nicholas Petricca revealed that he's bisexual.
"I am Bisexual. Today is the last day of Pride Month here in the year 2020, and I think it's time I said that," he said. "My whole life i have passed for a 'normal person,' cisgender straight guy, and this has afforded me a life of privilege. Virtually no name-calling or bullying or hardship around my sexuality really at all."
He continued: "I'm here to say: I am Bisexual. I have feelings for, am attracted to both men and women, and I have had experiences with both men and women, and I'm proud of it. I believe that sexuality is a spectrum, and I believe that most people probably live somewhere in between these far ends, heteronormative ends of this spectrum. and I believe that you can be an LGBTQ+ person whether you have had a particular type of experience with someone yet, or ever, in your life."
Photo: Getty Images
Chat About Walk The Moon Shares New Song Snippet And Album Update