Walk The Moon's Nick Petricca Officially Comes Out As Bisexual
By Lindsey Smith
July 1, 2020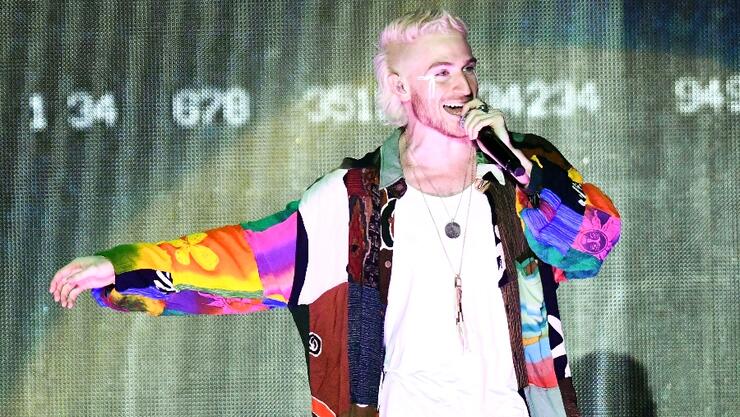 Nick Petricca is living his truth!
On the last day of Pride Month (June 30), the Walk the Moon lead singer posted an emotional video to social media announcing that he is bisexual.
"I am Bisexual. Today is the last day of Pride Month here in the year 2020, and I think it's time I said that," he said. "My whole life i have passed for a 'normal person,' cisgender straight guy, and this has afforded me a life of privilege. Virtually no name-calling or bullying or hardship around my sexuality really at all."
He continued: "I'm here to say: I am Bisexual. I have feelings for, am attracted to both men and women, and I have had experiences with both men and women, and I'm proud of it. I believe that sexuality is a spectrum, and I believe that most people probably live somewhere in between these far ends, heteronormative ends of this spectrum. and I believe that you can be an LGBTQ+ person whether you have had a particular type of experience with someone yet, or ever, in your life."
He later let fans of all sexualities know that they are loved, 100% free to be themselves, and a beautiful perfect complete human being just the way they are. 
Fans of the band will know that Petricca touches on sexuality a bit in the band's lyrics (see the lyrics to "All I Want") but has never officially announced his sexuality until now and it's safe to say the band's fans are one thousand percent behind him!
"Thank you for being a beacon of light in this sometimes dark world and living your truest version of you," one fan wrote while another said, "You are so inspirational! I love you so much Nick and I'm so so so proud of you for doing this. Your songs have helped me throughout the years in my toughest and darkest moments and have helped me accept my gender and sexuality."
Watch his whole video below!
Chat About Walk The Moon's Nick Petricca Officially Comes Out As Bisexual