Justin Timberlake & Jessica Biel Secretly Welcome Second Child: Report
By Paris Close
July 19, 2020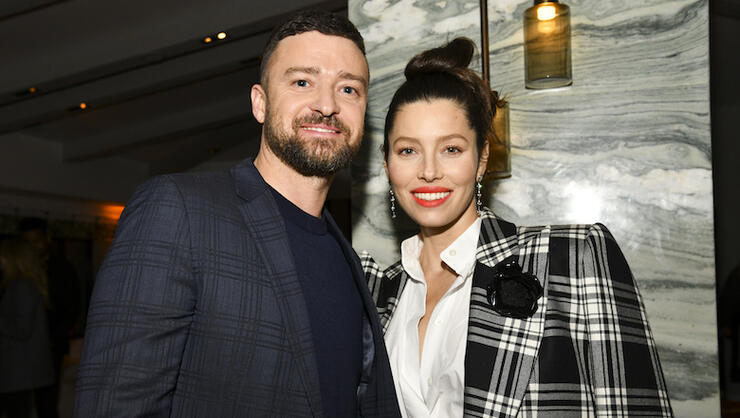 Justin Timberlake and Jessica Biel have reportedly become parents for a second time!
According to the Daily Mail, the Sinner actress secretly gave birth to a baby boy with the pop star after concealing their pregnancy news for nine months.
The outlet indicates Biel is currently "holed up" in quarantine with her newborn son, her husband, and the pair's first child, 5-year-old Silas, in Big Sky, Montana. As it's understood, Biel's mother, Kimberly, has been keeping the mommy-of-two and her newest grandson company for much of the past week as well.
As the Daily Mail pointed out, it's believed Biel was at least four months pregnant around the time when she celebrated her 38th birthday on March 3. Since sharing a picture of herself from her special day on Instagram, Biel hasn't posted any recent full-body snapshots that would reveal the duo's surprise pregnancy.
The baby news comes seven months after the couple, who has been married since 2012, weathered an alleged cheating controversy on Timberlake's part after the "SexyBack" star was caught getting cozy and holding hands with his co-star Alisha Wainwright in December. Timberlake, who had been filming his movie Palmer in New Orleans with his co-star at the time, eventually admitted his wrongdoing for the situation in a public apology to his wife.
"I stay away from gossip as much as I can, but for my family, I feel it is important to address recent rumors that are hurting the people I love," Timberlake wrote on Instagram at the time. "A few weeks ago I displayed a strong lapse in judgment — but let me be clear — nothing happened between me and my co-star. I drank way too much that night and I regret my behavior. I should have known better."
Photo: Getty Images