Katy Perry Defends Ellen DeGeneres Amid 'Toxic' Workplace Controversy
By Hayden Brooks
August 5, 2020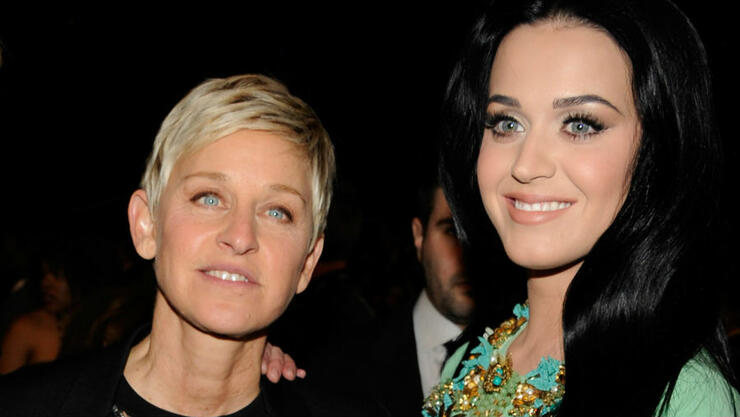 Ellen DeGeneres' public image is on the line due to ongoing reports of her toxic workplace approach, but Katy Perry is standing up for the comedian.
Perry, 35, recently took a stand for the long-running host, 62, in a pair of tweets on Tuesday (August 4). "I know I can't speak for anyone else's experience besides my own but I want to acknowledge that I have only ever had positive takeaways from my time with Ellen & on the @theellenshow," the American Idol judge told her 108.8 million followers on the platform. "I think we all have witnessed the light & continual fight for equality that she has brought to the world through her platform for decades. Sending you love & a hug, friend."
Perry's stance arrives days after DeGeneres broke her silence on the implications of misconduct in an open letter to staff. "On day one of our show, I told everyone in our first meeting that The Ellen DeGeneres Show would be a place of happiness – no one would ever raise their voice, and everyone would be treated with respect," the host explained. "Obviously, something changed, and I am disappointed to learn that this has not been the case. And for that, I am sorry. Anyone who knows me knows it's the opposite of what I believe and what I hoped for our show."
DeGeneres went on to admit that show growth prompted her to turn to others to self-manage, a tactic that some did not fulfill, and she's intent on making sure it "does not happen again." Additionally, she said she does not want colleagues to speak on her behalf. "I'm also learning that people who work with me and for me are speaking on my behalf and misrepresenting who I am and that has to stop," she said.
Unfortunately, DeGeneres' letter to the crew has not done the PR spin that she and her team probably had anticipated. As former staff members continue to come forward to share their experience with the star, reports have circulated that The Ellen DeGeneres Show might just come to an end. Earlier this week, executive producer Andy Lassner set the record straight on that speculation. "Nobody is going off the air," he wrote in response to concerns from one Twitter follower.
1/2 I know I can't speak for anyone else's experience besides my own but I want to acknowledge that I have only ever had positive takeaways from my time with Ellen & on the @theellenshow. I think we all have witnessed the light & continual fight for equality that she has brought

— KATY PERRY (@katyperry) August 4, 2020
2/2 to the world through her platform for decades. Sending you love & a hug, friend @TheEllenShow ♥️

— KATY PERRY (@katyperry) August 4, 2020