Parents Will Pay $100,000 For 'Life Coach' For Their Kids, Ages 5, 3 and 2
By Dave Basner
August 5, 2020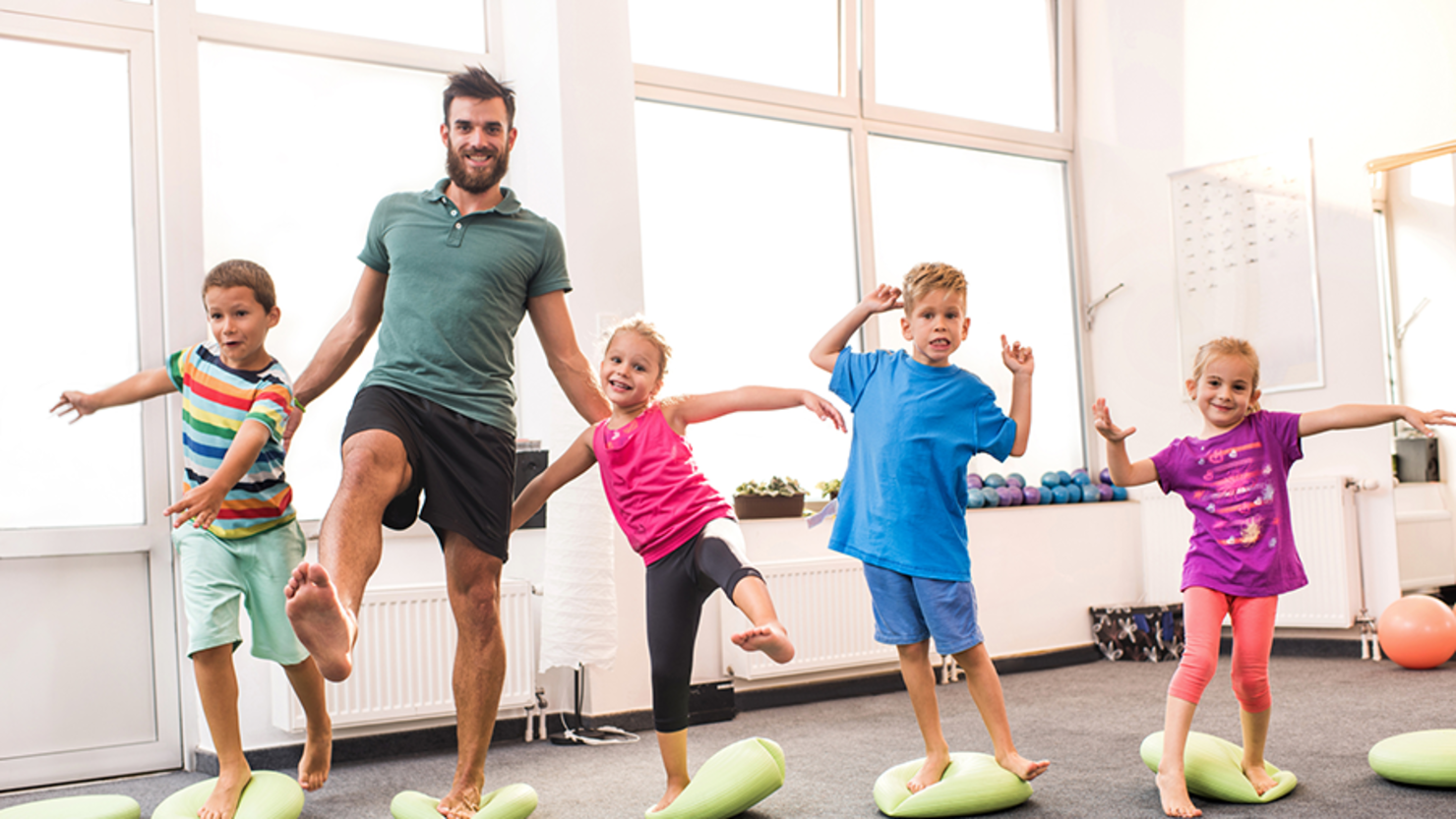 Some parents go to great lengths to ensure their kids become successful adults. Moms and dads might do this by reading to their children each night, or rewarding them for excelling, but one couple is going to the extreme for their five-year-old, three-year-old and two-year-old. They are looking to hire a life coach for the kids, and they're willing to pay that person $100,000.
The parents, from Aspen, Colorado, posted their job on CareerBuilder.com, writing:
"We are looking for a Life coach to join our High Performance Family in beautiful Aspen, Colorado. As a Life Coach for our children ages 5, 3 & 2, you'll support them in various areas of educational, experiential, athletic, health and personal growth; helping create attainable and realistic strategies for achieving their goals. You will transform their lives by coaching them in overcoming obstacles and inspiring them to reach their full potential."
Not only are they offering an "above-average yearly salary," but also full benefits, a car, a phone, "continual learning education," life coaching, a yearly ski pass, and full relocation with the first six months rent free.
As for what the life coach will be doing, the four main duties are: "Coach our children daily through online education, experiential learning, field trips, athletic training, health & wellness & personal growth through struggle; Develop daily strategies and plans for out children's weekly schedule; Work one-on-one or in small groups to help children with unique challenges to develop basic life skills; And adjust children's goals & strategies as needed." The coach will also be required to be a "skills coach for skiing, power skating and hockey," "create daily life experience learning adventures offsite," and "assist parents with running a high performance family that will include all household tasks."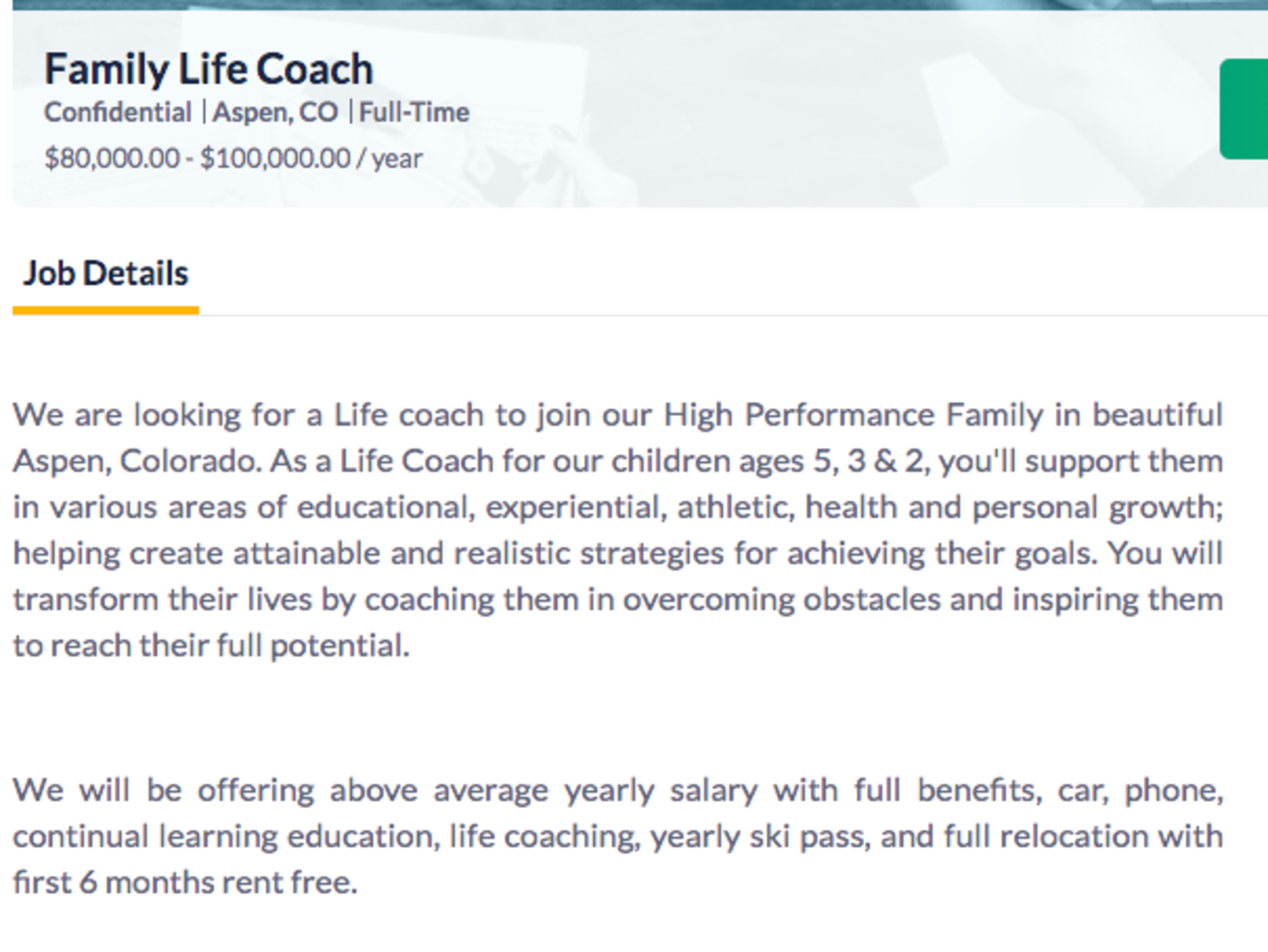 Of course, the job is not for everyone and to say the parents' list of qualifications is long would be an understatement. Here it is in it's full glory:
Bachelors degree in Psychology, Counseling, Education or related field
2+ years working with children as an athletic coach, teacher, summer camp coach etc
Current/Former student-athlete in college hockey
Moderate to expert skier
Passion for personal well-being journey
Enthusiastic about health and wellness
Walks the talk of living a healthy lifestyle and leads by example
Is well versed in and passionate about plant-based eating
Has experience successfully coaching children to change their lifestyle behaviors and habits
Is an effective teacher/coach
Curious and driven to learn
Energetic and passionate
Inspiring and motivating
Positive mindset
Creative and innovative
Responsible and organized
Takes initiative
Enjoys being part of a team
Mission driven and deeply moved to help people transform their lives
Strong behavioral and psychological skills: Able to identify obstacles to success and help children effectively overcome them
The emotional maturity and interpersonal skills to handle challenging children
Effective communication skills, such as use of open-ended questions, affirmations, reflective listening and summarizing, to help a child increase motivation and ownership to making a change
Help children develop achievable and measurable goals to monitor success and motivate ongoing behavioral change
Help children develop and exploit their strengths to support successful behavioral changes
Very comfortable with technology and capacity to use or learn multiple software and online learning platforms
Loves outdoors
Calming energy
Super active
Flexible schedule
Doesn't mind getting in the household management weeds with diapers, cleaning etc.
Healthy lifestyle
Can travel/overnight stays
Wants to work hard/be busy
Unequivocal excellence
Continually strives for perfection
Wins
Does the right thing
Compassion
Honesty and integrity
Hungry for achievement
Is enthusiastic, energetic, tenacious, and competitive
Encourages individual ability and creativity
Maintains accountability
Works hard
Is never satisfied
Is interested in continuous self-improvement
Helps first
Exhibits professionalism
Encourages individual initiative
Growth-oriented
Treats everyone with respect
Believes opportunity is based on merit; no one is entitled to anything
Has creativity, dreams, and imagination
Has personal integrity
Isn't cynical
Exhibits modesty and humility alongside confidence
Practices fanatical attention to consistency and detail
Truth
Values Experiences as education
3G's. Grit, growth, gratitude
That's not all though, the right person for the job also has to adhere to the family's "high performance culture standards." According to the post, that means:
You posses Grit - despite tremendous adversity and against all odds you find a way to succeed
You have a continual thirst for Growth - You believe with all your heart that you are meant to grow so you have more to give and that Progress = Happiness
You are Grateful and consistently trade expectation for appreciation - You practice gratitude and realize you have not achieved success alone. you've had help along the way which gives you a humble mindset.
You keep pushing yourself harder when everyone else has thrown in the towel
You are authentic. You know exactly who you are and are not here to impress anyone
You're not intimidated by pressure or performance results, you actually thrive on it
You don't compete with anyone, you only compete with yourself and compare how you performed yesterday
You thrive on consistent Feedback and believe that it is the pathway to growth
You don't have to love the hard work, but you crave the end results
You'd rather be respected than liked
You don't recognize failure; sometimes you win, sometimes you learn. you know there's more than one way to get what you want.
You never get complacent because you always want more
You understand that agreement is optional but commitment is not you are always committed to running the play that is called
You have meaningful and sometimes tough conversations regularly and speak the truth. HDR. Honest, Direct, Respectful
You live with Integrity - integrity in life and in communication with others
You surround yourself with like-minded successful people - You begin to think like they do, You begin to act like they do, You begin to perform like they do, their success rubs off on you
Bottom line, You don't just do your job, you define your job
No word on how many people have applied or if the parents truly expect to find someone that fits all their criteria, but if you think you're perfect for the position, you can apply here.
Photo: Getty Images, CareerBuilder.com