Tory Lanez Resurfaces For First Time Since Megan Thee Stallion Shooting
By Hayden Brooks
August 5, 2020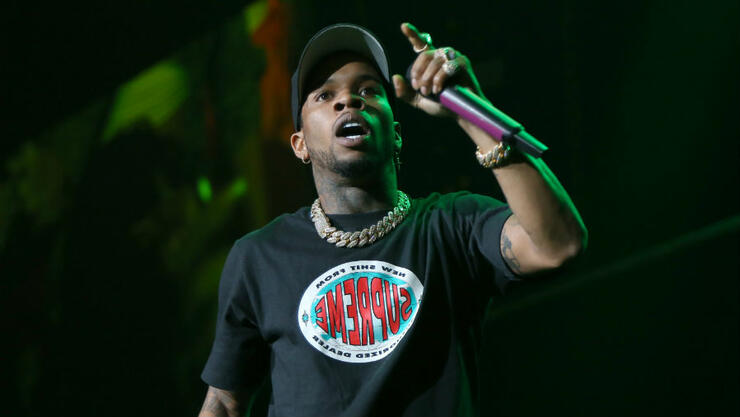 Tory Lanez made his first public appearance since the July shooting involving Megan Thee Stallion.
Earlier this week, Lanez was spotted at a McDonald's in Orlando, Florida, heading into the fast food restaurant with his dog Charlie. As per an eyewitness, the Canadian star was seen talking to a homeless man doing push-ups. Contrary to reports, Lanez was not deported from the U.S. because the incident, which took place after a dispute outside a house party in the Hollywood Hills.
"Obviously Tory has not been deported and is self-quarantining with his family," a source told The Neighborhood Talk. "This is a perfect example of false information being spread regarding this case, his whereabouts and his character. He's in good spirits and looks forward to having the truth come to light about that night and wishes nothing but the best for Meg."
As we've previously reported, the pair are at the center of some legal drama as the Los Angeles Police Department was prompted to open an investigation into the traumatic evening. Afterward Lanez reportedly shot the Houston native, he was arrested and booked for possession of a concealed weapon, while Meg was admitted to Los Angeles' Cedars-Sinai Hospital for the surgery. "I was shot in both of my feet," she recently admitted during a tearful Instagram Live session. "I was shot in both of my feet and I had to get surgery to get the sh*t taken out, to get the bullets taken out. It was super scary … it was the worst experience of my life and it's not funny. It's nothing to joke about. It was nothing for y'all to start making fake stories about. I didn't put my hands on nobody. I didn't deserve to get shot. I didn't do sh*t."
Chat About Tory Lanez Resurfaces For First Time Since Megan Thee Stallion Shooting