Cardi B & Megan Thee Stallion Recruit Kylie Jenner For NSFW 'WAP' Video
By Hayden Brooks
August 7, 2020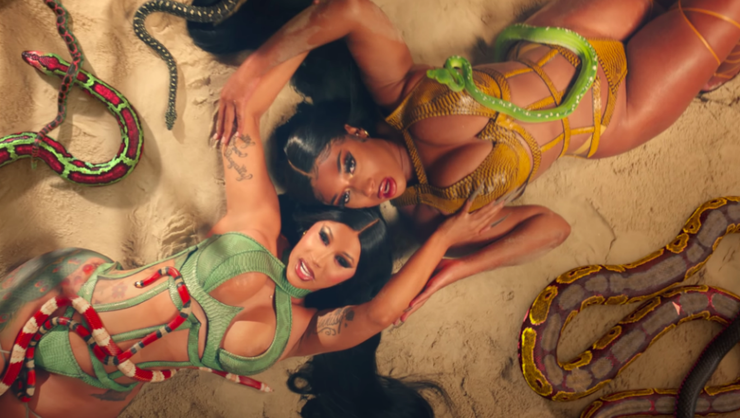 Cardi B is back with a raunchy new single, "WAP," featuring Megan Thee Stallion.
On Friday (August 7), the hip-hop queens dropped the Ayo n Keyz-produced track and its accompanying music video is a whole lot to process. In the four-minute clip, viewers catch the two rappers in similar looks as they explore a colorful mansion, only to offer some eye-popping set-ups, choreography and special appearances. Halfway into the clip, the one and only Kylie Jenner makes an appearance and opens the door to a tiger-themed room. Additional cameos include Normani, Rosalia, Rubi Rose, Sukihana and Mulatto.
As for Bardi's choice in casting the female stars, the rapper said, "I wanted a lot of different females, not just female rappers. ... Y'all going to see it on the music video as well, from models to influencers and everything. And I really wanted the video to be very sexy, very clean, very nice, very cut," she explained. "I'm like, 'These are the girls that I personally like. That I like they music. That I really feel they are going to go mainstream, to me.'"
While "WAP" marks Bardi's first lead single since the release of 2019's "Press," the track serves as Meg's follow-up to her remix of "Savage" featuring Beyoncé. Accompanied by its viral TikTok dance, the hit made its way to the top of the Billboard Hot 100, courtesy of the pop titan.
Prior to the release of "WAP," which samples DJ Frank Ski's 1993 record, "Whores in This House," Bardi took to Instagram to encourage folks to listen to the full "nasty" version on streaming services as the YouTube edit is censored. "I just want to let y'all know, I wanna give y'all the heads up, the music video is going to be the censored version of the song, because the song is so nasty that YouTube was like, 'Hold on, wait a minute, someone might be too Goddamn nasty,'" she told viewers.
Chat About Cardi B & Megan Thee Stallion Recruit Kylie Jenner For NSFW 'WAP' Video