Halsey Announces Her First Live Album To Celebrate 5 Years Of 'Badlands'
By Lindsey Smith
August 25, 2020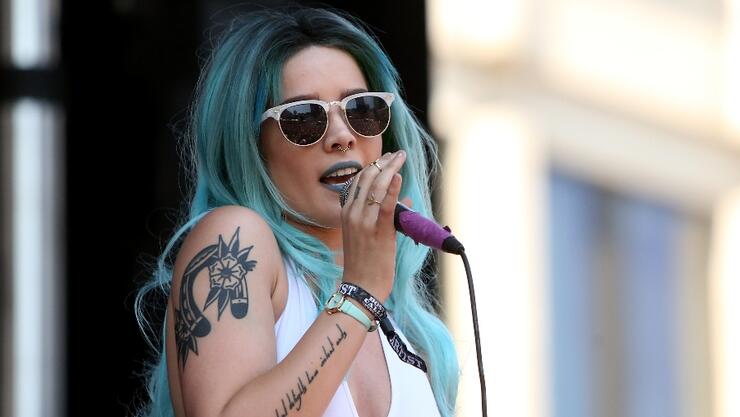 To celebrate the five-year anniversary of her debut studio album, Badlands, Halsey will be releasing her first-ever live album.
The news comes about a week after Halsey started teasing fans with cryptic posts relating to Badlands. She even sent us on a hunt to decode a mysterious website that had fans throwing out all kinds of theories to guess what she could possibly be up to. When the site was updated to include audio from a gig, fans were pretty quick to catch on to what she had in store for us.
Thankfully, we didn't have to wait long and on Tuesday (August 25), Halsey announced Badlands (Live From Webster Hall).
"Secret is out! After 5 years, we're going back to the Badlands," she captioned the album artwork; which features a black and white photo of the singer with her guitar from the legs down and a blue photo of Badlands. As someone who was at this concert I am stoked to be able to relive it over and over again!
The live album will be available this Friday (August 28), which is the same date her debut album was released in 2015.
Halsey played the entirety of Badlands on May 8, 2019, at New York City's historic Webster Hall. The intimate show was part of a two-concert series where she also played Hopeless Fountain Kingdom in its entirety the next night before announcing her new song, "Nightmare." 
The singer also visited Webster Hall back in October 2015 to play two nights on her Badlands Tour.  
At the moment, the album is currently only available to pre-save but hopefully she will have some limited-edition vinyls or CDs to offer fans who want a tangible copy of the live album.
In another "first" for the "you should be sad" singer, Halsey is gearing up to release her very own poetry book due out November 10.
Photo: Getty Images
Chat About Halsey Announces Her First Live Album To Celebrate 5 Years Of 'Badlands'