Halsey Is Secretly 'Hooking Up' With Cara Delevingne: Report
By Paris Close
September 5, 2020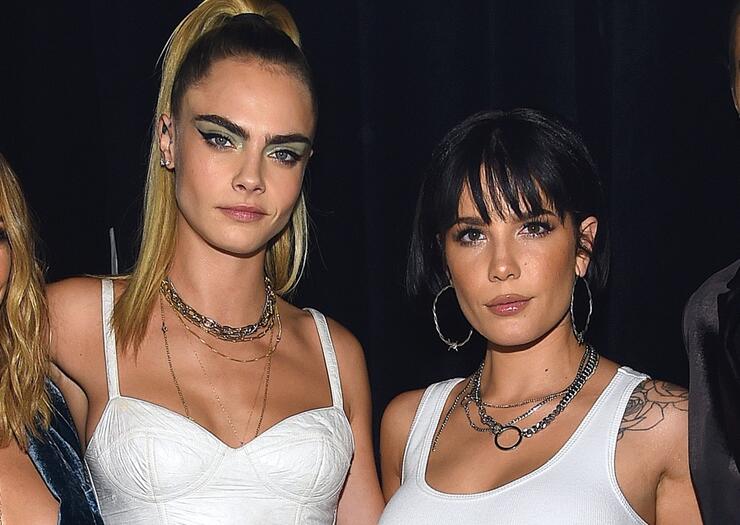 Halsey and Cara Delevingne are reportedly "hooking up," The Sun has reported.
The "Nightmare" singer has been secretly dating the model just three months after Delevinge's ex-girlfriend, Ashley Benson, moved on with Halsey's ex-boyfriend, G-Eazy. After two years of dating, the 28-year-old British model called it quits with Benson, who quickly rebounded with the "No Limit" rapper, who pulled the plug on his on-again, off-again romance with the 25-year-old pop star in 2018.
According to the outlet, Delevingne and Halsey, who both reside in California, have been coupling up together in Los Angeles during the ongoing coronavirus pandemic since becoming newly-single this year. (The "Colors" musician, who openly identifies as bisexual, was previously linked to Evan Peters, with whom she broke up in March.)
"Cara has been hooking up with Halsey in the last few weeks and they've been having a laugh together," a source told The Sun. "They've both been very open about their sexuality and just want to enjoy themselves so they're both on the same wavelength. They're usually so busy and flying around the world, but as they've been stuck in LA in recent months, it's given them a chance to see each other."
As the insider also notes, the stars aren't exclusive as yet, so they're open to dating other people if they choose. "Cara has kissed her in front of friends and stuff. It's not a big deal for either of them," said the source. "It's actually just funny to them that their exes are together now, and there's no hard feelings."
For those in disbelief, Delevingne really has no hard feelings about her 30-year-old ex's dating G-Eazy. She even came to Benson's defense after receiving mean comments over their breakup.
Photo: Getty Images
Chat About Halsey Is Secretly 'Hooking Up' With Cara Delevingne: Report