Fans React To Resurfaced Fact That Joe Biden Basically Created Fall Out Boy
By Eliot Hill
September 8, 2020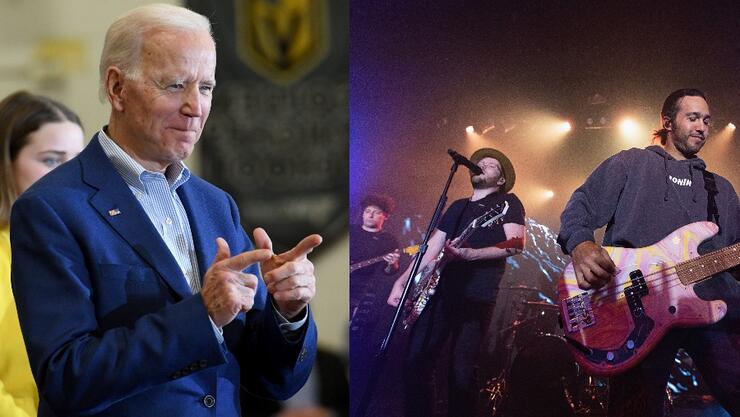 Here's a fun one for ya.
We can all agree that Twitter is the gift that keeps on giving and at the beginning of the month, a viral tweet about Fall Out Boy and Joe Biden's connection has made a 12-year-old Pete Wentz interview resurface. 
In the tweet, which has over 18,000 likes, a fan wrote, "if Biden wins the presidency that means we will have a United States president directly responsible for the existence of the band fall out boy" which made people start wondering what was going on.
In a November 2008 interview with the Associated Press, the Fall Out Boy bassist revealed that his parents met while they were working on Biden's senate campaign trail in the '70s which means that if it wasn't for Joe Biden, Fall Out Boy would not exist today.
"I would not be standing here actually in reality at all because my parents met working for Biden," Wentz said in the interview at the time. "They met on the campaign, so they have this particular affection for Joe. He came to their wedding. If it weren't for Joe Biden, I would not exist as a human being."
There's even a photograph added to the Twitter thread of Biden holding a toddler Wentz.
Fans, who were unaware of the band's connection to the politician, had their minds absolutely blown. 
"I just learned Pete Wentz of Fall Out Boy's parents met working for Joe Biden and for some reason I am losing my mind," one fan tweeted while another wrote, "WAIT I NEVER THOUGHT OF IT THAT WAY LMAO."
It would be pretty cool for things to come full circle and see Fall Out Boy perform at Biden's inauguration if he wins this year's election. They did previously perform at former President Obama's Youth Ball in 2009.
Photos: Getty Images
Chat About Fans React To Resurfaced Fact That Joe Biden Basically Created Fall Out Boy