Sam Smith Announces New Single 'Diamonds' From Upcoming Third Album
By Paris Close
September 14, 2020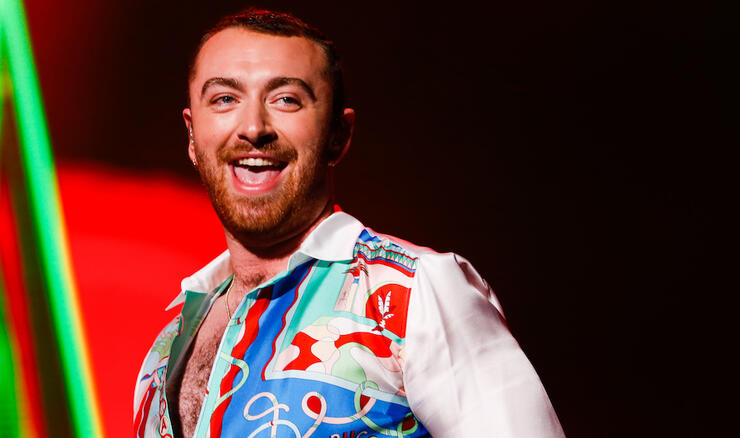 Sam Smith is releasing new music this week!
The superstar took to social media early Monday morning (September 14) to announce their next single is on the way. "DIAMONDS New single coming this Friday, September 18th x," Smith captioned an image on Instagram of them striking a mesmerizing pose along with the song's promo artwork.
"Diamonds" will be Smith's second solo offering of the year after they dropped "To Die For," the leader of their follow-up to 2017's The Thrill of It All. In light of ongoing COVID-19 (coronavirus) pandemic, Smith announced a number of changes to their upcoming third studio album, formerly titled To Die For, including its title and track list. Even so, the 28-year-old did confirm their effort would still arrive sometime in 2020.
"I have done a lot of thinking the last few weeks and feel that the title of my album and imminent release doesn't feel right," they wrote in a note on social media at the time. "I have to come to the decision to continue working on the album and make some important changes and additions. I will be renaming the album and pushing back the release date — both of which are to be confirmed at this time."
In recent months, Smith has put out several features with artists like Tiwa Savage ("Temptation"), Burna Boy ("My Oasis") and Demi Lovato ("I'm Ready"), which entered in the top 40 chart across several countries. Smith has also scrapped a few previously-released tracks intended to appear on the effort, including 2019's "How Do You Sleep?" They also collaborated with former Fifth Harmony singer Normani on "Dancing with a Stranger," which garnered two nominations at the 2020 iHeartRadio Music Awards for Best Collaboration and Best Music Video.
Photo: Getty Images
Chat About Sam Smith Announces New Single 'Diamonds' From Upcoming Third Album