Carrie Underwood's 'Little Drummer Boy' Rendition Features Her Son Isaiah
By Blake Taylor
September 25, 2020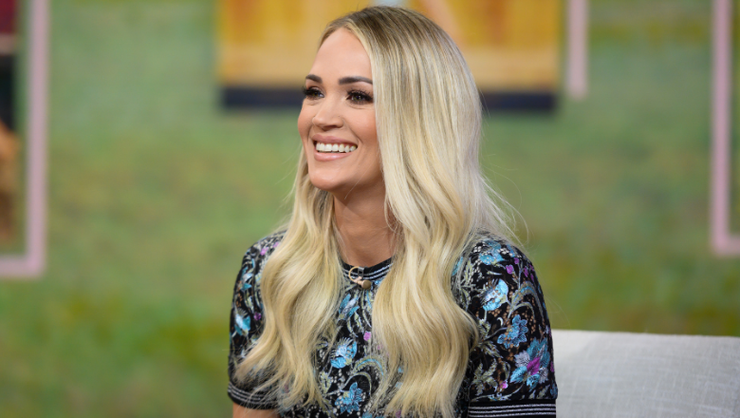 Carrie Underwood has officially released her first-ever Christmas album, My Gift, on Friday (September 25). The new project is made up of several holiday classics, including a special rendition of "Little Drummer Boy," which features the country star's 5-year-old son, Isaiah.
"Whenever I think of that song, I picture his face and his personality. That is so him," Underwood told Today in a recent interview. "He would be the kid that would make you something and bring it to you because that's what he had to give you. And that's the whole sentiment behind 'Little Drummer Boy' is bringing what he has to Jesus, which is why I wanted to name the album My Gift."
Underwood went on to share that she got emotional after hearing Isaiah on the song for the first time, noting that she was the "proudest mom in the world."
"I was in the booth with him and trying to get him to access all his little 5-year-old emotions, which he can totally do on his own," she explained. "When I heard the song back with his sweet little voice on it, I was laughing and crying, just so many emotions. I'm so proud of him."
In addition to "Little Drummer Boy," Underwood's new Christmas album also features several other holiday classics like "Silent Night," "O Come All Ye Faithful," "Have Yourself A Merry Little Christmas" and more. The My Gift track listing can be seen here.
Take a listen to Underwood and her son, Isaiah's new "Little Drummer Boy" duet below.
Carrie Underwood's My Gift Track Listing:
1. "Joyful, Joyful, We Adore Thee"
2. "Oh Come All Ye Faithful"
3. "Let There Be Peace"
4. "Little Drummer Boy" (Feat. Isaiah Fisher)
5. "Sweet Baby Jesus"
6. "Hallelujah" (With John Legend)
7. "O Holy Night"
8. "Mary, Did You Know?"
9. "Have Yourself a Merry Little Christmas"
10. "Away in a Manger"
11. "Silent Night"
Photo: Getty Images