Cardi B Slams Wiz Khalifa For Pitting Her Against Nicki Minaj
By Peyton Blakemore
November 25, 2020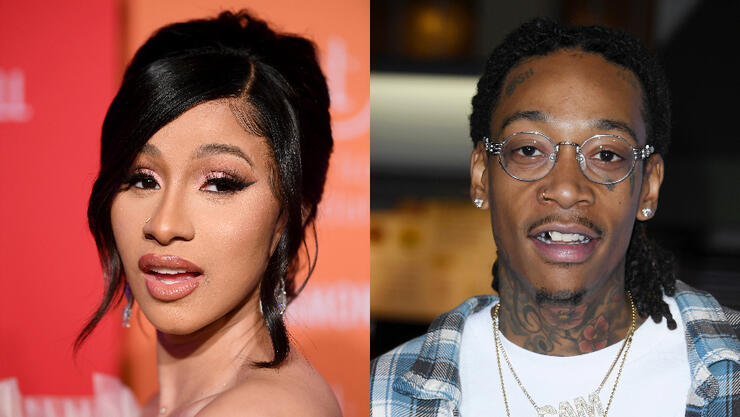 Cardi B is not here for Wiz Khalifa's shady tweets.
Amidst the 2021 Grammy nominations fallout — many people were upset after nominees were announced on Tuesday (November 24) — Wiz took to Twitter to offer his take on the shocking snubs while simultaneously reigniting Cardi's beef with Nicki Minaj.
It all started when Nicki shared her thoughts on the 2021 Grammy nominations by reflecting on the year she was snubbed by the Recording Academy. "Never forget the Grammys didn't give me my best new artist award when I had 7 songs simultaneously charting on billboard & bigger first week than any female rapper in the last decade- went on to inspire a generation," she tweeted. "They gave it to the white man Bon Iver."
Later, Wiz gave his opinion on Twitter, writing, "As a grammy nominated artist I know how it feels. Ni**as always think its unfair until they get their turn. Just keep workin and that time'll come through. I felt like I got throughly robbed for See You Again. Haven't been bacc since, but when tha time comes ima have a joint rolled and dope a** speech ready. And it's Taylor Gang Or Die."
A fan then replied, "cardi wining a Grammy when nicki minaj didn't is the biggest proof that they don't know a sh*t bout music." (The tweet was in reference to Cardi's 2019 Best Rap Album win.)
Shockingly, Wiz retweeted the fan's comment and added, "Most self made artists have this problem."
It didn't take long for the tweet to end up on Cardi's radar as she responded by tweeting a screenshot of an Instagram DM that Wiz sent her in September 2016. "This was Nikkas in my dms in 2016!" she wrote. "They really support you when you grinding at the bottom then it's a different story when you make it !"
The "WAP" rapper additionally called out Wiz for acknowledging a tweet that compared her to Nicki, whom she's long had beef with. "I don't understand why ni**as entertain tweets that pit successful women against each other? Ya not tired of that? Specially when ya was rooting hard when a bitch was at the bottom," she added.
Wiz then responded to Cardi, claiming he still supports her and didn't mean to imply that she wasn't self-made. "Damn that wuz good advice. I still support u," he wrote. "Nothings changed. Your self made in my book as well." He later added, he "don't want a Cardi/ Wiz war goin on for no reason."
Photo: Getty Images