Billie Joe Armstrong Reveals Real Reason Behind 'No Fun Mondays' Covers
By Katrina Nattress
November 29, 2020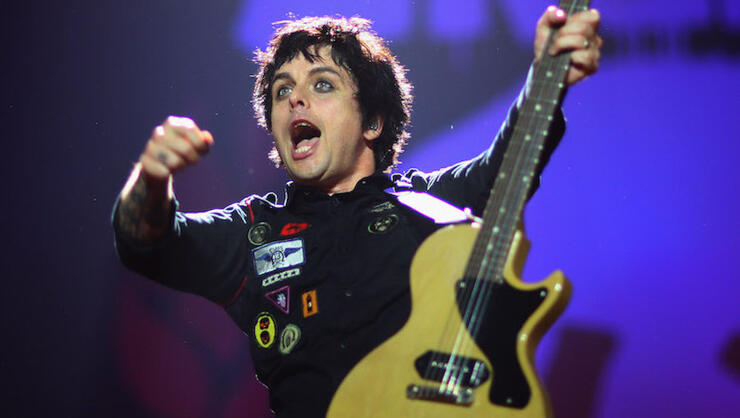 Green Day may have had to postpone its Hella Mega Tour, but Billie Joe Armstrong has kept himself plenty busy in quarantine. When lockdown first began in March, the singer kicked off his "No Fun Mondays" covers series on Instagram, and it was such a hit that he ended up recording enough tracks to make an album. On Friday (November 27), he put out said album, and ahead of its release chatted with NME about the whole process, including the real reason why he chose the songs he did.
"I did 'I Think We're Alone Now' first, and it all just started off as something to just keep me busy because I knew that the rest of the year was getting cancelled," he explained. "I released it on my Instagram to fans and the response was really good. Everybody was saying that it was just nice to hear some music and feel a little bit normal. The sentiment was right."
He also wanted to show fans songs they might not discover on their own. "Outside of a couple of songs, these are songs that feel rare or at least rare to other people. Young Green Day fans have never heard a song like 'Kids In America.' I don't know how that's possible, but they're able to get turned on to different things," Armstrong said. "Same with a song like 'Corpus Christi' too. That's one of my favorite songs of all time."
He also used the series as a way to mirror the feelings of 2020, and pay tribute to voices we lost like Fountains of Wayne's Adam Schlesinger, who passed away from COVID-19 complications. "I've always had so much respect for Adam as a songwriter and I just love ["That Thing You Do"]. I thought I could a version that was a little bit dirtier by beefing up the guitar," Armstrong said. "Doing 'No Fun Mondays' was like just doing my own radio sessions where I had a captive audience, but could release songs in time with where the consciousness of the culture was at, at that particular moment."
In addition to the covers, Green Day's "secret" band The Network is also gearing up to release its sophomore album Money Money 2020 Pt II: We Told Ya So! on Friday (December 4).
Photo: Getty Images