AT&T Waives Overage Fees For Customers In 7 States Affected By Bomb Outage
By Jason Hall
December 28, 2020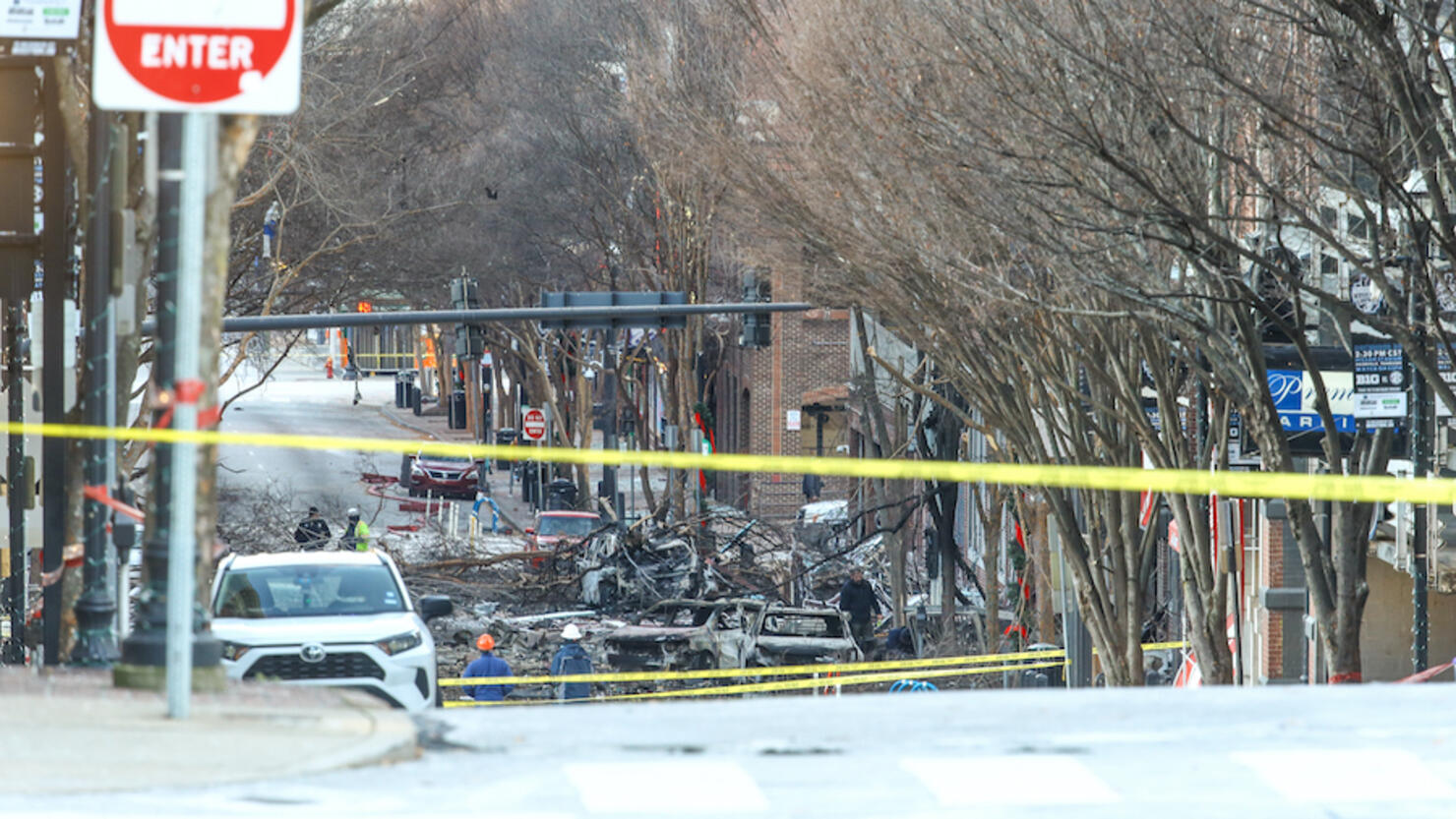 AT&T reportedly plans to extend relief to customers affected by a mass outage following the Christmas Day bombing on Second Avenue in downtown Nashville.
AT&T Wireless and AT&T PREPAID customers in 1,166 zip codes across Tennessee, Kentucky, Alabama, Georgia, Indiana, Illinois and Missouri will have their service overage charges automatically waived, FOX 17 News reports.
AT&T reported widespread outages over the weekend after the incident in downtown Nashville knocked out services for residents in several states, with the most reported outages occurring in Atlanta, Georgia; Nashville, Tennessee; Dallas, Texas; Murfreesboro, Tennessee; Chicago, Illinois; Clarksville, Tennessee; Chattanooga, Tennessee; Montrose, Alabama; and Knoxville, Tennessee.
On Sunday (December 27,) AT&T reported 96% of its wireless network, 60% of business services and 86% of consumer broadband services were restored.
Here are all the zip codes where AT&T will waive data overage fees in each state per ATT.com:
Tennessee
37010, 37011, 37012, 37013, 37014, 37015, 37016, 37018, 37019, 37020, 37022, 37023, 37024, 37025, 37026, 37027, 37028, 37029, 37030, 37031, 37032, 37033, 37034, 37035, 37036, 37037, 37040, 37041, 37042, 37043, 37044, 37046, 37047, 37048, 37049, 37050, 37051, 37052, 37055, 37056, 37057, 37058, 37059, 37060, 37061, 37062, 37063, 37064, 37065, 37066, 37067, 37068, 37069, 37070, 37071, 37072, 37073, 37074, 37075, 37076, 37077, 37078, 37079, 37080, 37082, 37083, 37085, 37086, 37087, 37088, 37089, 37090, 37091, 37095, 37096, 37097, 37098, 37101, 37110, 37111, 37115, 37116, 37118, 37119, 37121, 37122, 37127, 37128, 37129, 37130, 37131, 37132, 37133, 37134, 37135, 37136, 37137, 37138, 37140, 37141, 37142, 37143, 37144, 37145, 37146, 37148, 37149, 37150, 37151, 37152, 37153, 37160, 37161, 37162, 37165, 37166, 37167, 37171, 37172, 37174, 37175, 37178, 37179, 37180, 37181, 37183, 37184, 37185, 37186, 37187, 37188, 37189, 37190, 37191, 37201, 37202, 37203, 37204, 37205, 37206, 37207, 37208, 37209, 37210, 37211, 37212, 37213, 37214, 37215, 37216, 37217, 37218, 37219, 37220, 37221, 37222, 37224, 37227, 37228, 37229, 37230, 37232, 37234, 37235, 37236, 37238, 37240, 37241, 37242, 37243, 37244, 37246, 37250, 37301, 37302, 37303, 37304, 37305, 37306, 37307, 37308, 37309, 37310, 37311, 37312, 37313, 37315, 37316, 37317, 37318, 37320, 37321, 37322, 37323, 37324, 37325, 37326, 37327, 37328, 37330, 37332, 37334, 37335, 37336, 37337, 37338, 37339, 37340, 37341, 37342, 37343, 37345, 37347, 37348, 37349, 37350, 37351, 37352, 37353, 37355, 37356, 37357, 37359, 37360, 37361, 37362, 37363, 37364, 37365, 37366, 37367, 37370, 37371, 37373, 37374, 37375, 37376, 37377, 37378, 37379, 37380, 37381, 37382, 37383, 37384, 37387, 37388, 37389, 37394, 37396, 37397, 37398, 37401, 37402, 37403, 37404, 37405, 37406, 37407, 37408, 37409, 37410, 37411, 37412, 37414, 37415, 37416, 37419, 37421, 37422, 37424, 37450, 37719, 37723, 37726, 37732, 37733, 37748, 37755, 37756, 37763, 37770, 37826, 37829, 37841, 37845, 37847, 37852, 37854, 37872, 37880, 37887, 37892, 38007, 38059, 38077, 38201, 38220, 38221, 38222, 38223, 38224, 38225, 38226, 38229, 38230, 38231, 38232, 38233, 38235, 38236, 38237, 38238, 38240, 38241, 38242, 38251, 38253, 38254, 38255, 38256, 38257, 38258, 38259, 38260, 38261, 38271, 38281, 38308, 38311, 38316, 38317, 38318, 38320, 38321, 38324, 38328, 38329, 38330, 38331, 38333, 38338, 38341, 38342, 38344, 38345, 38346, 38348, 38351, 38352, 38355, 38358, 38362, 38363, 38368, 38369, 38370, 38374, 38378, 38380, 38382, 38387, 38388, 38389, 38390, 38401, 38402, 38425, 38449, 38450, 38451, 38452, 38453, 38454, 38455, 38456, 38457, 38459, 38460, 38461, 38462, 38463, 38464, 38468, 38469, 38471, 38472, 38473, 38474, 38475, 38476, 38477, 38478, 38481, 38482, 38483, 38485, 38486, 38487, 38488, 38501, 38502, 38503, 38504, 38505, 38506, 38541, 38542, 38543, 38544, 38545, 38547, 38548, 38549, 38550, 38551, 38552, 38553, 38554, 38555, 38556, 38557, 38558, 38559, 38560, 38562, 38563, 38564, 38565, 38567, 38568, 38569, 38570, 38571, 38572, 38573, 38574, 38575, 38577, 38578, 38579, 38580, 38581, 38582, 38583, 38585, 38587, 38588, 38589
Kentucky
40003, 40004, 40006, 40007, 40008, 40010, 40011, 40012, 40013, 40014, 40018, 40019, 40020, 40022, 40023, 40025, 40026, 40027, 40031, 40032, 40036, 40037, 40040, 40041, 40045, 40046, 40047, 40048, 40049, 40050, 40051, 40052, 40055, 40056, 40057, 40058, 40059, 40061, 40062, 40063, 40065, 40066, 40067, 40068, 40069, 40070, 40071, 40075, 40076, 40077, 40078, 40107, 40108, 40109, 40110, 40111, 40115, 40117, 40118, 40119, 40121, 40122, 40129, 40140, 40142, 40143, 40144, 40145, 40146, 40150, 40152, 40153, 40155, 40157, 40159, 40160, 40161, 40162, 40165, 40166, 40170, 40175, 40176, 40177, 40178, 40201, 40202, 40203, 40204, 40205, 40206, 40207, 40208, 40209, 40210, 40211, 40212, 40213, 40214, 40215, 40216, 40217, 40218, 40219, 40220, 40221, 40222, 40223, 40224, 40225, 40228, 40229, 40231, 40232, 40233, 40241, 40242, 40243, 40245, 40250, 40251, 40252, 40253, 40255, 40256, 40257, 40258, 40259, 40261, 40266, 40268, 40269, 40270, 40272, 40280, 40281, 40282, 40283, 40285, 40287, 40289, 40290, 40291, 40292, 40293, 40294, 40295, 40296, 40297, 40298, 40299, 40310, 40311, 40312, 40324, 40330, 40334, 40337, 40339, 40340, 40342, 40346, 40347, 40348, 40350, 40353, 40355, 40356, 40357, 40358, 40359, 40360, 40361, 40362, 40363, 40366, 40370, 40372, 40374, 40379, 40383, 40384, 40390, 40391, 40392, 40410, 40423, 40452, 40468, 40476, 40502, 40503, 40504, 40505, 40506, 40507, 40508, 40509, 40510, 40511, 40512, 40513, 40514, 40515, 40516, 40517, 40522, 40523, 40524, 40526, 40533, 40536, 40544, 40546, 40550, 40555, 40574, 40575, 40576, 40577, 40578, 40579, 40580, 40581, 40582, 40583, 40588, 40591, 40598, 40601, 40602, 40603, 40604, 40618, 40619, 40620, 40621, 40622, 41008, 41010, 41031, 41037, 41039, 41054, 41061, 41098, 42001, 42002, 42003, 42020, 42021, 42022, 42023, 42024, 42025, 42027, 42029, 42031, 42032, 42033, 42035, 42036, 42037, 42038, 42039, 42040, 42041, 42044, 42045, 42048, 42049, 42051, 42054, 42055, 42058, 42060, 42061, 42063, 42066, 42069, 42070, 42071, 42076, 42079, 42082, 42085, 42087, 42088, 42101, 42102, 42103, 42104, 42120, 42122, 42123, 42124, 42128, 42130, 42131, 42133, 42134, 42135, 42140, 42142, 42151, 42153, 42156, 42157, 42159, 42163, 42164, 42166, 42167, 42170, 42201, 42202, 42204, 42206, 42211, 42215, 42216, 42217, 42219, 42220, 42221, 42223, 42223, 42232, 42234, 42236, 42240, 42241, 42252, 42254, 42256, 42262, 42265, 42266, 42273, 42274, 42276, 42280, 42286, 42288, 42301, 42302, 42303, 42304, 42320, 42321, 42322, 42323, 42324, 42325, 42326, 42327, 42328, 42330, 42332, 42333, 42334, 42337, 42338, 42339, 42343, 42344, 42345, 42347, 42348, 42349, 42350, 42351, 42352, 42354, 42355, 42356, 42361, 42364, 42366, 42367, 42368, 42369, 42370, 42371, 42372, 42374, 42376, 42377, 42378, 42402, 42404, 42406, 42408, 42409, 42410, 42411, 42413, 42419, 42420, 42431, 42436, 42440, 42441, 42442, 42444, 42445, 42450, 42451, 42452, 42453, 42455, 42456, 42457, 42458, 42460, 42461, 42462, 42463, 42464, 42701, 42702, 42712, 42724, 42732, 42740, 42748, 42755, 42759, 42762, 42776, 42788
Indiana
47104, 47110, 47117, 47129, 47130, 47131, 47132, 47133, 47134, 47135, 47136, 47144, 47146, 47150, 47151, 47160, 47162, 47172, 47190, 47199, 47243, 47574, 47601, 47610, 47611, 47613, 47615, 47617, 47618, 47629, 47630, 47634, 47635, 47647, 47654, 47683, 47701, 47702, 47703, 47704, 47705, 47706, 47708, 47710, 47711, 47712, 47713, 47714, 47715, 47716, 47719, 47721, 47722, 47724, 47725, 47728, 47730, 47731, 47732, 47733, 47734, 47735, 47736, 47737, 47740, 47747, 47750
Alabama
35013, 35031, 35049, 35079, 35097, 35121, 35133, 35959, 35960, 35973, 35983, 36275, 35616, 35646, 35661, 35662, 35660, 35674, 35019, 35033, 35053, 35055, 35056, 35057, 35058, 35070, 35077, 35083, 35087, 35098, 35179, 35961, 35962, 35963, 35967, 35968, 35971, 35974, 35975, 35978, 35981, 35984, 35986, 35988, 35989, 35952, 35954, 35956, 35901, 35902, 35903, 35904, 35905, 35906, 35907, 35972, 35906, 35990, 35571, 35581, 35582, 35653, 35654, 35585, 35593, 35740, 35958, 35744, 35745, 35746, 35966, 35979, 35751, 35752, 35755, 35764, 35765, 35766, 35768, 35769, 35771, 35772, 35774, 35776, 35610, 35617, 35630, 35631, 35632, 35633, 35634, 35645, 35648, 35652, 35677, 35618, 35643, 35650, 35651, 35672, 35739, 35611, 35612, 35613, 35614, 35615, 35742, 35620, 35647, 35756, 35649, 35671, 35741, 35748, 35749, 35750, 35801, 35802, 35803, 35804, 35805, 35806, 35807, 35808, 35809, 35810, 35811, 35812, 35813, 35814, 35815, 35816, 35824, 35893, 35894, 35895, 35896, 35897, 35898, 35899, 35757, 35758, 35759, 35760, 35761, 35762, 35763, 35767, 35773, 35543, 35548, 35563, 35564, 35570, 35594, 35950, 35951, 35016, 35957, 35964, 35747, 35976, 35980, 35175, 35619, 35601, 35602, 35603, 35609, 35699, 35621, 35622, 35640, 35754, 35670, 35673, 35775, 35540, 35541, 35551, 35553, 35565, 35572, 35575, 35577
Georgia
30522, 30539, 30541, 30555, 30707, 30708, 30710, 30722, 30725, 30726, 30736, 30738, 30739, 30741, 30742, 30750, 30751, 30752, 30753, 30755, 30756, 30757
Illinois
62963
Missouri
63820, 63881, 63882
Photo: Getty Images