How Neil Peart Told Geddy Lee, Alex Lifeson About Brain Cancer Diagnosis
By Andrew Magnotta @AndrewMagnotta
January 8, 2021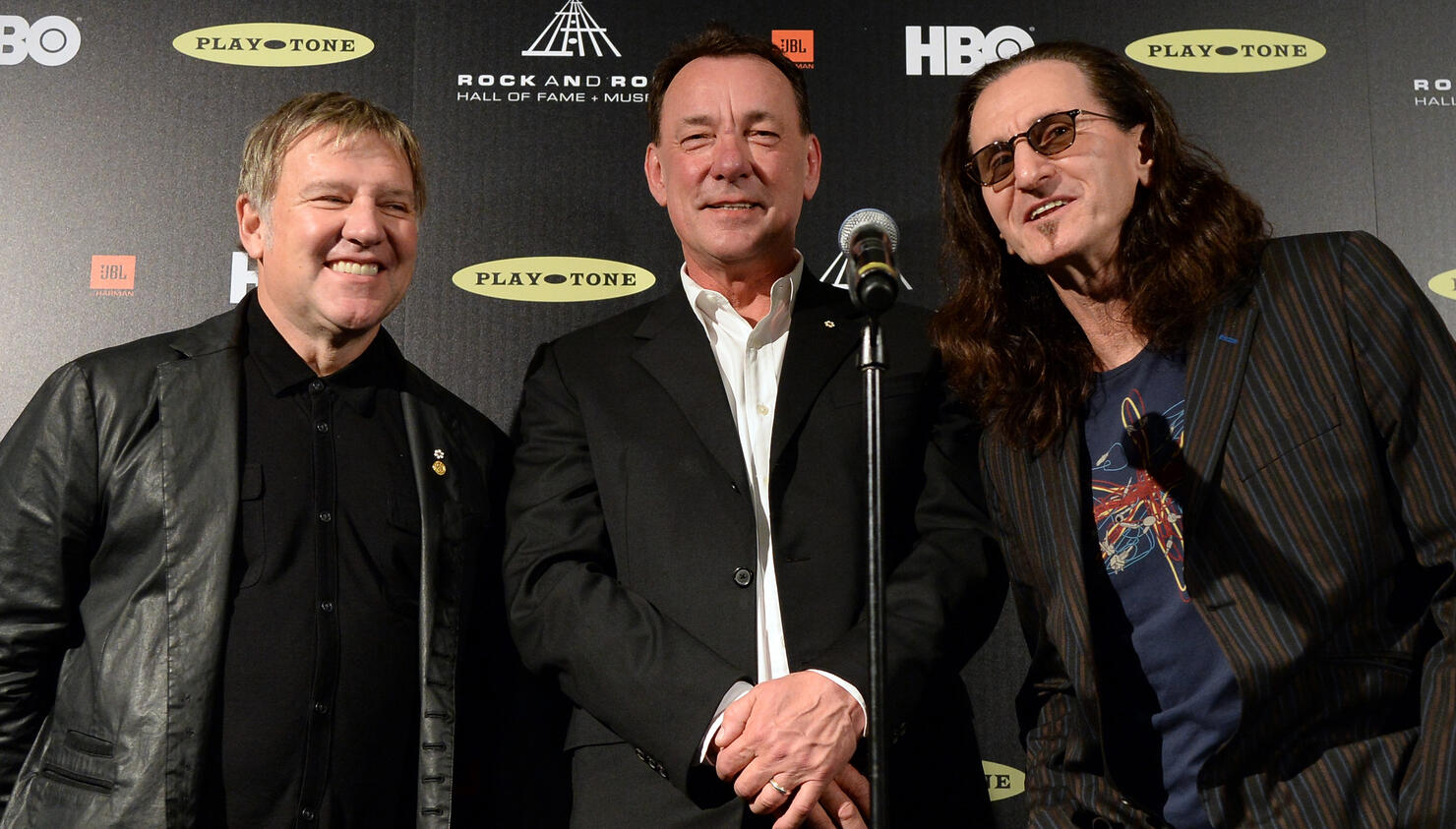 It's easy to understand why many musicians keep their distance from their bandmates when they have free time in their schedules. Weeks, months or years stuck together on tour or in recording studios can grate on the most peaceful spirits among us.
But Rush never seemed to have those challenges.
Geddy Lee, Alex Lifeson and Neil Peart always seemed to be the best of friends on and offstage. It's part of what so endeared them to their fanbase and why Peart's death in January 2020 was so understandably devastating to everyone around the band.
While news of Peart's three-and-a-half-year battle with brain cancer shocked the rock world, what was even more surprising was that Peart's family, his Rush bandmates and several other close friends had dutifully guarded the drummer's secret for so long.
Peart suspected something was wrong about 10 months after Rush took its final bows on its career-spanning 'R40' tour (after which Peart retired from music, citing an accumulation of injuries that made it difficult for him to perform).
A doctor's visit and several tests confirmed the Rock and Roll Hall of Famer had glioblastoma, a form of brain cancer. He was given 12 - 18 months to live, though he eventually defied that projection.
In a recent conversation with Rolling Stone, Lifeson pointed to the exact moment he began to worry about his bandmate of more than 40 years. On his birthday in August of '16, Lifeson received a FaceTime call from Peart.
"It was so unusual to get a call from him, because he was never comfortable on the phone," the guitarist recalled. "You'd get these beautiful emails from him. But he wasn't that crazy about talking to anybody. I was in shock. But I could tell there was something weird. I thought maybe it was a difficulty with a connection or something. But he just didn't seem like he normally was. And I kept thinking about it afterwards."
Peart was scheduled to have surgery soon, but he didn't yet know how to give the news.
About two weeks later, the drummer took to his preferred method of communication — e-mail — to drop the hammer.
"He basically blurted it out," Lee said, before recalling Peart's precise verbiage: "'I have a brain tumor. I'm not joking.'"
Lifeson was on the golf course when he opened the message. "I started crying right there," he said.
Peart emphasized to his friends that he didn't want his illness to become public knowledge, fearing the attention it might draw to him and his family.
"The last thing in the world he would want is people sitting on his sidewalk or driveway singing 'Closer to the Heart' or something," Lifeson explained. "That was a great fear of his. He didn't want that attention at all. And it was definitely difficult to lie to people or to sidestep or deflect somehow. It was really difficult."
There were moments of hope, too, during Peart's illness. The cancer went into remission early on before returning with a vengeance. Whispers of the drummer's failing health circulated, but friends forcefully shot down questions, citing Peart's famously private persona.
Lee and Lifeson were among the friends and family that visited Peart in his later days. Despite his looming mortality, Peart was in good spirits as the end came near.
"He wanted to have fun with us. And he wanted to talk about real things right up to the very end," Lee said.
Since Rush's final shows, rumors have circulated as to whether Lee and Lifeson would recording or even tour together again. While both musicians have expressed openness to the possibility of collaborating again, Peart's passing has admittedly but perhaps only momentarily sapped them of some inspiration.
Lifeson disclosed this past spring that he's had little desire to play music since last January.
"I just don't feel it in my heart right now," he said in a June interview, before added that he expected his muse to return someday.
Lee has remained focused on promoting his Big Beautiful Book of Bass and has said he looks forward to more book events in 2021 if the pandemic allows.
Photo: Getty Images