Several Tennessee Starters Enter Transfer Portal After Jeremy Pruitt Firing
By Jason Hall
January 21, 2021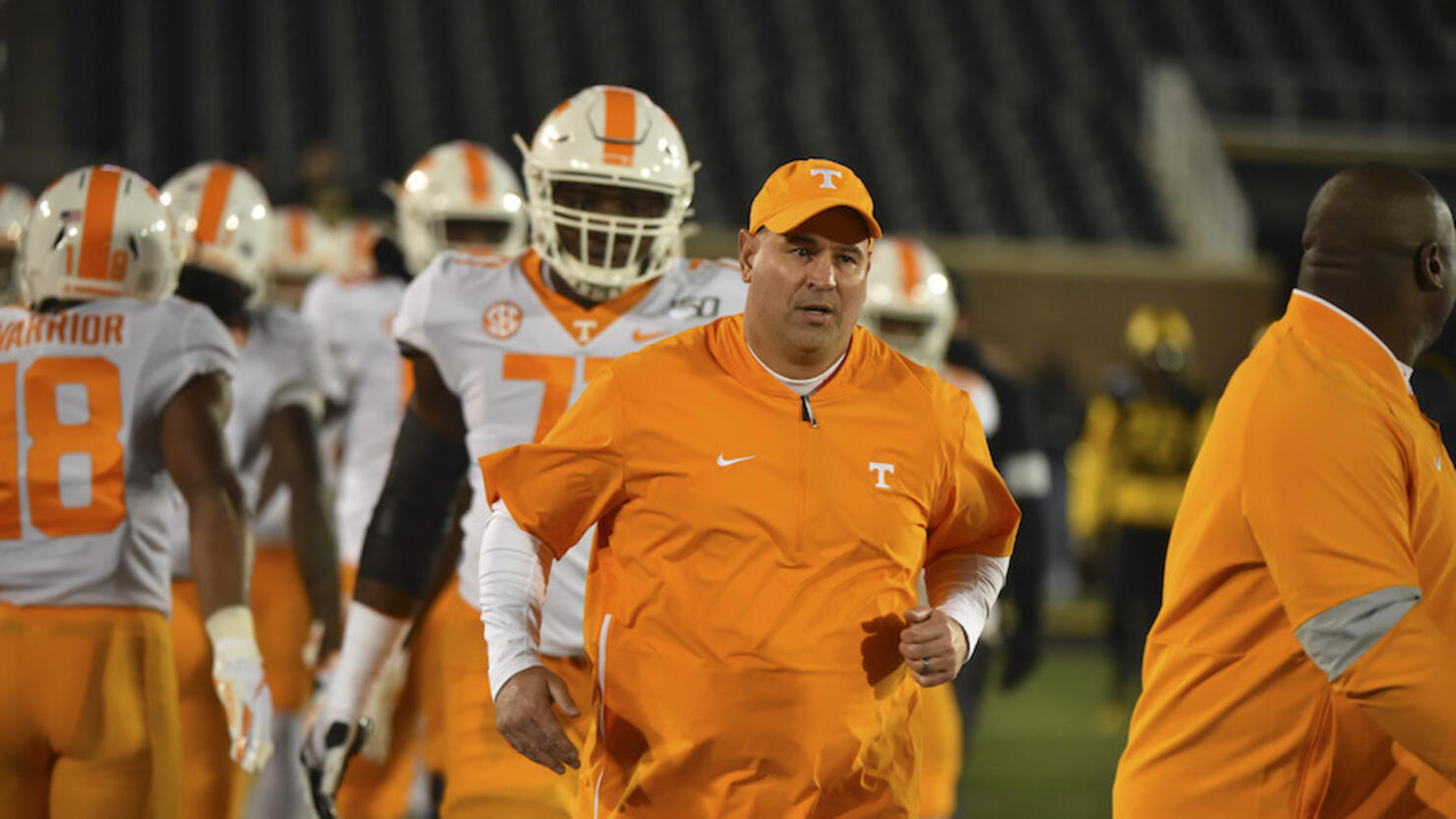 Several Tennessee starters have already entered the NCAA transfer portal following the termination of former head coach Jeremy Pruitt.
Former SEC All-Freshman linebacker Henry To'o To'o, leading rusher Eric Gray, sophomore linebacker Quavaris Couch and veteran offensive lineman Jahmir Johnson all entered the transfer portal on Wednesday (January 20), ESPN reports.
To'o To'o started all 10 games for the Vols as a sophomore in 2020, leading Tennessee with 76 tackles and 10 tackles for loss.
Crouch also started every game during his sophomore season in 2020 and was third among defensive players with 57 total tackles.
Gray, also a sophomore, ranked sixth among SEC running backs with 772 yards, 85.8 yards per game and 114.0 yards from scrimmage.
Johnson, a redshirt senior, will be able to get an extra year of eligibility following the NCAA's decision to grant an additional year to fall and winter sports athletes.
The announcements came two days after Pruitt, assistant coaches Brian Niedermeyer and Shelton Felton, and several other staff members were fired following an investigation into alleged NCAA violations committed by the football program during his tenure.
During Tuesday's (January 19) broadcast of 'The Dan Patrick Show,' host Dan Patrick said SEC sources indicated that the Tennessee coaching staff "put money into McDonald's bags and gave them to the recruits when they came on campus."
"You literally had bag men and they put the cash in McDonald's bags and handed it to the recruits," Patrick said. "My source said they were so in your face with this—they weren't even trying to hide it. And that's where my source said: 'Tennessee got sloppy. Georgia has gotten sloppy.' But there's been no word on the NCAA looking at Georgia. But Tennessee, they got sloppy, and they were handing out cash in McDonald's bags."
Source: Tennessee #Vols got sloppy with recruiting. They were handing recruits cash in McDonald's bags when they visited campus.

Also a name to look out for to fill the Head Coaching vacancy: Jason Witten pic.twitter.com/HKDd02rldz

— Dan Patrick Show (@dpshow) January 19, 2021
Patrick continued to speculate on potential replacements for Pruitt, who was fired on Monday (January 18.)
The Knoxville Sentinel reports Pruitt was terminated following an investigation into alleged NCAA violations committed by the football program during his tenure, which means the university will not pay his buyout, sources within the program with knowledge of the situation confirmed.
Additionally, current athletic director and former head coach Phillip Fulmer, who hired Pruitt in 2017, will retire, with sources claiming he wants his successor to pick UT's next football coach.
Fulmer's decision to retire is reportedly not tied to the investigation, the Knoxville Sentinel reports.
Earlier this month, ESPN's Mark Schalbach reported the University of Tennessee implemented a hiring freeze regarding any assistant coaching vacancies and extensions amid an ongoing internal investigation into potential recruiting violations.
UT reportedly hired two prominent lawyers, Mike Glazier and Kyle Skillman, to assist in its internal investigation, which will include the attorneys interviewing current players regarding alleged improper benefits and other NCAA violations this week, according to sources.
"We take seriously our institutional commitment to NCAA compliance, and are reviewing regulatory issues that have been brought to our attention," university spokeswoman Tyra Haag said in a statement obtained by ESPN this week. "As part of that process, we are currently working with attorneys Kyle Skillman and Michael Glazier with Bond, Schoeneck & King. We will provide additional information when it's appropriate."
Last month, Tennessee's compliance department launched an investigation into improper recruiting practices within its football program, ESPN reports. Compliance department officials reportedly interviewed current players, recruits, assistant coaches, student volunteers and other members of the athletic department in relation to the accusations facing the football program, with interviews beginning in November.
Sources told ESPN that they weren't sure whether NCAA officials had interviewed student-athletes and coaches or whether information regarding possible violations was turned over to the NCAA at the time of the report.
Tennessee ranked No. 13 and No. 10 overall during the 2019 and 2020 national recruiting cycles, respectively, according to 247Sports' Composite team recruiting rankings. The Vols finished the 2020 season with a 3-7 overall record and head coach Jeremy Pruitt currently has a 16-19 overall record during three seasons as head coach.
Former Tennessee linebacker and veteran assistant coach Kevin Steele, who was hired as a defensive assistant earlier this month, was named acting head coach in Pruitt's absence.
Photo: Getty Images