Trevor Noah Has Hilarious Response To Tom Brady's 10th Super Bowl Berth
By Jason Hall
January 26, 2021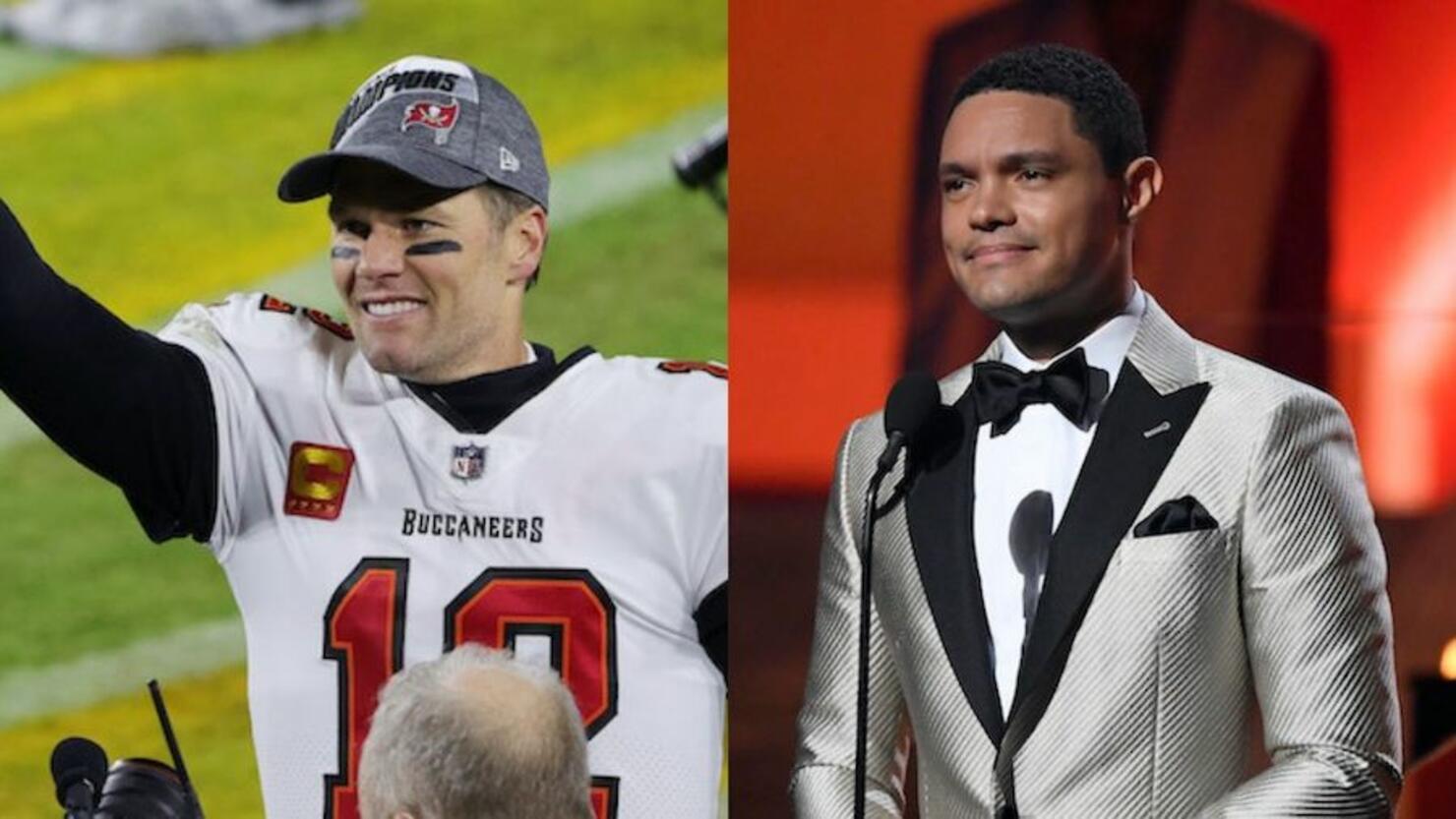 Tom Brady keeps winning and some people are tired of it.
Among them appears to be Trevor Noah, who joked about the legendary quarterback's life success across the board during Monday's (January 25) episode of 'The Daily Show,' which aired the day after Brady led the Tampa Bay Buccaneers to an NFC Championship victory, clinching his 10th career Super Bowl appearance.
"It is not fair that Tom Brady is this good and this handsome. He's going to be in his 10th Super Bowl and he looks like this? No! That's why I'm starting a Kickstarter today to pay for him to get plastic surgery to look like this," Noah joked alongside a graphic with a heavily Photoshopped face placed on Brady's body. "It's only fair, people."
Noah went on to point out that Brady's upcoming Super Bowl LV opponent, Kansas City Chiefs quarterback Patrick Mahomes, was only 6 years old when Brady won his first Super Bowl in 2002.
"Being good for that long must change how you interact with kids," Noah joked. "Tom Brady will see his friend's baby and just start trash-talking it. 'Oh if you think you're crying now, just wait until I whoop your a** in 20 years."
Brady signed with the Buccaneers in March after spending the entirety of his previous 20 NFL seasons with the New England Patriots, which included winning six Super Bowls and nine AFC Championships. On Sunday (January 24), Brady threw for 202 yards, three touchdowns and three interceptions on 20 of 36 passing.
The Buccaneers will be the first NFL team to play in a Super Bowl held at their home stadium when they face the Chiefs at Raymond James Stadium on February 7.
The Chiefs defeated the Buffalo Bills, 38-24, in the AFC Championship at Arrowhead Stadium on Sunday.
Photo: Getty Images