Alabama Sets Record On 2021 National Signing Day
By Jason Hall
February 3, 2021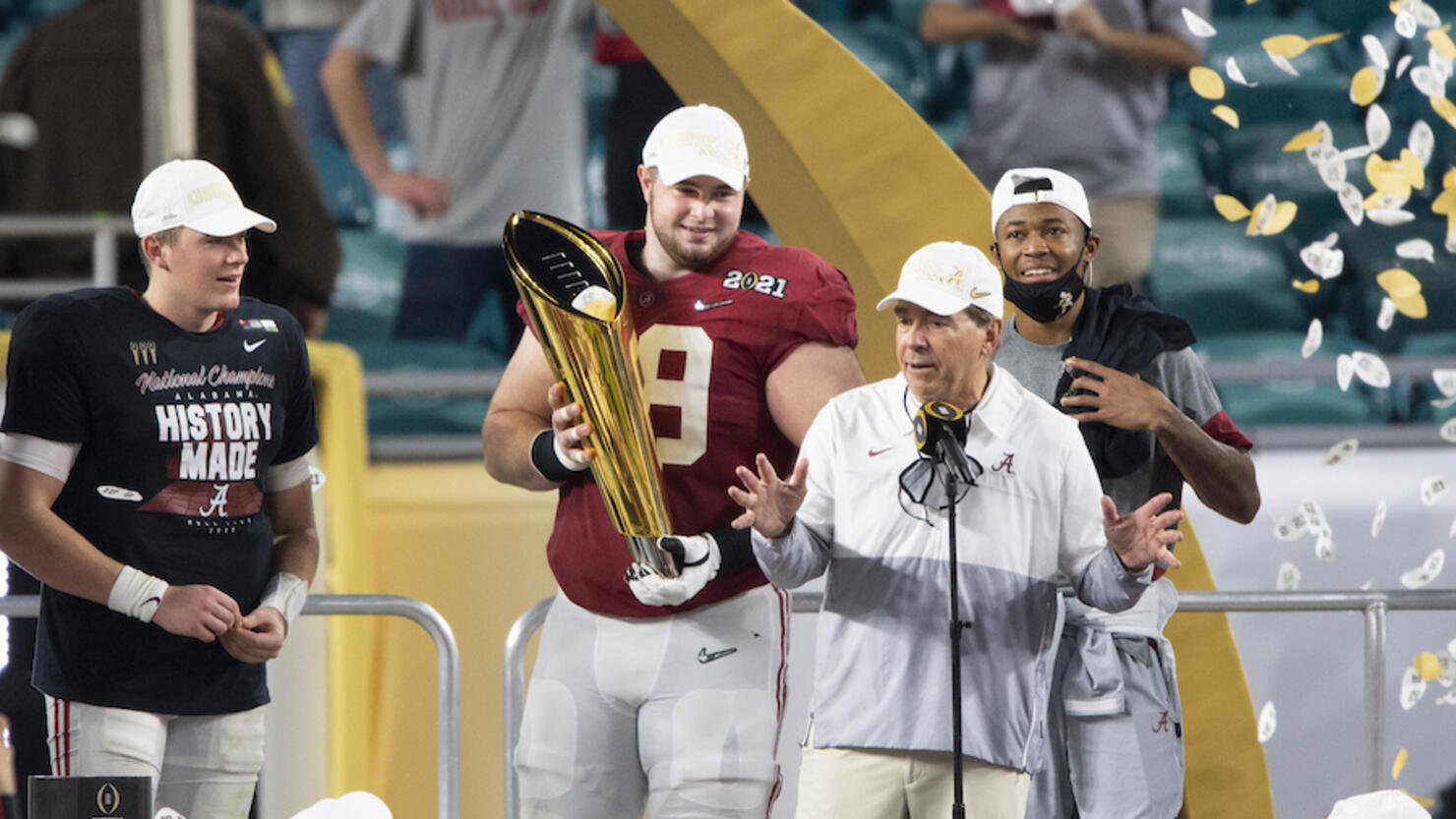 It's good to be champions.
Less than a month after winning their sixth national championship in 12 years, the Alabama Crimson Tide signed the highest-rated recruiting class in history on National Signing Day Wednesday (February 3), according to the 247Sports Composite rankings.
Alabama's class for the 2021 national recruiting cycle received a total of 325.95 points, which surpassed Florida's 2010 class (324.67) for the most all-time. The Tide had already amassed the record-setting total prior to National Signing Day, but hadn't yet officially signed 5-star running back Caram Wheaton until the Wednesday morning, solidifying its 26-signee class.
Alabama's class includes seven 5-star and 15 4-star prospects, with an average grade of 94.9. Ohio State, which ranked second for the 2021 national recruiting cycle, earned 309.49 total points.
The Crimson Tide already have 14 players from their 2021 class on campus as early enrollees for the 2021 spring semester including four 5-star prospects, nine 4-stars and one 3-star.
Here's a look at Alabama's entire class of early enrollees and signees for the 2021 national recruiting cycle:
Early Enrollees (14)
OT JC Latham, 5-star
OT Tommy Brockermeyer, 5-star
CB Ga'Quincy McKinstry, 5-star
WR Jacorey Brooks, 5-star
WR Agiye Hall, 4-star
ILB Deontae Lawson, 4-star
OG Terrence Ferguson, 4-star
WDE Keanu Koht, 4-star
WR Christian Leary, 4-star
DUAL QB Jalen Milroe, 4-star
SDE Monkell Goodwine, 4-star
OC James Brokermeyer, 4-star
OLB Ian Jackson, 4-star
TE Robbie Ouzts, 3-star
Signed Letter of Intent (12)
WDE Dallas Turner, 5-star
DT Damon Payne, 5-star
RB Camar Wheaton, 5-star
WR Jojo Earle, 4-star
ATH Kadarius Calloway, 4-star
ILB Kendrick Blackshire, 4-star
S Kaine Williams, 4-star
OG Jaeden Roberts, 4-star
CB Devonta Smith, 4-star
DT Tim Keenan, 3-star
CB Khyree Jackson, 3-star
DT Anquin Barnes, 3-star
Photo: Getty Images