T.J. Watt Continues To Recruit Brother, J.J., To Steelers
By Jason Hall
February 18, 2021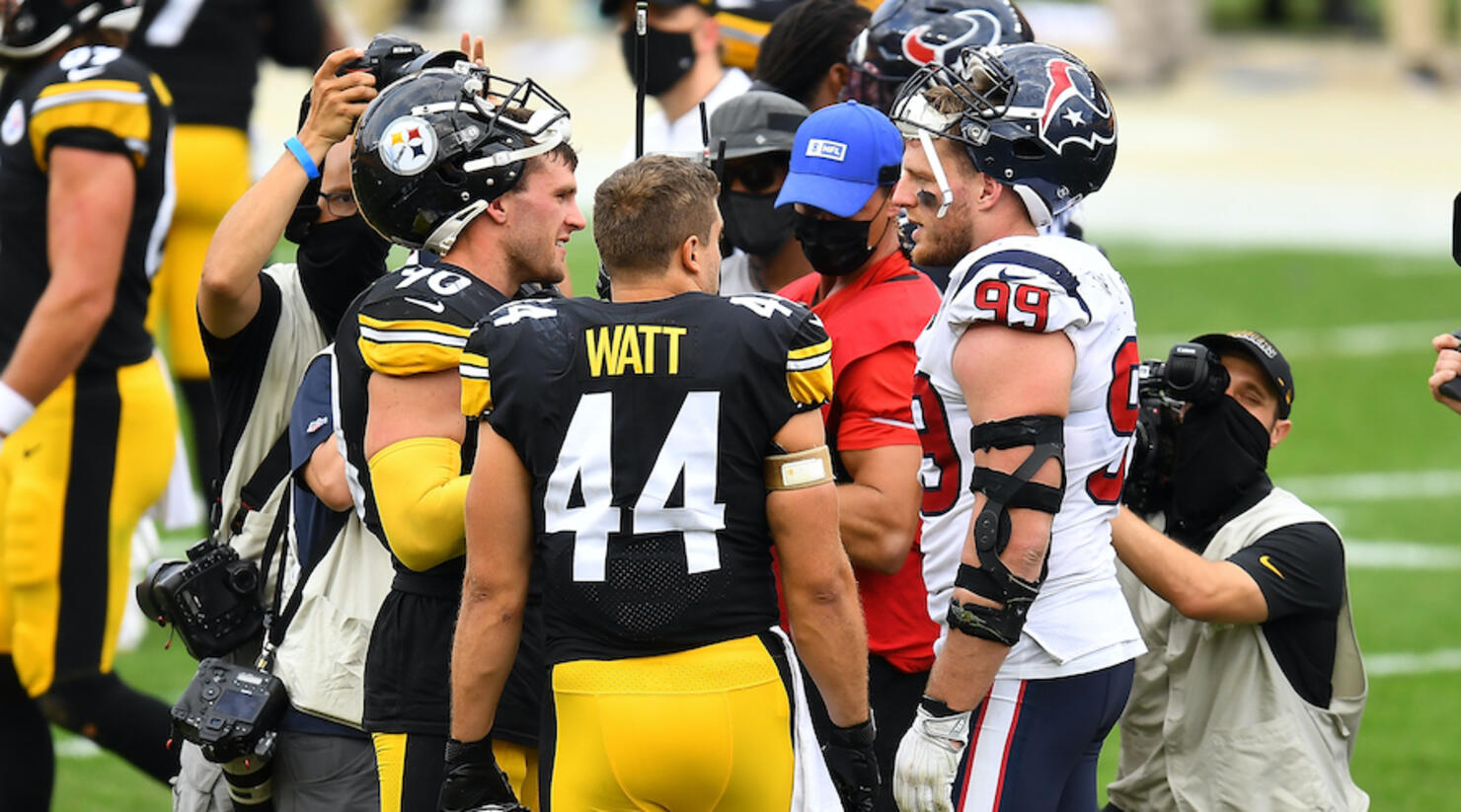 T.J. Watt is continuing to push hard for his brother, J.J. Watt, to join him and their brother, Derek Watt in Pittsburgh next season.
Watt once again quote-tweeted his older brother's acknowledgement of his upcoming free agency on Wednesday (February 17) with a gif of Gene Wilder as Willy Wonka featuring the caption, "Please tell me more."
The older Watt brother's tweet was simply, "free agency is wild," amid numerous reports of teams being interested in his services.
T.J. wasted little time making public attempts to recruit his brother to Pittsburgh after J.J. was granted his release by the Houston Texans last Friday (February 12.)
Several fans also speculated that T.J. was making a pitch to his brother after J.J. shared a video of the Steelers outside linebacker shoveling his driveway on Thursday (February 18.)
Wow, Pittsburgh's free agency pitch is gonna be hard to beat.

— Myles (@MylesEhrlich) February 18, 2021
Shortly after J.J. shared a video addressed to Texans fans announcing his release on Friday (February 12), T.J. quote-tweeted it with a gif of Dwayne "The Rock" Johnson doing his "Just Bring It" taunt, implying his interest in having the eldest Watt brother join his siblings in the Steel City next season.
T.J. isn't the only player currently on the Steelers' roster recruiting J.J. to Pittsburgh.
Wide receiver Juju Smith-Schuster commented on an Instagram post shared by Watt's former Houston Texans teammate DeAndre Hopkins, now a member of the Arizona Cardinals, which featured the former Defensive Player of the Year embracing Hopkins in a photoshopped Cardinals uniform with the caption, "Let's finish what we started..."
Smith-Schuster responded to the post with five laughing emojis and a plea for Watt to "come play with your brothers lol."
Smith-Schuster is set to test free agency himself next month, so his public recruitment of Watt could be a positive sign toward re-signing with Pittsburgh, where he's spent his entire four-year NFL career.
Earlier this month, the Pro Bowl wide receiver acknowledged that he "would love to come back" to Pittsburgh during an interview with FOX Sports Radio, but said he wants to be on the team that provides him the best opportunity to win while also looking out for his best interests financially.
J.J. Watt was granted his release by the Texans last week after spending his entire 10-year NFL career with the franchise. The 31-year-old won three NFL Defensive Player of the Year awards and was the only player since 1982 to record multiple seasons with 20 or more sacks during an incredible stretch from 2012 and 2015.
Photo: Getty Images