WATCH: Here's What Gronk Said About Tom Brady's Lombardi Trophy Toss
By Jason Hall
March 18, 2021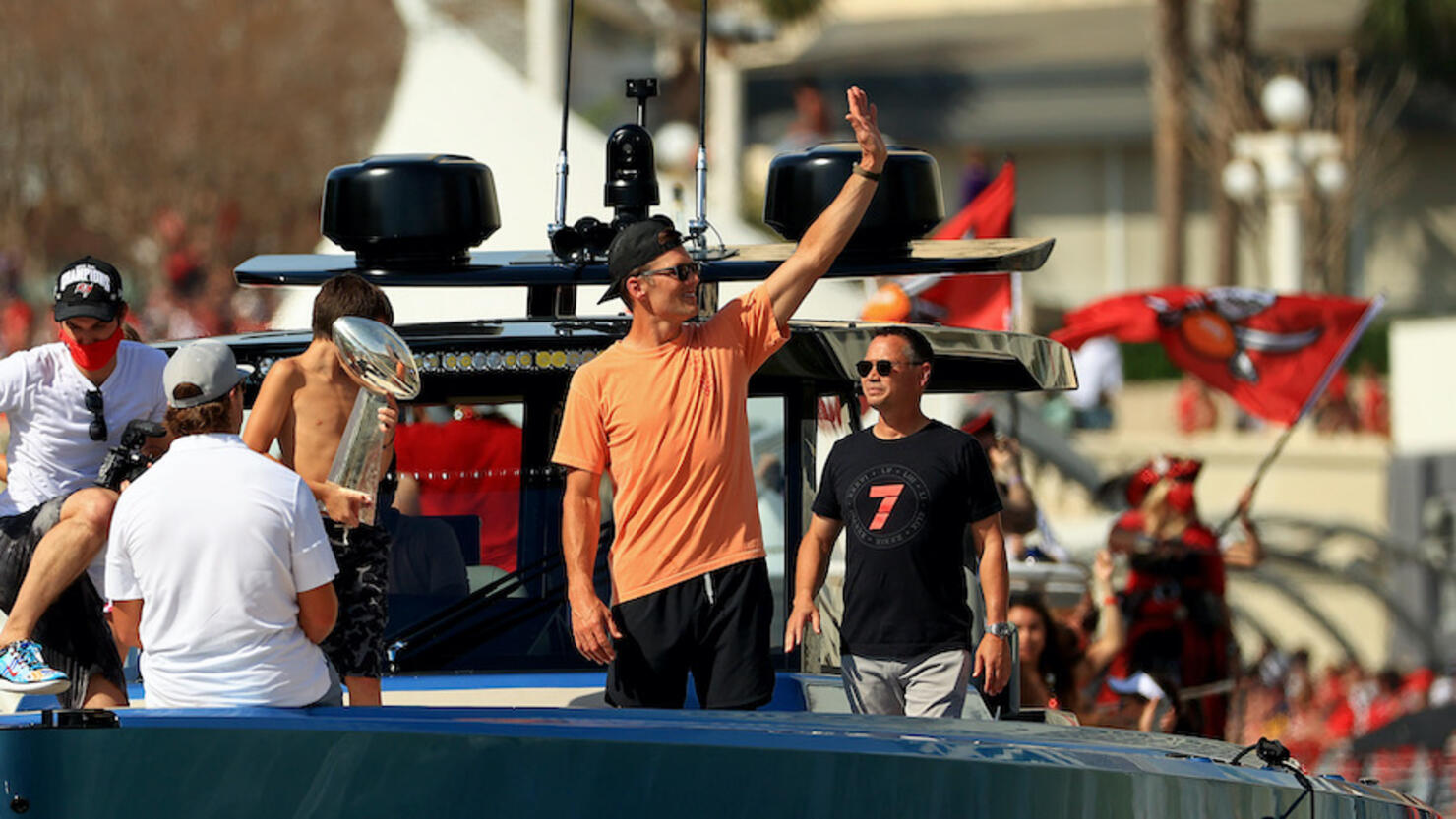 Rob Gronkowski defended longtime teammate Tom Brady's decision to throw the Lombardi Trophy during the Tampa Bay Buccaneers' Super Bowl boat parade last month.
During an appearance on 10 Questions with Kyle Brandt podcast on Wednesday (March 17), Gronkowski, who recently announced his decision to return to the Bucs next season, was asked whether the seven-time Super Bowl champion quarterback was "wasted" during the incident" and if throwing the trophy was "the right way to celebrate."
"That is how you celebrate a Super Bowl because you celebrate 600 times so you gotta to step it up a little bit when you're at a parade," Gronkowski said, adding that Brady was a "good team player," who wanted to make sure all his teammates were able to hold the trophy before tossing it over to the boat Gronkowski and other tight ends and wide receivers were on.
"He's held that trophy many times and he's like 'Man, I want my teammates to hold the trophy. They've never held it before,'" Gronkowski said. Brady was filmed tossing the iconic trophy from his boat to another during the Buccaneers' boat parade on the Hillsborough River in downtown Tampa following their victory over the Kansas City Chiefs in Super Bowl LV.
"So that's why he tossed it to [tight end Cameron Brate], cause he looked at me and he said, 'Rob's held it many times too.' So, he threw it to Cam and Cam made that amazing catch."
During an appearance on 'The Late Late Show with James Corden' on March 3, Brady acknowledged the since viral video, admitting he "doesn't remember that quite as well" as others, but pieced together some of the details.
"First of all, I was not thinking at that moment. It was not a thought. It was, 'This seems really fun to do,'" Brady said while laughing. "Not to mention, when you get your hands on one of those trophies, there's a lot of really sharp edges on the bottom. ... I found out later, had that been an incomplete pass, that would have went down like 80 feet. I'm so happy that [tight end] Cam [Brate caught it]."
Sources within the Buccaneers organization confirmed to ESPN that the team would have ordered a replacement for the trophy if a mishap had occurred.
Brady also said his 8-year-old daughter, Vivi, was the child heard shouting, "Daddy, no" just before he threw the championship trophy.
"That's my little 8-year-old daughter," Brady said. "Who could imagine that an 8-year-old girl would have the most sense of anybody in that whole area? I mean, she's the voice of reason. Go figure."
The quarterback also reiterated that the viral video of him walking out of the parade was "a little bit of both" sea legs and too much avocado tequila.
"It was definitely a moment of celebration. I'm happy I'm on land at that point. Absolutely.
"I'm happy I'm being surrounded by my fellow quarterback Griff [Ryan Griffin] at the right place at the right time. Who could have a friend better than that? Making sure I was just so comfortable walking off the boat like that.
True to form, both Brady and Gronkowski enjoyed record-setting performances during Super Bowl LV.
Brady finished Super Bowl LV with 201 yards and three touchdowns on 21 of 29 passing, winning a record fifth Super Bowl MVP Award, which surpassed his own previous record set in Super Bowl LI (2017.)
Gronkowski led the Buccaneers with six receptions for 67 yards and two touchdowns, the first of which set a new NFL record for most postseason touchdowns by a duo, as the 13th between himself and Brady during their lengthy run as teammates.
Brady and Gronkowski, who had previously appeared in five Super Bowls together prior to Sunday's game, connected on an 8-yard touchdown pass in the first quarter, which surpassed former San Francisco 49ers Joe Montana and Jerry Rice's previous record of 12.
Brady later connected with Gronkowski on a 17-yard touchdown with 6:05 remaining in the second quarter to extend the Bucs' lead to 14-3 and set the new record at 14 touchdowns.
The duo has now won four Super Bowls together, while Brady -- who won his record-setting fifth Super Bowl MVP on Sunday -- has won seven all-time, the most by an NFL quarterback.
Brady and Gronkowski had previously spent their entire careers on the Patriots prior to reuniting with the Bucs this past offseason.
Both Brady and Gronkowski -- who came out of retirement this past offseason -- both expressed their intention to continue playing next season after the Bucs' win on Sunday night.
Photo: Getty Images