Lamar Odom On Kobe's 'Mamba Mentality': 'He Said He Was Better Than Mike'
By Jason Hall
April 19, 2021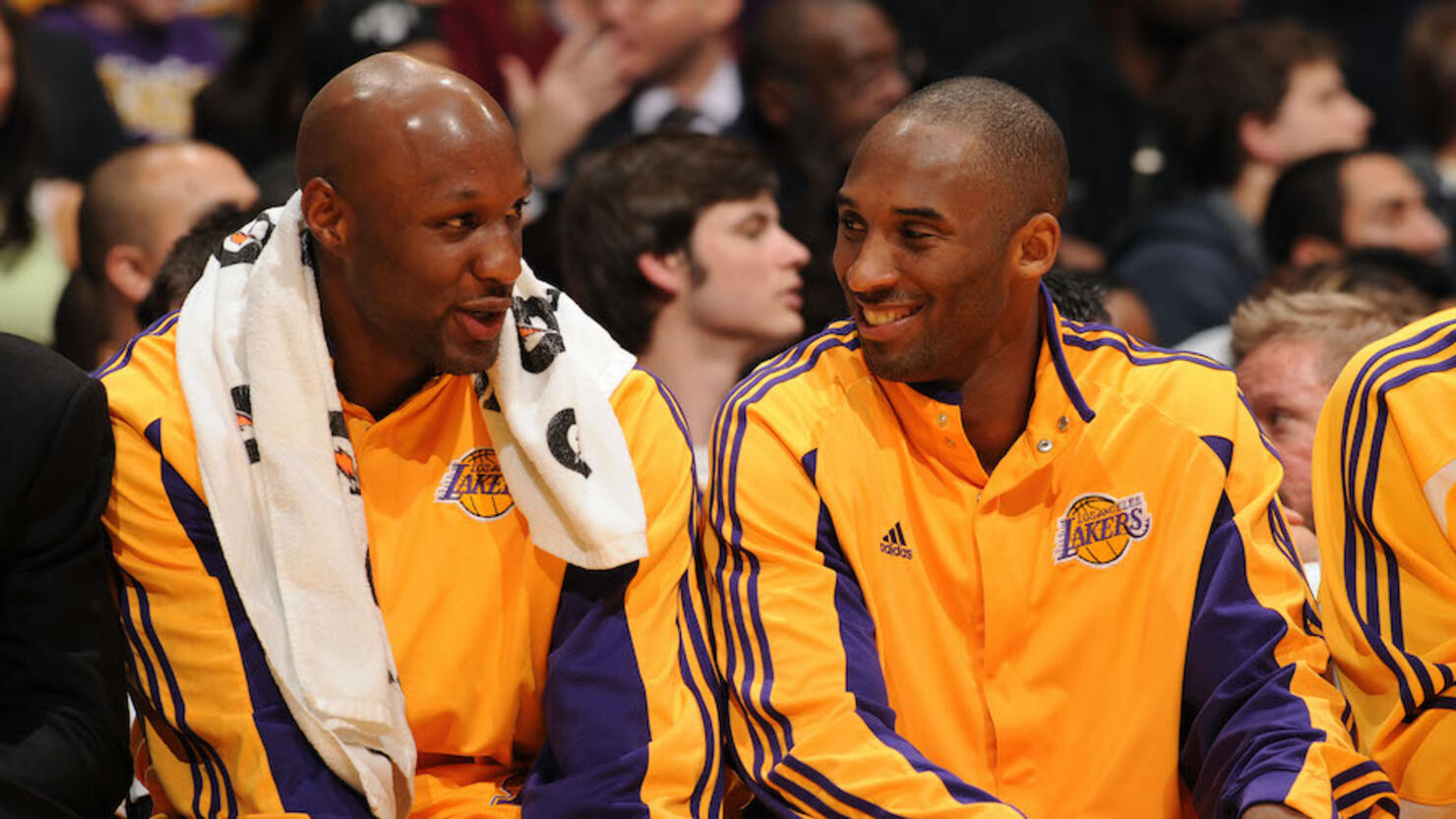 The late Kobe Bryant drew comparisons to Michael Jordan throughout his legendary NBA career and apparently he wasn't shying away from those discussions.

During a recent appearance on Showtime's All The Smoke podcast with Stephen Jackson and Matt Barnes, former Los Angeles Lakers teammate Lamar Odom revealed that Bryant's legendary competitive drive was not only comparable to Jordan's, but also pushed him to chase the six-time NBA champion, who will present him at his posthumous Hall of Fame enshrinement ceremony next month.
"He said he was better than Mike [Jordan]. ... I said, 'What?!' You gotta understand his drive," Odom told Showtime via CBS Sports.
Jordan, who was inducted in 2009, will present Bryant and Baylor coach Kim Mulkey during the 2020 Basketball Hall of Fame ceremony on Saturday, May 15, 2021, the Naismith Memorial Basketball Hall of Fame announced in a news release on Thursday (April 15.)
In 2017, Bryant told Complex that he wanted either Jordan or his former Los Angeles Lakers head coach Phil Jackson to present him for enshrinement, calling both his "greatest mentors."
"In terms of who might present, for me it's two people: Michael Jordan or Phil Jackson. They've been the greatest mentors, not only in my career as an athlete, but also as a person. And what I might say is just a lot of thank yous. 'Cause I've had a lotta help along the way. A lotta lotta help."
Bryant, along with eight others, including his 13-year-old daughter, Gianna, were killed in a helicopter crash in the Calabasas area of Los Angeles County while traveling to a basketball camp in January 2020.
Jordan provided a touching eulogy during a ceremony held honoring Kobe and Gianna Bryant at Staples Center in February 2020.
"When Kobe Bryant died, a piece of me died," Jordan said. "And as I look in this arena and across the globe, a piece of you died."
Bryant, a five-time NBA champion, ranks first in career points, 3-point field goals, steals, and games played, as well as second in assists, in Lakers franchise history.
The Naismith Hall of Fame unveiled its entire list of presenters for the 2020 class -- all of whom are previous inductees -- which includes David Robinson presenting former San Antonio Spurs teammate Tim Duncan and Isiah Thomas presenting Kevin Garnett.
Here's a full list of inductees and presenters announced by the Naismith Hall of Fame on Thursday:
Patrick Baumann, presented by Russ Granik ('13), Vlade Divac ('19)
Kobe Bryant, presented by Michael Jordan ('09)
Tamika Catchings, presented by Alonzo Mourning ('14), Dawn Staley ('13)
Tim Duncan, presented by David Robinson ('09)
Kevin Garnett, presented by Isiah Thomas ('00)
Kim Mulkey, presented by Michael Jordan ('09)
Barbara Stevens, presented by Geno Auriemma ('06), Muffet McGraw ('17)
Eddie Sutton, presented by John Calipari ('15), Bill Self ('17), Sidney Moncrief ('19)
Rudy Tomjanovich, presented by Calvin Murphy ('93), Hakeem Olajuwon ('08)
The ceremony for last year's Hall of Fame class will take place on May 15, 2021 after it was initially postponed due to the ongoing COVID-19 pandemic.
Photo: Getty Images