Brady, Mahomes Weigh-In On QB Debate Amid MLB Players' Super Bowl Bet
By Jason Hall
April 20, 2021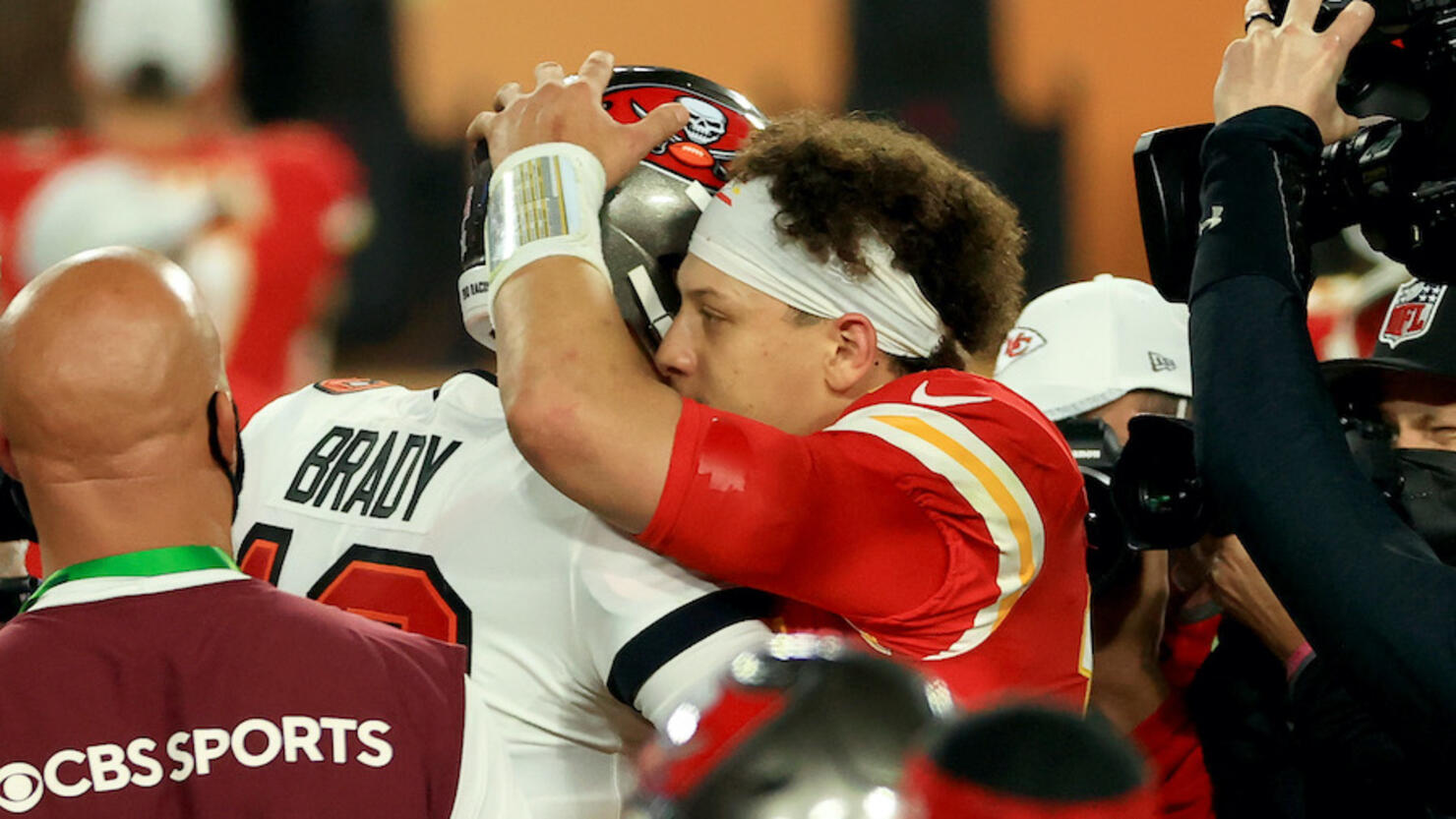 Super Bowl LV is more than two months removed, but the debate between the game's two starting quarterbacks is far from over.
Tom Brady and Patrick Mahomes each weighed-in on the debate over which of the two passers is the best. The interaction stemmed from a bet involving Kansas City Royals catcher Salvador Perez and former teammate Brett Phillips.
Phillips, a native of Seminole, Florida, who was traded to the Tampa Bay Rays last season, picked his hometown Buccaneers to win the Super Bowl, while Perez picked the Chiefs whose star quarterback, Mahomes, also happens to have a stake in ownership of the Royals.
The Royals' verified Twitter account shared a video of Perez owning up to the bet by taking batting practice in a Brady Buccaneers jersey, but still acknowledging his support of the Chiefs by saying, "Patrick Mahomes the best" while waving his finger, along with the caption, "Sometimes words speak louder than actions."
Brady quote-tweeted the video with, "Nahhh I think actions always speak louder than words," followed by a winking emoji.
Mahomes then responded with a quote-tweet of his own 31 minutes later stating, "I guess we will see in 20 years..."
The interaction was all in good fun as the two quarterbacks have shared mutual admiration for each other.
Cameras caught Mahomes and Brady embracing and praising each other after Super Bowl LV.
Mahomes called Brady a "legend" and Brady called Mahomes "a stud," telling him to "keep in touch" when they met at midfield, as shown in footage shared by NFL Films.
Brady finished Super Bowl LV with 201 yards and three touchdowns on 21 of 29 passing, winning a record fifth Super Bowl MVP Award, which surpassed his own previous record set in Super Bowl LI (2017.)
The victory was Brady's first as a member of the Buccaneers after joining the franchise in March following 20 seasons with the New England Patriots.
Brady now owns a 7-3 record all-time in the NFL's biggest game and surpassed his own previous record for most Super Bowl wins by a quarterback (6) set in February 2019. The 43-year-old also broke his own record as the oldest quarterback to both start and win a Super Bowl also set in 2019.
The win was Tampa Bay's second Super Bowl victory in franchise history. The Buccaneers are also the only team in NFL history to both host and win a Super Bowl in their home stadium.
Photo: Getty Images