Koepka, DeChambeau Continue Viral Golf Feud Amid 'The Match' Announcement
By Jason Hall
May 26, 2021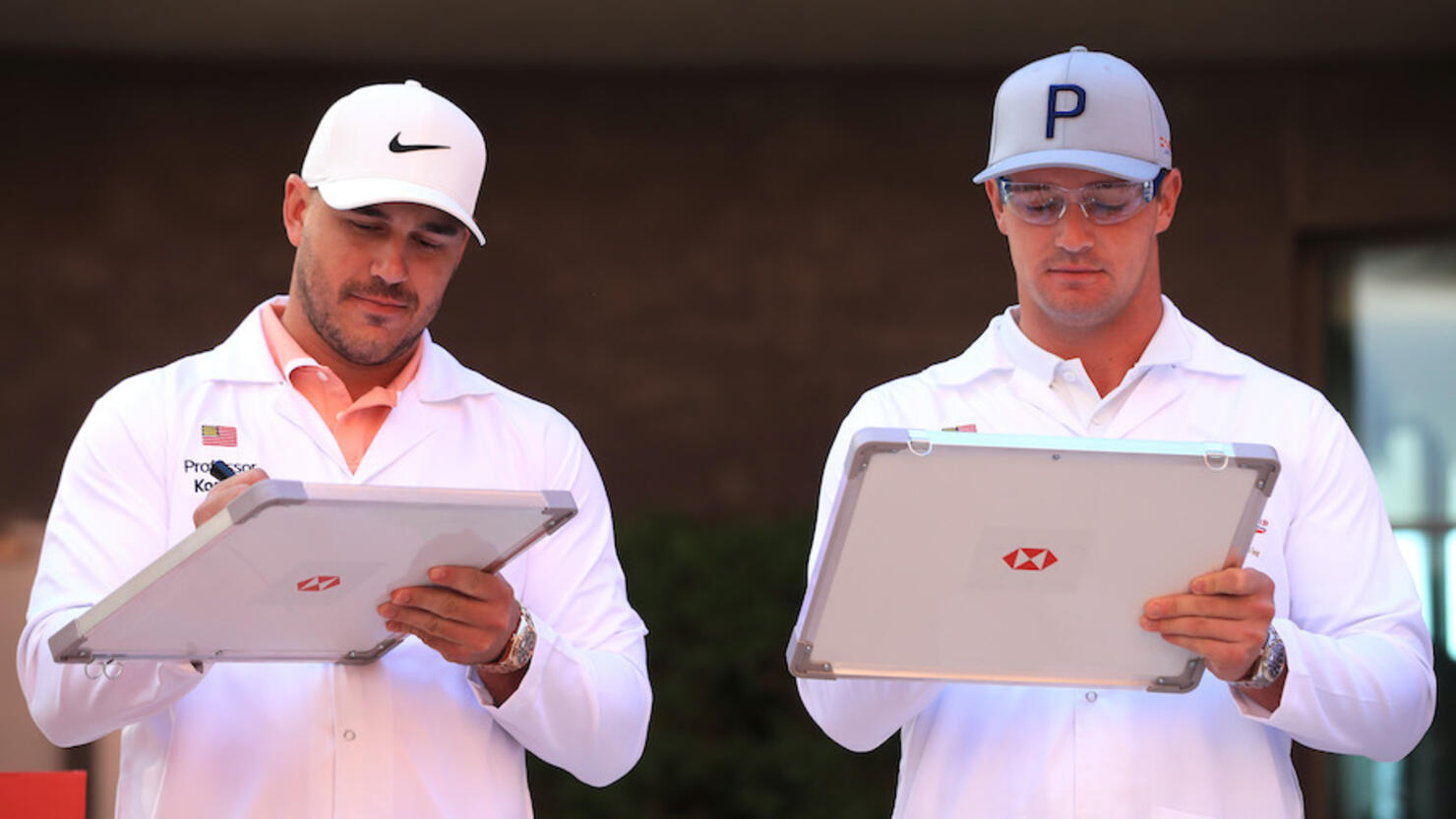 Wednesday's (May 26) announcement of the next The Match event stoked the flames of the viral feud between PGA golfers Brooks Koepka and Bryson DeChambeau.
Koepka, who will not be competing in the upcoming TNT Pro-Am, tweeted "sorry bro" at Green Bay Packers quarterback Aaron Rodgers amid the announcement that Rodgers would be teaming with DeChambeau against Tampa Bay Buccaneers quarterback Tom Brady and six-time major winner Phil Mickelson.
DeChambeau responded to Koepka's tweet with, "It's nice to be living rent free in your head!"
The interaction comes days after a now viral video showed a visibly annoyed Koepka having his interview interrupted by the sound of his metal spikes as DeChambeau walked behind him.
@BKoepka It's nice to be living rent free in your head!

— Bryson DeChambeau (@b_dechambeau) May 26, 2021
Koepka, a two-time major winner, was being interviewed by Golf Channel's Todd Lewis at the time and rolled his eyes as DeChambeau passed, then said he "lost my train of thought hearing that bulls***."
DeChambeau, the 2020 U.S. Open champion, responded to an Instagram post of the incident with, "You know you can fix spike marks now."
Brady was also aware of the now viral moment, which led to the seven-time Super Bowl champion sharing a series of memes on his Twitter account to trash talk DeChambeau and Rodgers.
DeChambeau then responded by referencing the infamous "deflategate" game, accusing Brady and his former team, the New England Patriots, of using deflated footballs during their AFC Championship Game victory over the Indianapolis Colts in January 2015.
"@TomBrady, once @AaronRodgers12 and I take down you and @PhilMickelson, you will feel just as deflated as those balls were in the AFC Championship game," DeChambeau tweeted to Brady.
On Wednesday, PGATour.com and Bleacher Report confirmed Brady and Mickelson would face Rodgers and DeChambeau in the next edition of Capital One's The Match, which will take place Tuesday, July 6 and air live on TNT, with coverage beginning at 5:00 p.m. ET.
Mickelson, who became the oldest player to win a major during the PGA championship last Sunday (May 23), is a two-time winner of The Match, having defeated 15-time major champion Tiger Woods in the debut event of the series and both three-time NBA champion Stephen Curry and Pro Football Hall of Famer Peyton Manning alongside Basketball Hall of Famer and TNT analyst Charles Barkley.
Mickelson also teamed with Brady during a losing effort to Manning and Woods in May 2020.
Mickelson teased that he and Brady had "some unfinished business," referencing their loss to Manning and Woods, shortly after his major victory on Sunday.
We have some unfinished business. Let's get another match and find a pair to give a beat down. 😏

— Phil Mickelson (@PhilMickelson) May 24, 2021
Mickelson also credited Brady's recent Super Bowl victory at the age of 43 for motivating his own historic quest at the PGA Championship.
"So I'm very inspired by Tom Brady," Mickelson told ESPN's Gene Wojciechowski via CBS Boston. "He is actually a big motivation, because of how hard he works to be the best and to elongate his career."
Brady also shared several posts congratulating his former doubles partner on social media, also referring to Mickelson's PGA Championship win as "inspiring."
Mickelson ended his final round on Sunday at +1 to finish at -6 for the tournament, winning his sixth career major and first since 2013.
Brady is coming off his first season with the Tampa Bay Buccaneers, which culminated in his seventh Super Bowl victory after 20 seasons with the New England Patriots. The 43-year-old quarterback is scheduled to face his former team for the first time in his career during the Week 4 Sunday Night Football matchup on October 10, 2021 at Gillette Stadium in Foxborough.
In February, Brady recorded 201 yards and three touchdowns on 21 of 29 passing in Super Bowl LV, winning a record fifth Super Bowl MVP Award, which surpassed his own previous record set in Super Bowl LI (2017).
Brady now owns a 7-3 record all-time in the NFL's biggest game and surpassed his own previous record for most Super Bowl wins by a quarterback (6) set in February 2019. The 43-year-old also broke his own record as the oldest quarterback to both start and win a Super Bowl also set in 2019.
The win was Tampa Bay's second Super Bowl victory in franchise history. The Buccaneers are also the only team in NFL history to both host and win a Super Bowl in their home stadium.
Prior to Super Bowl LV, Brady's Bucs defeated Rodgers' Green Bay Packers, 31-26, in the NFC Championship Game at Lambeau Field.
Rodgers, the 2020 NFL MVP has also made headlines recently both for serving as a guest host of Jeopardy! and amid reports that he is "disgruntled" with the Green Bay Packers.
Photo: Getty Images