Tom Brady Posts Unbelievable Video Showing Off His Arm And Twitter Loves It
By Jason Hall
July 26, 2021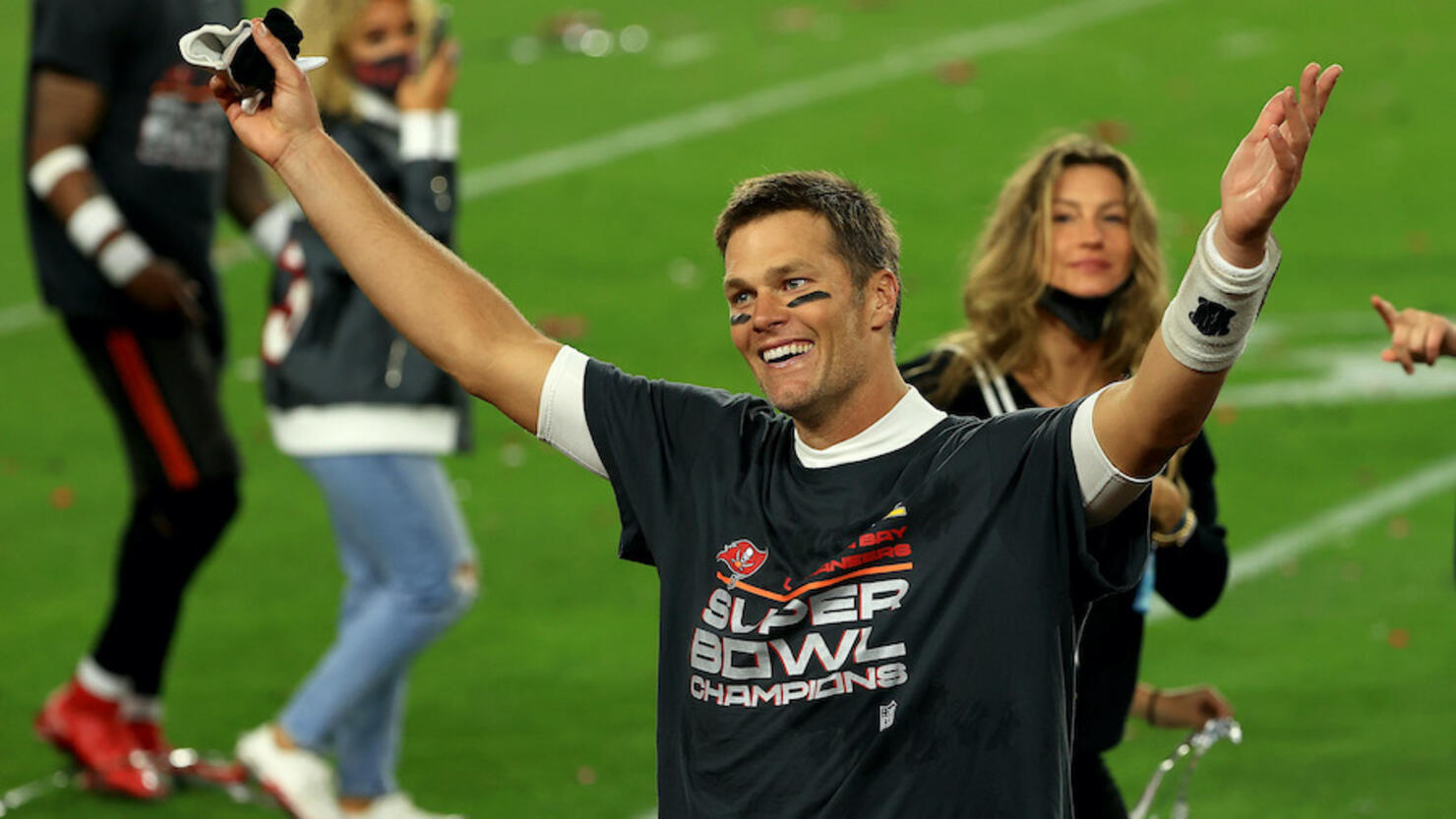 Tom Brady continues to dominate social media.
The seven-time Super Bowl champion went viral once again after sharing an incredible -- yet obviously edited -- video of himself showing off his passing accuracy on his verified social media accounts.
In the video, the former New England Patriots and current Tampa Bay Buccaneers quarterback plays catch with a jugs machine, throwing two passes into the machine, which shoots them back out before dropping back and firing one las throw through the machine, causing it to fall over and spit the ball back into the air.
"Training camp starts this week. I'm looking forward to having some actual receivers again," Brady tweeted alongside the video.
Twitter couldn't get enough of the video, with numerous accounts sharing reactions.
I can't even walk in a straight line how do you do this

— Becca Winkert (@BeccaMVP) July 25, 2021
The video was shared just two days after Brady went viral for a photo of himself showing off his seven Super Bowl rings.
Hours after receiving his seventh Super Bowl ring last Thursday (July 22), Brady posted a photo of all seven rings on his fingers with his hands in front of his face, along with a split frame photo of himself as rookie for the New England Patriots, both wearing his full uniform and without a helmet donning a shaved head.
"How it started vs. How it's going," Brady shared along with the photos.
Brady received his seventh Super Bowl championship ring during the Bucs' ring ceremony on Thursday (July 22) night, which was captured in a video shared on the team's verified Instagram account.
Brady is shown opening the ring box alongside offensive coordinator and former NFL quarterback Byron Leftwich, who screams in excitement after receiving his own Super Bowl ring, which was his first as a coach, having won a previous Super Bowl as a backup for the Pittsburgh Steelers.
"Oh my God," Brady says to Leftwich in the video while showing off his own ring.
"Yeah, we feel the same way @TomBrady," the Buccaneers' account posted with the Instagram video.
Brady also shared a video of his Super Bowl ring featuring closeup shots on his Instagram account Friday (July 23) morning.
"Pretty sick. #WhatsMyFavoriteRing? #TheNextOne," Brady wrote.
In February, Brady recorded 201 yards and three touchdowns on 21 of 29 passing in Super Bowl LV, winning a record fifth Super Bowl MVP Award, which surpassed his own previous record set in Super Bowl LI (2017).
Brady now owns a 7-3 record all-time in the NFL's biggest game and surpassed his own previous record for most Super Bowl wins by a quarterback (6) set in February 2019. The 43-year-old also broke his own record as the oldest quarterback to both start and win a Super Bowl also set in 2019.
The win was Tampa Bay's second Super Bowl victory in franchise history. The Buccaneers are also the only team in NFL history to both host and win a Super Bowl in their home stadium.