Martina McBride Celebrates 'Dream Come True' With New Hall Of Fame Exhibit
By Kelly Fisher
July 28, 2021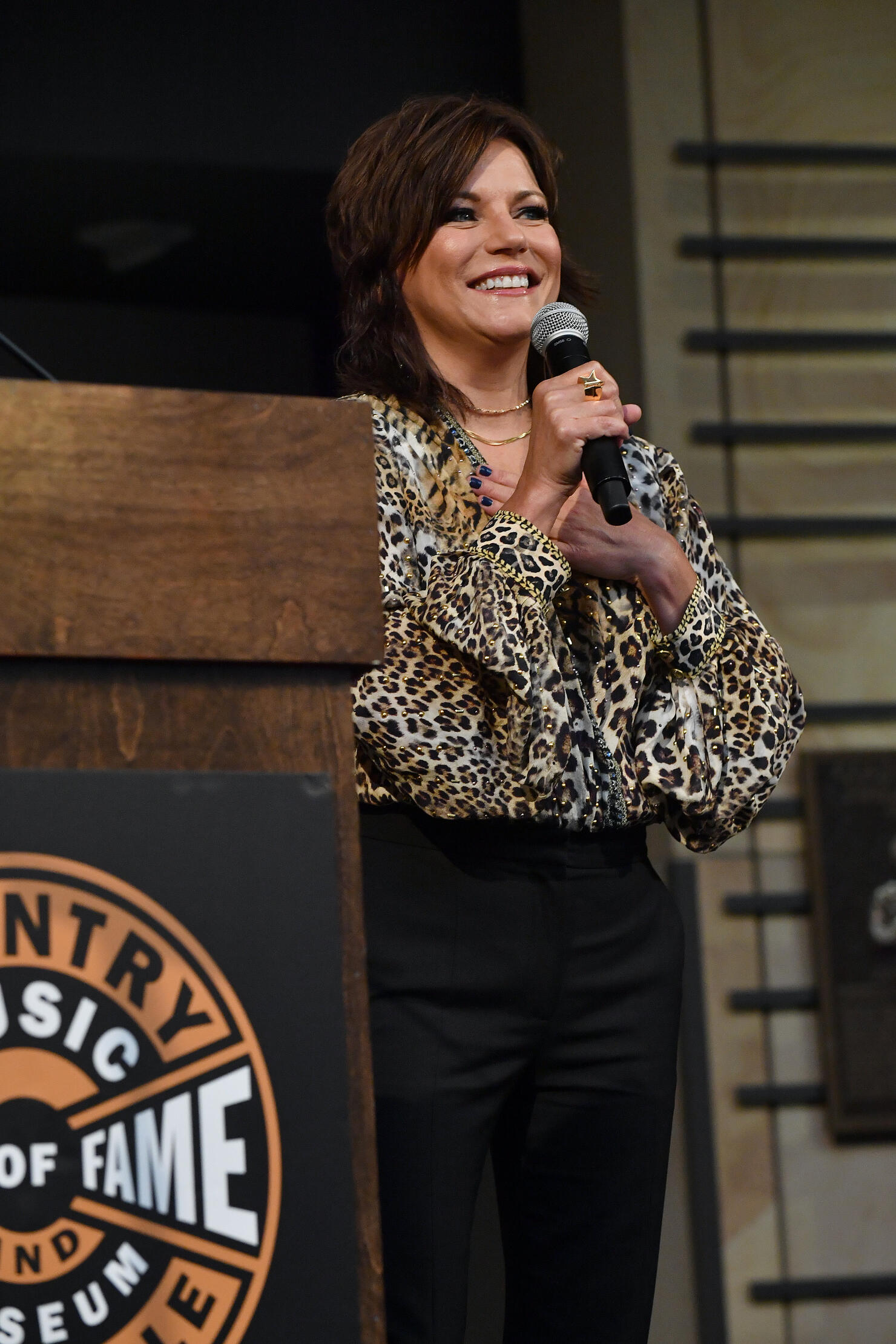 Martina McBride celebrated "a dream come true" at the Country Music Hall of Fame and Museum.
The award-winning country powerhouse's new exhibit, Martina McBride: The Power of Her Voice, is officially displayed in the museum. It's an opportunity for fans to see mementos from McBride's life and career, including:
Clothing that McBride wore on stage when she performed with her family band — the Schiffters — at age 7,
Her Sharon High School yearbook from 1984, alongside 4-H award ribbons earned for her singing and cooking,
McBride's wedding dress and veil she wore when she married John McBride in 1988,
The original hand-written manuscript of McBride's iconic song, "Independence Day," written by Gretchen Peters,
Dolly Parton's congratulatory note to McBride on winning the CMA Female Vocalist of the Year award in 2003, and so much more.
McBride and her husband had the opportunity to walk through the exhibit when celebrating its opening on Tuesday evening (July 27).
"Tonight's about Martina, about an incredible life in music, and an incredible body of work," museum CEO Kyle Young said. "It's also about coming together as a community after the kind of hibernation that we've never before endured."
The exhibit was initially planned to open sooner, but officials pushed back the opening date because of the COVID-19 pandemic.
Young noted that when McBride was born (on July 29, 1966), there was a population of about 200 in her hometown of Sharon, Kansas. She grew up expressing her musical talents, including by playing cover songs in her family's band and earning 4-H awards for her singing. Her yearbook notes McBride's achievements in band, chorus, volleyball, speech and more.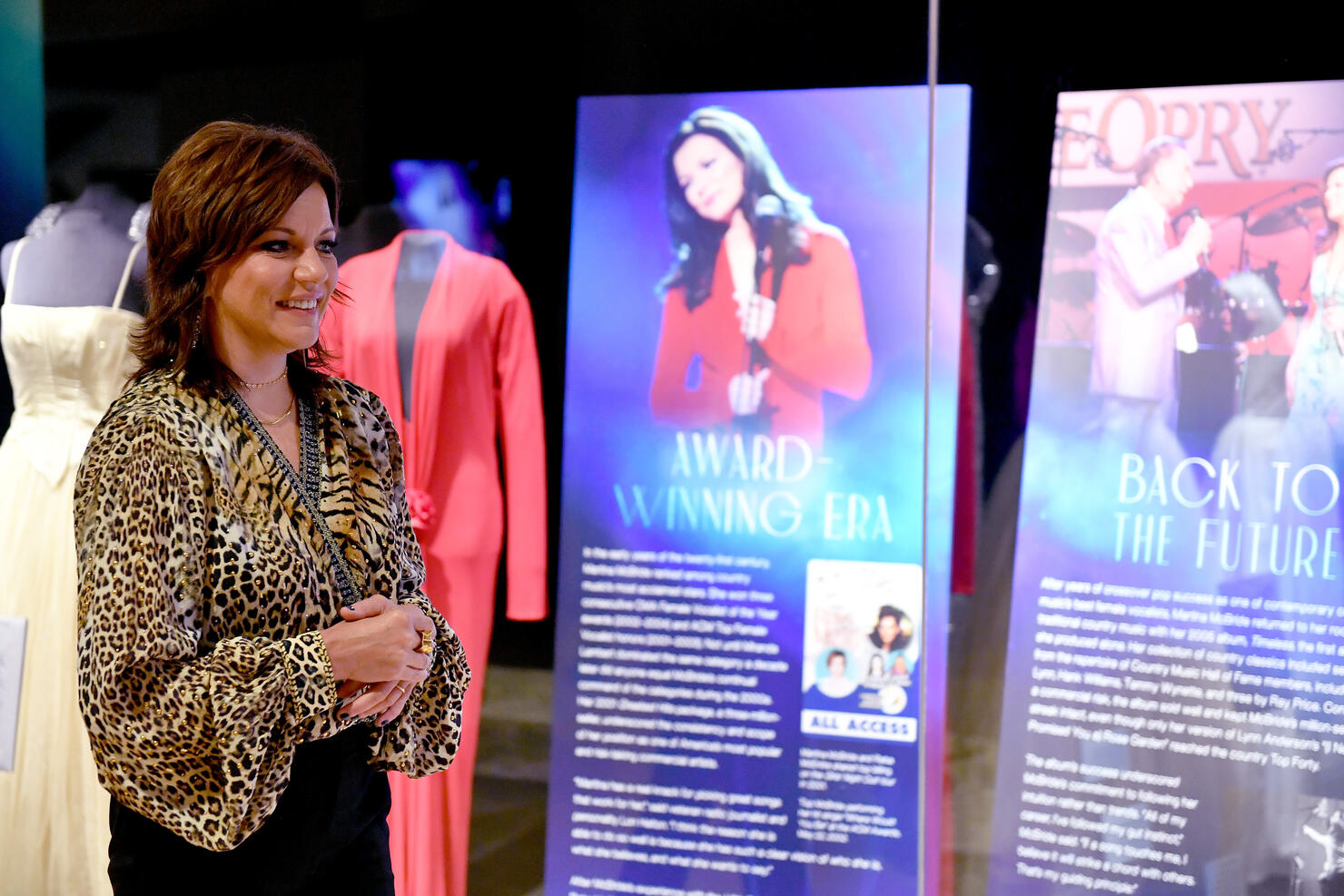 A quote from McBride displayed in the exhibit reads: "I can't remember a time when this wasn't what I wanted to do with my life."
"I do believe Martina has done most everything else she's put her mind and voice to, and that's why she's the subject of an exhibit at the Country Music Hall of Fame and Museum," Young said, later hailing her "genre-altering career" while noting her 1990s hit, "A Broken Wing."
When the McBrides moved to Nashville in 1990, John McBride began working as a sound engineer. McBride joined her husband on tour with country megastar Garth Brooks, where she sold t-shirts at Brooks' merchandise table.
Brooks attended McBride's exhibit opening, echoing Young in his sentiment that McBride is on the same plane as legendary country artists Loretta Lynn and Reba McEntire.
Brooks also credited McBride's "spirit" and her "strength" for her immense success. He recalled the first time he heard McBride sing, when she performed as an opening act. Her voice was powerful enough to prompt the "That's What Cowboys Do" hitmaker to leave his dressing room to listen to McBride's music.
"This is surreal and overwhelming. It is a dream come true. I am beyond thrilled and honored to have my own exhibit in the Country Music Hall of Fame and Museum, you guys!" McBride exclaimed at the exhibit opening. "I've been very fortunate, and lucky, and blessed that I was able to surround myself with such great people."
Martina McBride: The Power of Her Voice opens Friday (July 30). The exhibit runs through August 7, 2022.