'We've Never Had A Coach Like Her': Kelly Clarkson Raves Of Ariana Grande
By Kelly Fisher
August 24, 2021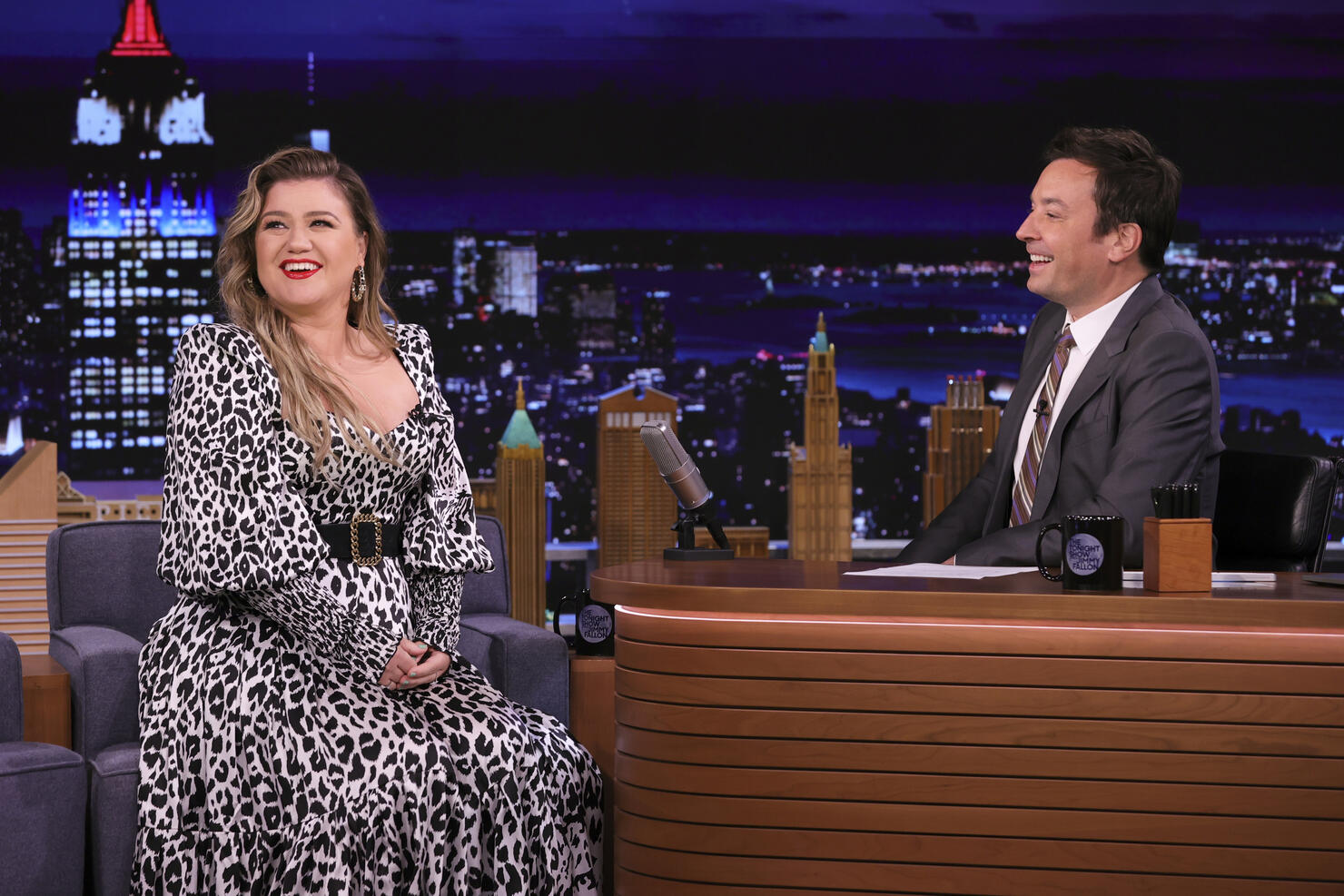 Ariana Grande is the latest addition to the celebrity coach panel of The Voice, and Kelly Clarkson is here for it.
The trailblazing American Idol alum appeared on The Tonight Show Starring Jimmy Fallon on Monday (August 23) and, among other topics, raved about Grande joining the hit NBC competition series. Clarkson dished to Fallon that although she ran into Grande a few times before, the two powerhouse singers never had the opportunity to talk until they both worker on the show. Now, Clarkson gushed "I love her" — and revealed what makes her stand out among the rest of the coaches. Clarkson said of Grande:
"She's so funny, (she's) very witty…she's hysterical. Very witty. We've never had a coach like her — I've only been there for eight seasons, but — in all my seasons, we've never had a coach talk about vocal health as much, and I'm like, I guess we should've mentioned that! We're all vocalists. No one's ever mentioned it and she's really into it…Everybody vibes so well, it's good."
And Clarkson knows she's not alone. Continuing her interview with Fallon, the "Stronger (What Doesn't Kill You)" singer explained that when the show films in front of a live audience, each coach walks out individually. Audience members "literally lost their minds" when Grande entered:
"It's literally like BTS has entered the building. They lose their minds. And then Blake (Shelton) has to follow it…Blake was like, 'can I go before Ariana? This is embarrassing.' (Audience members) literally lost their minds."
Clarkson also talked with Fallon about trucks, her 2004 hit "Since U Been Gone" being pro skateboarder Tony Hawk's hype song, her latest experience at Topgolf, and hearing her music playing in public settings.
Grande is joining The Voice this season with Clarkson, Shelton and John Legend. Previously, Nick Jonas filled her seat on the panel. Jonas recently said on The Kelly Clarkson Show that Grande is "one of the best singers in the game, and she's gonna be an incredible coach." The star-studded show will also bring on Camila Cabello (Legend), Kristin Chenoweth (Grande), Jason Aldean (Clarkson) and Dierks Bentley (Shelton) as battle advisors.
Watch Clarkson gush over Grande here:
Watch the rest of Clarkson's interview here: