Carrie Underwood, Dan + Shay Release 'Only Us' Duet From 'Dear Evan Hansen'
By Kelly Fisher
September 3, 2021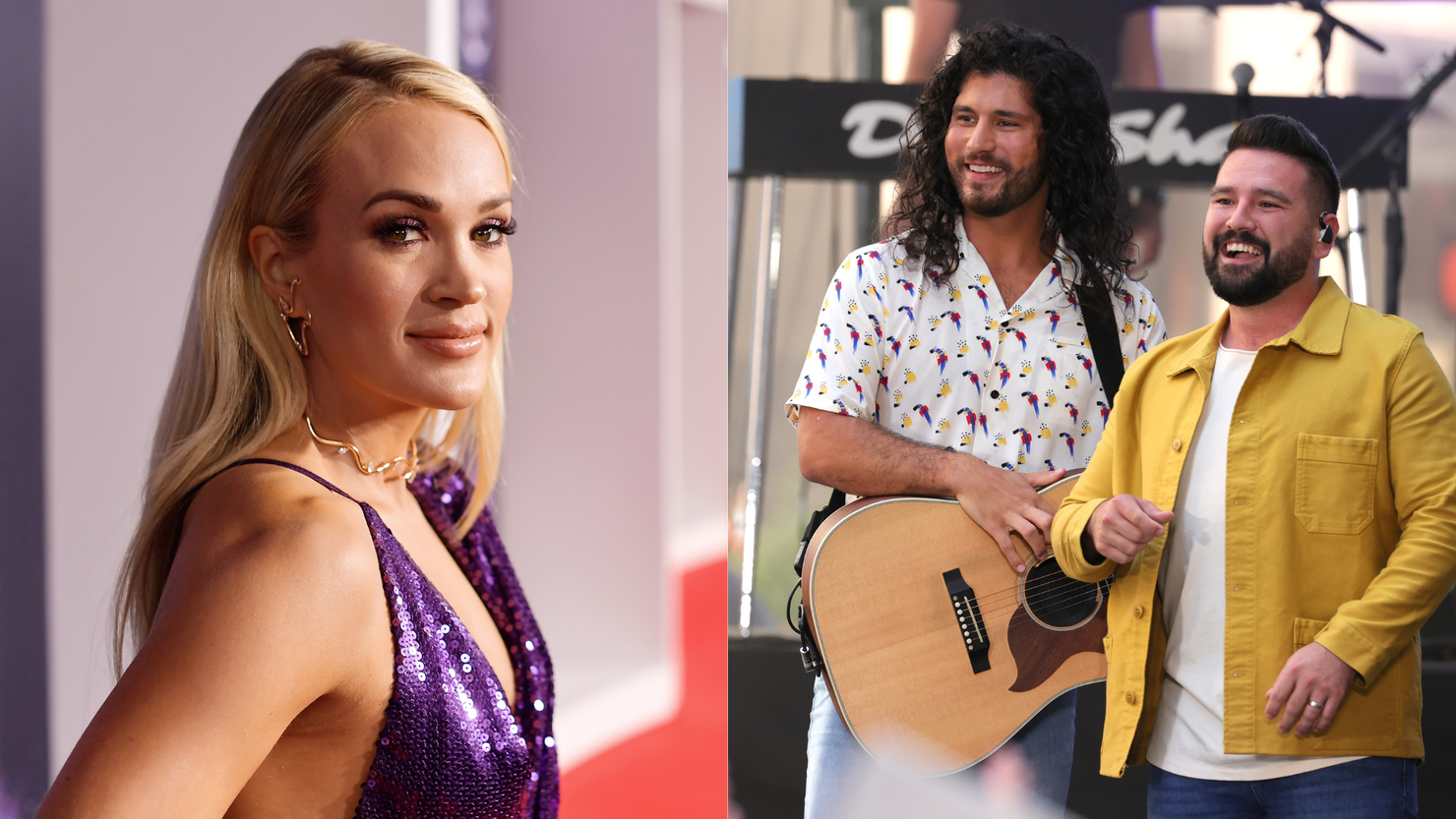 Carrie Underwood and Dan + Shay's new collaboration is officially here.
The full Dear Evan Hansen soundtrack won't release until later this month, but fans can hear the country artists' track "Only Us" on Friday (September 3).
They shared sneak peaks of the song on their social media channels Thursday (September 2). Dan + Shay dubbed themselves "superfans" of Underwood, and said "it has always been a dream to collaborate with her." Naturally, also being "superfans" of Dear Evan Hansen, the duo had to take the opportunity to team up with her. Getting to record the track for the upcoming movie "is quite possibly the coolest thing that's ever happened to us," Dan + Shay wrote, prompting fans to comment with their favorite songs by Underwood or from Dear Evan Hansen. The duo's Dan Smyers revealed that his favorite song by Underwood is "The Girl You Think I Am," which was performed at his wedding for his wife's father-daughter dance.
"So excited to sing with my friends @danandshay, and so beautifully produced by @dansmyers!" Underwood gushed on Instagram on Friday morning, announcing the song's release.
Earlier this week, Dan + Shay teased that a collaboration with Underwood was on the way. They shared a video on their social media channels Tuesday morning (August 31), showing just a snippet of instrumentalists playing in a studio and captioned only with Underwood's handle and one emoji: a pair of eyes. Smyers added in the comments, "just wait til y'all hear the vocals 😍" Underwood replied to Dan + Shay on Twitter with just a winking face emoji.
Hours later, Dear Evan Hansen — the upcoming movie-musical starring Ben Platt and Kaitlyn Dever — introduced the track list of the soundtrack. It includes "reimagined" songs by Sam Smith, Summer Walker, SZA, FINNEAS, Tori Kelly and more. The soundtrack also includes original songs: "The Anonymous Ones" and "A Little Closer." The full soundtrack will release the same day as the movie, on September 24.
Listen to Underwood and Dan + Shay's rendition of "Only Us" here: