Dan + Shay Seemingly Hint At Collaboration With Carrie Underwood
By Kelly Fisher
August 31, 2021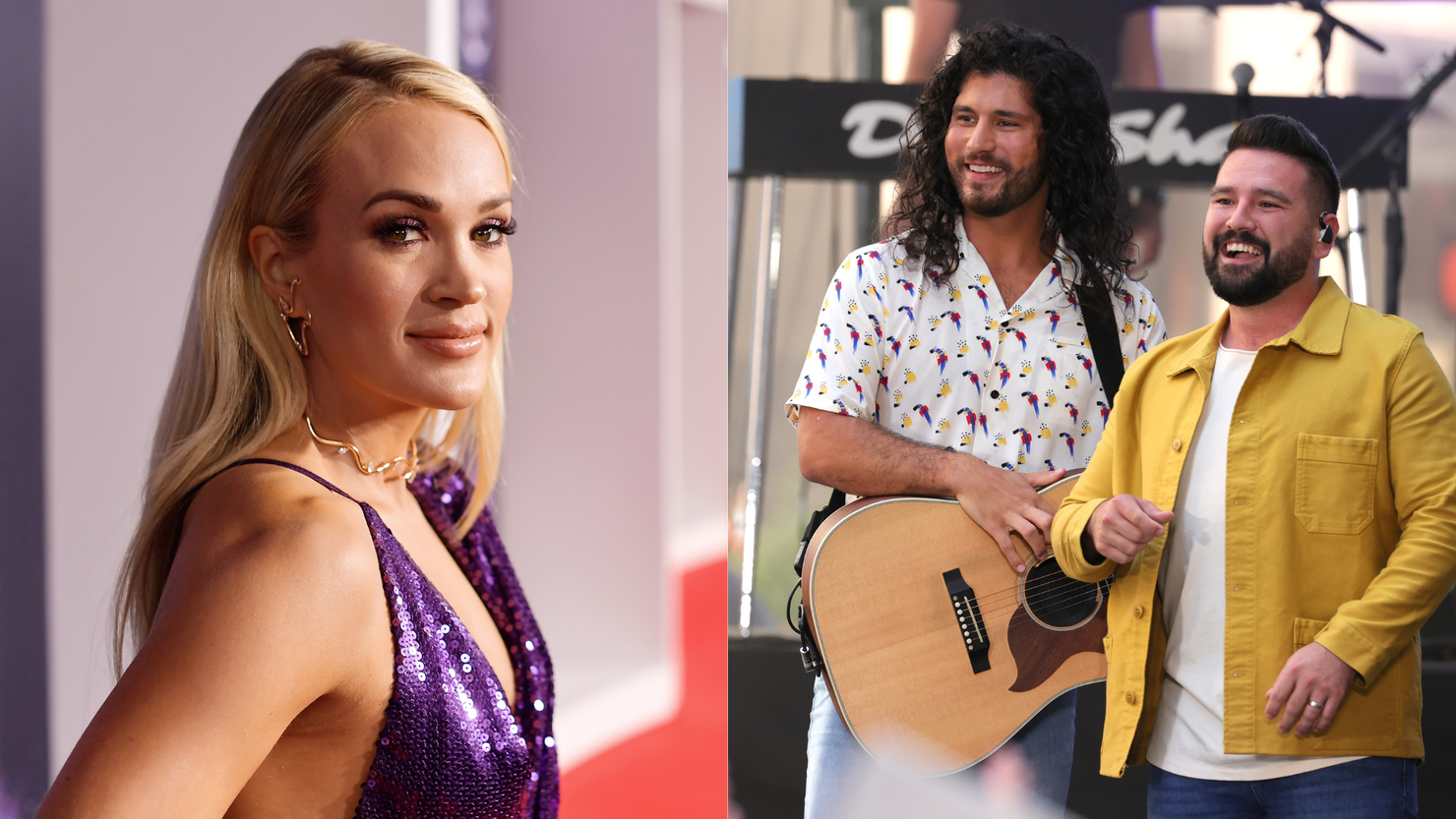 Dan + Shay have been rolling out a lot of new music lately — and now fans are wondering whether a collaboration with Carrie Underwood is on the way.
The "Glad You Exist" singing-songwriting duo shared a video on their social media channels on Tuesday (August 31), showing just a snippet of instrumentalists playing in a studio and captioned only with Underwood's handle and one emoji: a pair of eyes. Of course, fans "have no idea what this is for but I'm here for it!!!🔥🔥" some have commented on the posts. Dan + Shay also shared a throwback photo with Underwood on their Instagram story of the three of them together at the American Music Awards in 2019.
Dan + Shay dropped their fourth full-length album earlier this month, hailing Good Things as their "best album yet." So far, tracks like "Lying," "Steal My Love" and others have surged with popularity among listeners. The duo, Dan Smyers and Shay Mooney, celebrated Good Things at their exclusive iHeartRadio Album Release Party hosted by Bobby Bones days after debuting the album. During the party, Dan + Shay took questions from the virtual audience, including which artists they'd be most interested in collaborating with in the future. Smyers gushed at the thought of hearing Mooney and Underwood sing together. He commented on Dan + Shay's Instagram post on Tuesday morning: "just wait til y'all hear the vocals 😍"
The "Cry Pretty" singer also teamed up with Jason Aldean on his new duet "If I Didn't Love You." Before the song released last month, Aldean teased fans with a mystery duet partner and, following some digging by internet investigators, Underwood seemed to confirm it was her with a single emoji: a girl raising her hand.
Underwood responded similarly to Dan + Shay on Tuesday morning, with just one emoji to seemingly indicate her involvement on the mystery project.
Later in the day, Dear Evan Hansen revealed the track list for the upcoming movie-musical's soundtrack. The star-studded list includes a rendition of "Only Us" by Underwood and Dan + Shay. Underwood confirmed that she's "so excited" to team up with Dan + Shay on the "very special song," which fans can hear this Friday (September 3). See the full track list here.