Machine Gun Kelly Smashes Guitar During VMAs Performance With Travis Barker
By Ariel King
September 13, 2021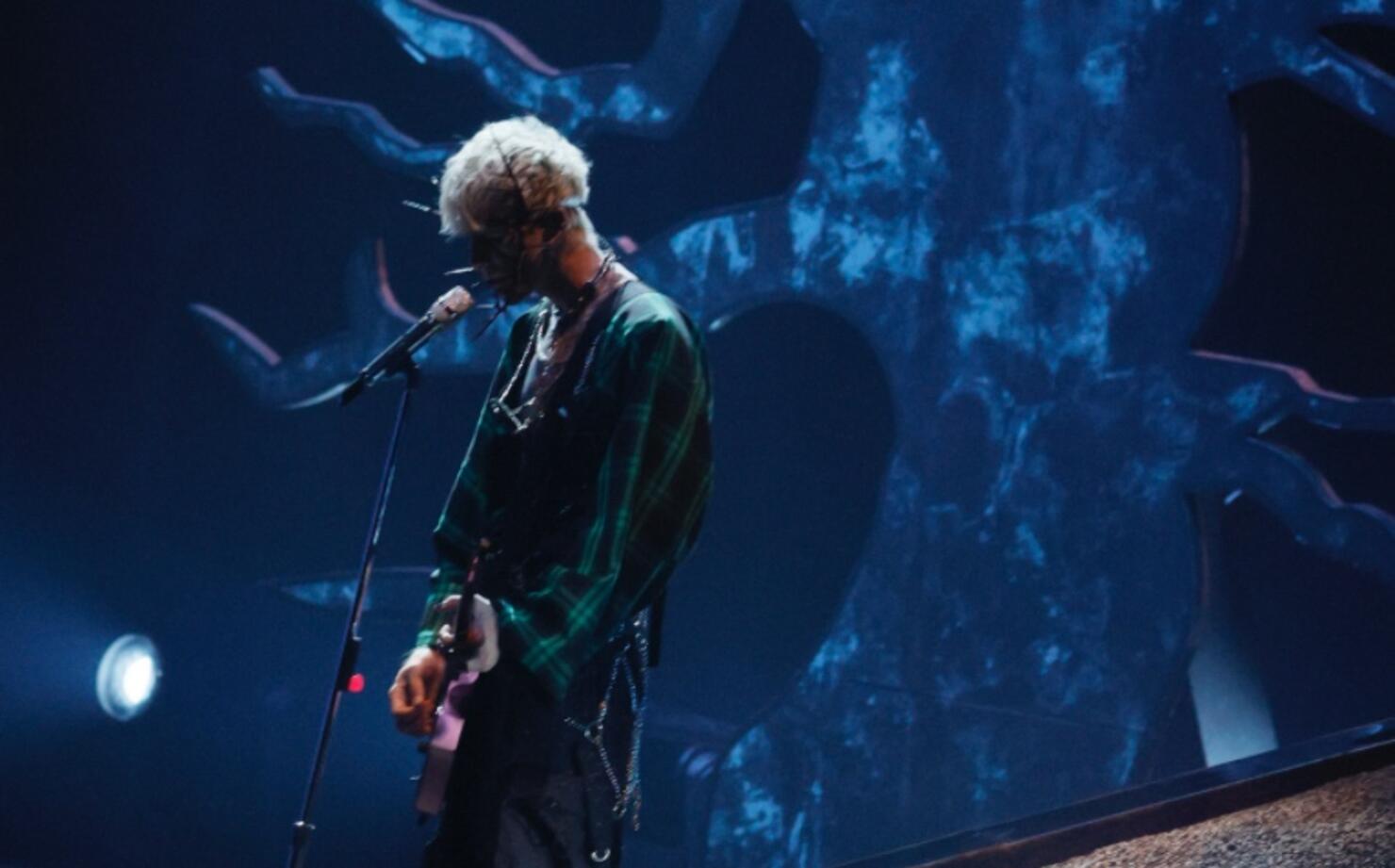 After getting into a fight with UFC fighter Conor McGregor on the red carpet, Machine Gun Kelly already made VMAs headlines. But Kelly refused to let that ruin his night, the singer going on to enjoy time with his girlfriend, Megan Fox, snag an award for Best Alternative Video, and taking the stage with blink-182's Travis Barker. The world premiere of "papercuts" marked MGK's VMAs debut, and was one of the most highly-anticipated events of the night, closing out this year's VMAs.
Fox and Kourtney Kardashian introduced the performance, with Fox calling Kelly and Barker their "future baby daddies." The haunting set featured a stretching dead tree, a large box of dirt, and red-clothed dancers. Kelly donned a wired mask during the beginning of his performance as Barker banged shirtless on his drums. The crowd sang along with Kelly as he rushed up to the camera and sang in a rage. Kelly's pink guitar contrasted the dark set, the crowd and his dancers going wild during his swirling solo. Highlighting his punk edge, Kelly smashed his guitar at the end of his performance before throwing himself flat on the ground.
His clothing and close-out channeled Nirvana, bringing to mind Kurt Cobain's signature of smashing guitars on stage during his performances. Kelly also brought back the flowers shown in Nirvana's "Heart Shaped Box" music video, honoring the late grunge legend.
Kelly released "papercuts" just last month, the track following his collaboration with Barker, "A Girl Like You." Kelly has also been in a high-profile relationship with movie star Megan Fox, the singer revealing in a recent interview with Kelly Clarkson that he considers her to be his first love. Kelly also took home the award for Best Alternative Video for his song "my ex's best friend."
Meanwhile, Barker took to the air for the first time since he survived a fatal plane crash in 2008. The blink-182 drummer opened up on how his girlfriend, Kardashian, helped him overcome his fear of planes and begin flying again. He said and the Keeping Up with the Kardashians star made a deal that she would give him 24-hours notice before flying on a plane.