Steelers Week 2 Injury Report: 3 Players Listed As Questionable Vs. Raiders
By Jason Hall
September 17, 2021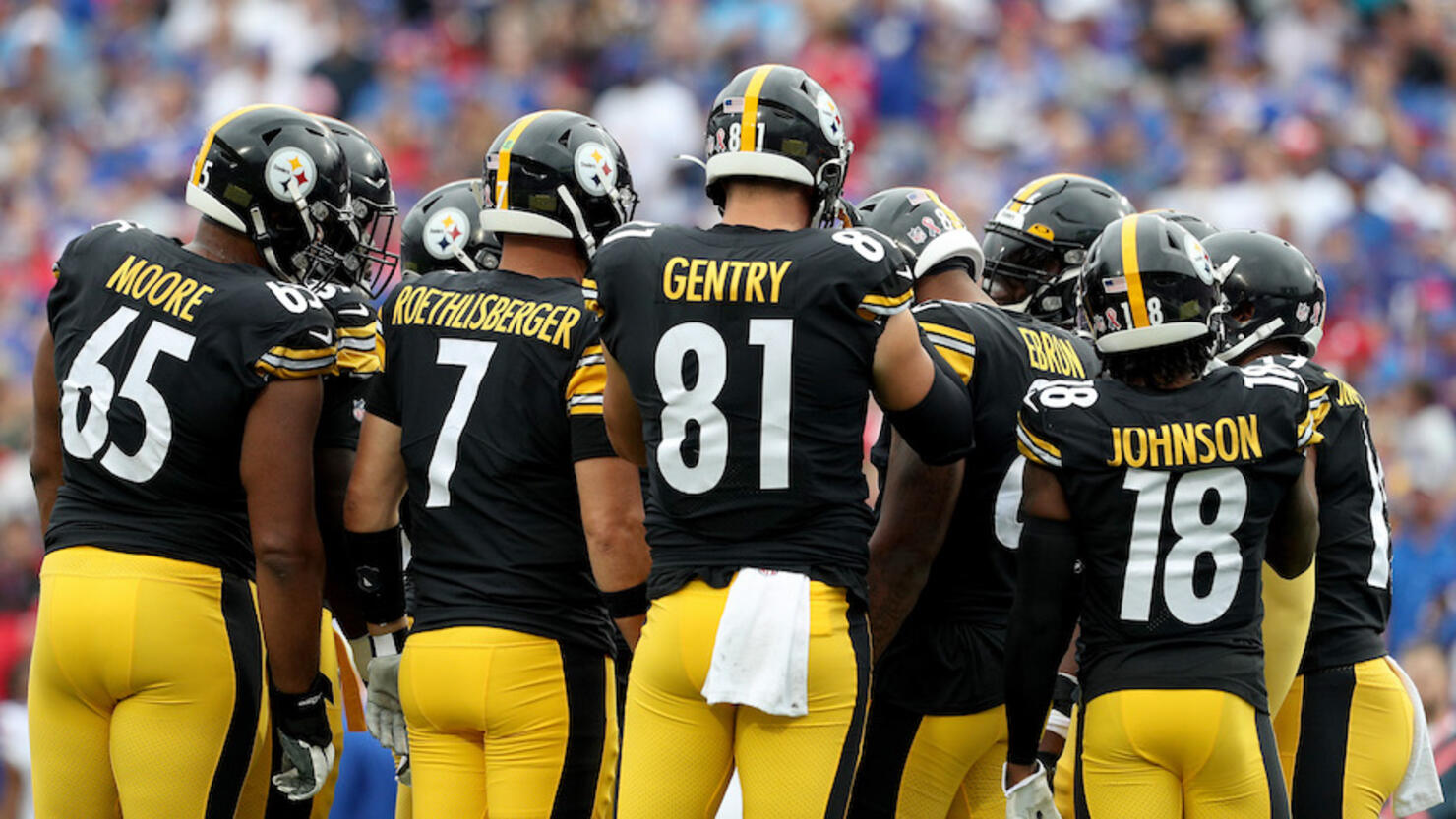 The Pittsburgh Steelers have listed eight players on their Week 2 injury report for Sunday's (September 19) game against the Las Vegas Raiders.
Cornerback Joe Haden (groin), linebacker Devin Bush (groin) and tight end Zach Gentry (ankle) are all listed as "questionable" for Sunday's game, which was shared on the Steelers' official website.
Tight end Eric Ebron (hamstring) and defensive tackle Carlos Davis (knee), both of whom missed Pittsburgh's 23-16 win against the Buffalo Bills in Week 1, are also included, with Davis already being ruled out for Week 2.
Ebron, quarterback Ben Roethlisberger and wide receiver Juju Smith-Schuster and linebacker Robert Spillane (shin) were all listed on the injury report, but were full participants in Friday's practice.
Haden, Bush and Gentry were limited participants, while Davis was ruled out during Friday's practice.
Here's the Steelers' full injury report for Week 2:
Game Status
DT Carlos Davis (Knee) - Out
CB Joe Haden (Groin) - Questionable
LB Devin Bush (Groin) - Questionable
TE Zach Gentry (Ankle) - Questionable
Friday, September 17
QB Ben Roethlisberger (Coaches Decision) - Full
WR JuJu Smith-Schuster (Coaches Decision) - Full
LB Robert Spillane (Shin) - Full
DT Carlos Davis (Knee) - DNP
TE Eric Ebron (Hamstring) - Full
CB Joe Haden (Groin) - Limited
LB Devin Bush (Groin) - Limited
TE Zach Gentry (Ankle) - Limited
Thursday, September 16
QB Ben Roethlisberger (Coaches Decision) - Full
WR JuJu Smith-Schuster (Coaches Decision) - Full
LB Robert Spillane (Shin) - Full
DT Carlos Davis (Knee) - DNP
TE Eric Ebron (Hamstring) - DNP
Wednesday, September 15
QB Ben Roethlisberger (Coaches Decision) - DNP
WR JuJu Smith-Schuster (Coaches Decision) - DNP
LB Robert Spillane (Shin) - Limited
DT Carlos Davis (Knee) - Limited
Here is the Raiders' full injury report for Week 2:
Game Status
G Richie Incognito (Calf) - Out
RB Josh Jacobs (Toe/Ankle) - Out
LB Nick Kwiatkoski (Concussion) - Out
QB Marcus Mariota (Quad) - Out
S Roderic Teamer (Ankle) - Out
DE Carl Nassib (Pectoral/Toe) - Questionable
DE Yannick Ngakoue (Hamstring) - Questionable
DT Darius Philon (Knee) - Questionable
Friday, September 17
G Denzelle Good (Knee) - IR
G Richie Incognito (Calf) - DNP
RB Josh Jacobs (Toe/Ankle) - DNP
LB Nick Kwiatkoski (Concussion) - DNP
QB Marcus Mariota (Quad) - DNP
DT Gerald McCoy (Knee) - IR
DE Carl Nassib (Pectoral/Toe) - Limited
S Roderic Teamer (Ankle) - DNP
FB Alec Ingold (Fibula) - Full
DE Yannick Ngakoue (Hamstring) - Limited
LB Denzel Perryman (Hip) - Limited
LB Divine Deablo (Ankle) - Full
WR Bryan Edwards (Elbow) - Full
DE Clelin Ferrell (Back) - Full
DT Johnathan Hankins (Knee) - Full
C Andre James (Elbow) - Full
S Dallin Leavitt (Hip) - Full
DT Darius Philon (Knee) - DNP
Thursday, September 16
G Denzelle Good (Knee) - IR
G Richie Incognito (Calf) - DNP
RB Josh Jacobs (Toe/Ankle) - DNP
LB Nick Kwiatkoski (Concussion) - DNP
QB Marcus Mariota (Quad) - DNP
DT Gerald McCoy (Knee) - IR
DE Carl Nassib (Pectoral/Toe) - Limited
S Roderic Teamer (Ankle) - DNP
FB Alec Ingold (Fibula) - Limited
DE Yannick Ngakoue (Hamstring) - Limited
LB Denzel Perryman (Hip) - Limited
LB Divine Deablo (Ankle) - Full
WR Bryan Edwards (Elbow) - Full
DE Clelin Ferrell (Back) - Full
DT Johnathan Hankins (Knee) - Full
C Andre James (Elbow) - Full
S Dallin Leavitt (Hip) - Full
DT Darius Philon (Knee) - Limited
Wednesday, September 15 - Estimation, Raiders conducted a walkthrough
G Denzelle Good (Knee) - DNP
G Richie Incognito (Calf) - DNP
RB Josh Jacobs (Toe/Ankle) - DNP
LB Nick Kwiatkoski (Concussion) - DNP
QB Marcus Mariota (Quad) - DNP
DT Gerald McCoy (Knee) - DNP
DE Carl Nassib (Pectoral/Toe) - DNP
S Roderic Teamer (Ankle) - DNP
FB Alec Ingold (Fibula) - Limited
DE Yannick Ngakoue (Hamstring) - Limited
LB Denzel Perryman (Hip) - Limited
LB Divine Deablo (Ankle) - Full
WR Bryan Edwards (Elbow) - Full
DE Clelin Ferrell (Back) - Full
DT Johnathan Hankins (Knee) - Full
C Andre James (Elbow) - Full
S Dallin Leavitt (Hip) - Full