Olivia Rodrigo Is More Sweet Than Sour At The iHeartRadio Daytime Stage
By Ariel King
September 19, 2021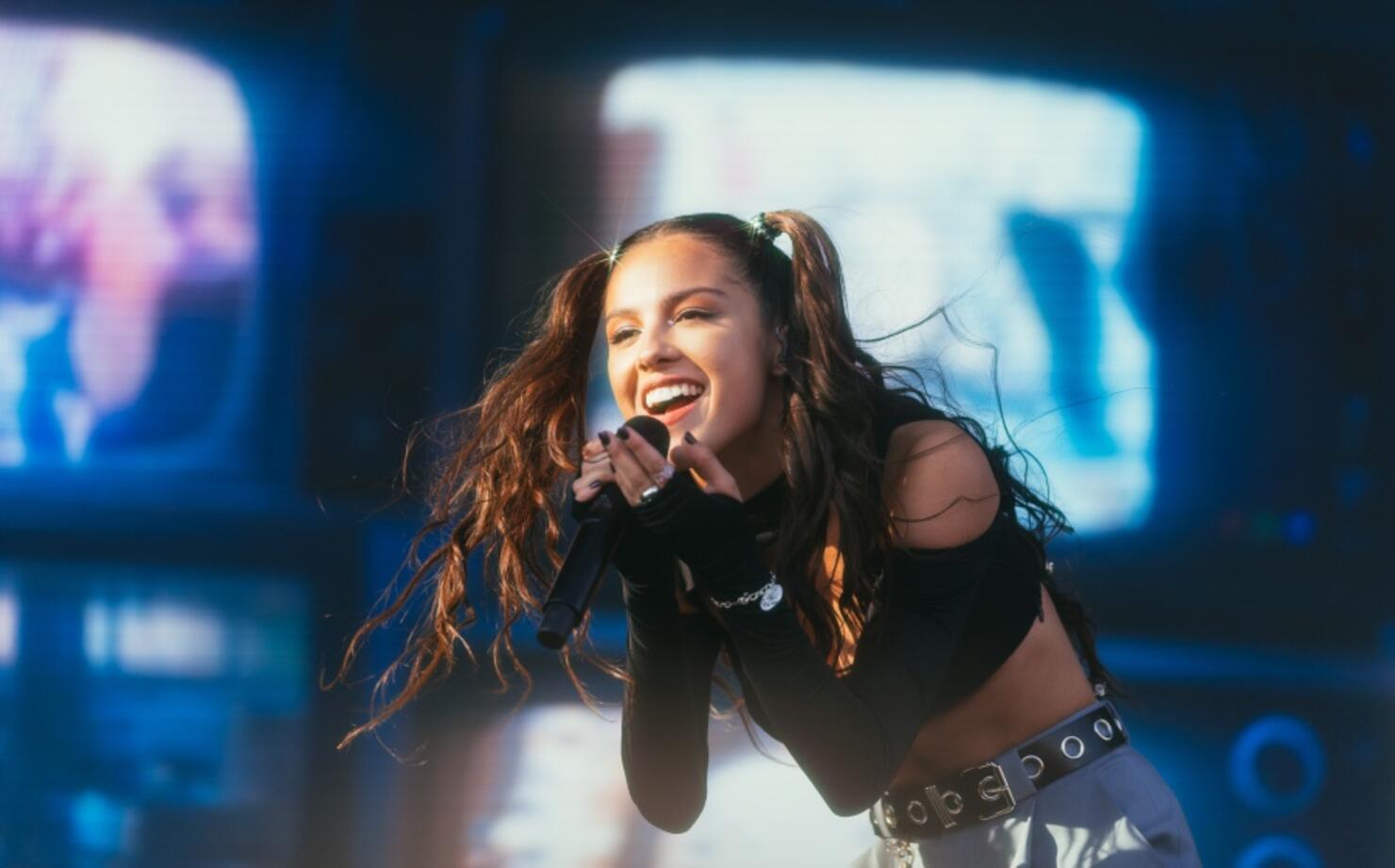 Olivia Rodrigo closed out the Daytime Stage at the iHeartRadio Music Festival presented by Samsung Galaxy for her first-ever festival performance. Performing her hit songs "Brutal," "Jealousy, Jealousy," "Driver's Licence," "Traitor," then closing out with "Good For U," the 18-year-old songstress had the crowd screaming throughout her entire set.
Prior to when she came on stage, the entire crowd waited in anticipation. The loudest scream of the night came as she walked on stage, Rodrigo glowing while she opened with "Brutal." As she sings "Jealousy, Jealousy," the entire crowd sings along, a heavy electric guitar complimenting her performance.
Olivia Rodrigo introduced herself before sitting at the piano, telling the crowd, "I don't know if you guys know this but this is a really special day for me, because this is my first show." Bridging into "Driver's Licence," the crowd sang along to the singer's debut singer nearly as loud as she did. As she went into the chorus, tears could be spotted from her fans, confetti falling over them, Rodrigo's beaming smile displaying disbelief of the moment.
Rodrigo's name continued to be chanted as she began her next single, which saw her belting the lyrics to "Traitor." Heartbreak sank through the singer's performance while butterflies flew across the screen behind her and her backing vocals soared. Talking briefly to say hello to her family in the crowd and reflecting on the surreal moment, she prepared to begin her last song of the afternoon.
Closing out with "Good For U," Rodrigo jumped across the stage and had the crowd sing parts of the track to her. The final moments of her performance saw her dancing freely during instrumental bridges and fully embracing the moment.
Olivia Rodrigo's set at the Daytime Stage followed her awards show performance for the MTV Music Video Awards, which saw Rodrigo smashing her microphone into the camera. Since the release of the singer's debut single "Driver's Licence" last January, Rodrigo has seen a meteoric rise to fame. Her debut album, Sour, focused on the meanings of teenage angst that blended pop-punk and influences from Taylor Swift.
24kGoldn, Russell Dickerson, Tate McRae, Conan Gray, Gabby Barrett, YUNGBLUD, All Time Low, Saweetie, and The Kid LAROI also took the Daytime Stage at the iHeartRadio Music Festival. While Rodrigo closed out the Daytime Stage, the iHeartRadio Music Festival will also host Billie Eilish, Sam Hunt, Coldplay, Lil Baby, Khalid, and Journey on Saturday night (September 18).
If you missed any of the action this weekend, you can relive the 2021 iHeartRadio Music Festival by tuning in to The CW Network on Saturday, October 2nd and Sunday, October 3rd from 8-10pm ET/PT for a two-night television special.