See Trace Adkins, Luke Bryan, And Pitbull Get Rowdy In New Music Video
By Ariel King
September 29, 2021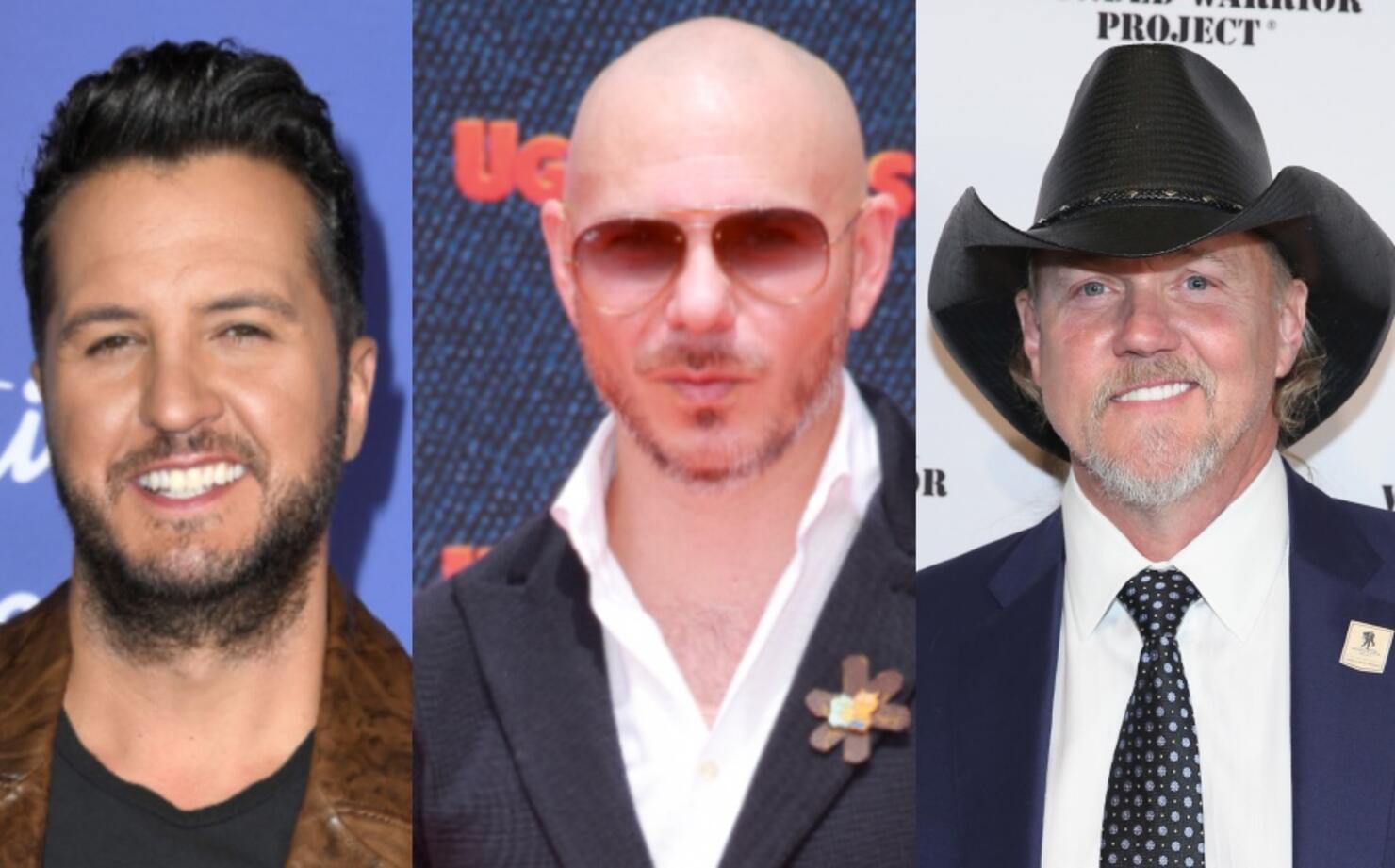 Trace Adkins, Luke Bryan, and Pitbull are looking for the country girls in the new music video for their collaboration "Where The Country Girls At." The video starts off with Bryan and Adkins relaxing on a couch before frantically trying to track down Pitbull in order to film the music video, only to discover Mr. Worldwide is on a boat in Miami.
"You don't gotta worry about the video shoot, I'm in the magic city's 305 Dade County," Pitbull tells Adkins and Bryan. "Matter of fact, I'm gonna take a shot for you and Luke Bryan. And all you gotta do now is just press play. Dale."
After Adkins hangs up and tells Bryan to play the song, "Where The Country Girls At" kicks off and returns to Pitbull enjoying a boat ride around Miami. The video follows Adkins, Bryan, and Pitbull singing the song as large groups of stunning women dressed in jean shorts and cowboy boots dance around them.
The twining track finds the three stars searching for women as they sing through bars, on stage, and on a boat. The catchy tune asks for "every homegrown ten," the girls dancing with drinks high in their hands. At the end of the video, Adkins jokes "now we know where the country girls are at," while Bryan shows off his bar and asks what Adkins thinks, only to be told, "I've played worse."
In Adkins' Track By Track series on social media, the singer talked about how Pitbull made his way onto the song. "They talked about getting Pitbull on this thing and I said, 'you can ask him, but he's probably going to say no, but he didn't, and I love what he wrote for the song, I like the way it turned out. We had a lot of fun doing it."
Adkins recently starred in the Western film Apache Junction, with the country star revealing a spoiler of what had wound up being a first for him when starring in Western films. Adkins also opened up earlier this month to reveal that he tries to stay off of social media, and aims to only use it as a means to keep fans updated with what he's working on.
Bryan, on the other hand, remains active on social media. In August, the singer took to the platform to celebrate his son Tate's golden birthday, showing off shirts he and his wife had made that said, "Tate. The Man. The Myth. The Legend." Cole Swindell even commented on the shirts, letting Bryan and his wife know that he was desperate to get his hands on one.