Peyton Manning Has Hilarious Response To Tom Brady's Unretirement
By Jason Hall
March 30, 2022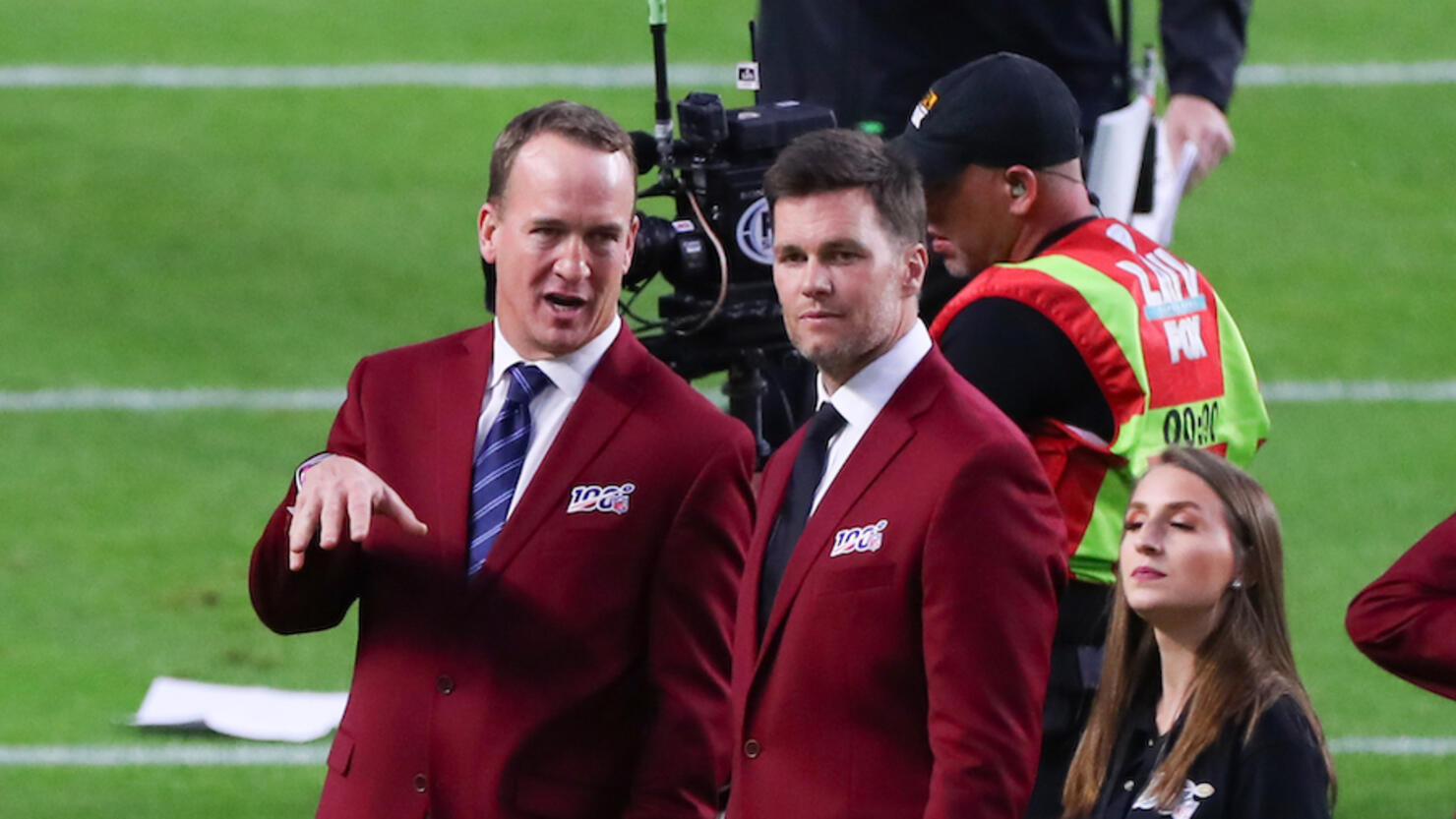 Tampa Bay Buccaneers quarterback Tom Brady may need to re-gifthis biggest NFL rival following his decision to unretire earlier this month.
Pro Football Hall of Famer Peyton Manning joked that he wants the two-page letter and bottle of wine he sent Brady in celebration of his retirement announcement back now that the seven-time Super Bowl champion is returning for his 23rd NFL season.
"I wrote this long, you know, two page [letter] and mailed it to him and sent him a bottle of wine," Manning said during an appearance at The MINT Collective in Las Vegas last weekend via ESPN's Darren Rovell. "[He unretired], I want the letter back. He got to read all these nice things — I want it back. I want the bottle of wine back, too."
Manning and Brady have been directly compared to each other throughout their legendary NFL careers, with a competitive on-field rivalry and playful friendship off the field.
Last season, Manning was named as a "Ratings Adjuster" for EA Sports 'Madden NFL 22' as part of the video game's advertising campaign, which showed Manning adjust Brady's 'Madden' rating from 99 to 44 overall.
Brady addressed the jab, as well as former Dallas Cowboys quarterback and current CBS Sports color commentator Tony Romo referring to Brady as "slow" during the live broadcast of the Bucs' 33-27 overtime win against the Buffalo Bills.
Brady said he was rewatching the broadcast of the game in the video, which then cuts to Romo's critique of him being "slow."
The video cuts back to Brady who, with a confused look on his face, questioned whether Romo was watching before the video then cuts to clips of him running for first downs to Disturbed's Down with the Sickness.
Brady, who is featured on the 'Madden 22' cover alongside Patrick Mahomes, then said, "Hey, EA, tell Peyton to jack my speed rating back up," as a graphic shows a 93 edited over his 71 speed rating.
Brady also appeared on the ManningCast edition of Monday Night Football, joining Peyton and -- arguably his other biggest NFL rival -- Eli Manning -- in October.
Last year, Peyton Manning joked that his mother, Olivia Manning, was responsible for Brady missing out on several extra Super Bowl championships, referencing the four (two each) the Manning brothers won during Brady's dominance with the New England Patriots.
"If it wasn't for my mother, Olivia Manning, he'd have 11 of 'em," Manning said of Brady's seven Super Bowl championships via ProFootballTalk.
Eli Manning is the only quarterback to defeat Brady in multiple Super Bowl matchups, having led the Giants to victories in Super Bowls XLII and XLVI.
Peyton Manning defeated Brady's Patriots, during the AFC Championship en route to Super Bowl victories with the Colts (Super Bowl XLI) and Denver Broncos (Super Bowl 50).
Peyton's Broncos also defeated the Patriots en route to a blowout loss to the Seattle Seahawks in Super Bowl XLVIII, but it seems he assumed New England wouldn't have fared much better, otherwise he would have joked that his mother would've prevented Brady from 12 rings instead of 11.
Together, Brady and the Mannings account for 11 Super Bowl championships, dating back to Brady's first in 2001-02.